How to Measure and Boost Wi-Fi Signal Strength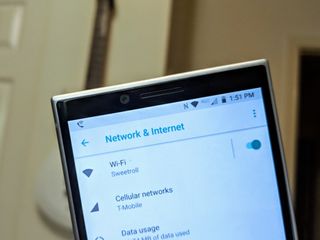 (Image credit: Jerry Hildenbrand / Android Central)
Sure, it might be considered a "first-world problem", but shoddy or unreliable Wi-Fi is absolutely frustrating — especially when it's your home Wi-Fi network giving you fits.
If your Wi-Fi signal strength seems to be lacking, there are several issues that could be contributing and a number of ways you can diagnose and address the issue.
Common sense tips for troubleshooting your home Wi-Fi
Before you do anything, first assess your router setup. All too often with older houses, the cable from your service provider comes through the basement, and unless you're willing to snake coaxial cable throughout your house your installation tech might just install your wireless modem in the basement. If you've got a multi-story house, the basement is less than ideal location, so the first tip is to try and move your router to a more central location in your house. This alone can significantly improve your Wi-Fi signal range.
One important thing to consider is the positioning of your router's antenna. Mac Observer offers some great tips from Alf Watt, a former Apple Wi-Fi engineer, who offers up a tip for routers with adjustable antennas — rather than pointing them straight up, you should try positioning them perpendicular with one another. The article specifically references routers with dual antennae, but it's the similar concept for routers with multiple antennae.
There's a Digital Trends article that does a great job of illustrating how a dipole antenna emits its wireless signal, and understanding how your router's antennae send out a signal in a 3D space is pretty crucial to providing proper coverage to your whole home. An antenna positioned parallel to the ground will radiate Wi-Fi vertically (better for reaching basements or second levels), while an antenna pointing straight up will deliver signal parallel to the ground. For newer routers with internal antennas, you should orientate the router with the 'feet' pointed towards the ground, as that's how the router was designed to properly transmit its signal.
Finally, you should take an inventory of all the devices that might be connected to your home network. These days, it's not uncommon for each person in your home to have their own laptop, smartphone, tablet, smart speaker, and other devices simultaneously used to stream music, movies, or play online games. If it's been a while since you've upgraded your internet package you might want to consider talking to your internet service provider about upgrading to a more substantial package with higher download speeds and an up-to-date Wi-Fi modem.
Testing your wireless network
If you're curious to know if your download and upload speeds match what your ISP claims to offer, you can test your internet speed using an internet speed test app. There's a ton of these apps in the Google Play Store, so we'll highlight some of the most reputable options
Speedtest by Ookla
If you've ever called to troubleshoot your internet, chances are the technical service rep had you visit Speedtest.net. It's a fast and reliable way to see how well your internet connection is performing and can be accessed using a browser or through the mobile app.
Obviously one of the perks of downloading the app is that you'll be able to test your internet connection wherever you go, but it also keeps a log of all your results, too, so you can run multiple tests and easily compare between them.
Download: Speedtest by Ookla (Free) (opens in new tab)
Open Signal
If you're looking for a second opinion for your speed test readings, the speed test app from Open Signal is another reliable option. Its highlighted feature is its cell tower signal detector, but the Wi-Fi and speed test features are up to snuff as well.
It's a free download with no ads so definitely one of the better speed test apps in the Play Store.
Download: Open Signal (Free) (opens in new tab)
Upgrading your wireless network
So you've adjusted your router and troubleshot the issue with your ISP but you're still not getting good Wi-Fi reception throughout your house. If this describes your situation it might be time to invest in some better Wi-Fi equipment.
There are a couple options we'd recommend. If you've got a big house with a ton of devices simultaneously connecting to your wireless network you may want to upgrade to a mesh network — but those are still quite expensive. For a more budget-friendly solution, a Wi-Fi extender can help boost your Wi-Fi signal to a part of the house that your router just can't reach.
Google Wifi
One of the most stylish and popular mesh networks solutions for your home comes from Google (who else did you expect?). These puck-shaped nodes are easy to set up and are perfect for any size house, allowing you to ensure that you get the best Wi-Fi signal strength throughout your home. Best of all is the ease of installation and the ability to adjust the set up to perfectly suit your needs.
Check out our full review for more details. You can get the three-pack kit for $260 on Amazon.
Linksys Velop mesh router
The Linksys Velop is a very powerful set of mesh network router nodes that are designed to preserve the full strength of your Wi-Fi signal throughout your home. It's also quite expensive with the two-pack setting you back a cool $333.
But I can attest to the value of this product. I tested and reviewed this set up nearly six months ago to fix the Wi-Fi issues in my home. We had a wireless router installed in the basement that wasn't throwing to the upper levels too good and it would have been a pain to re-install in a different part of the house. The Velop nodes were fairly easy to set up and I've had not one issue from the Wi-Fi strength in my home despite having so many devices connected at once. I'm also able to give my laptop and personal phone priority access to the network's bandwidth which is a nice perk.
TP-Link AC750 Dual Band WiFi Range Extender
If you've got a troublespot around your home and a $300 mesh router network seems like unnecessary overkill, TP-Link offers an affordable solution for under $30.
This simple plug-in model works with pretty much any wireless router to boost the signal into trouble areas around your house. Based on where you position one in your house, you may be able to extend the range better out onto your front porch or into the backyard, and it also features an ethernet port on the bottom that lets you conveniently connect wired devices to your network.
How's your Wi-Fi network?
Have you ever dealt with shoddy home Wi-Fi, and if so, how did you fix it? Share your solutions or recommendations in the comments below!
Android Central Newsletter
Get instant access to breaking news, the hottest reviews, great deals and helpful tips
Marc Lagace was an Apps and Games Editor at Android Central between 2016 and 2020. You can reach out to him on Twitter [@spacelagace.
Hmmmm, they forgot the part about measuring your wifi signal...

Agreed. It seems that we are supposed to believe that internet speed is the same as WiFi speed.
This is written for the common man, or their elementary school kids.

To check your wifi signal strength https://www.androidcentral.com/e?link=https2F2F...

How about teaching us how to choose the right channel? I live in a wi-fi congested area, and choosing the right channel would be more beneficial than getting a new router.

For 2.4 1, 6 and 11 have no overlap. Use wifi analyzer to determine the path of least congestion.

there is sooooo much more that can be done without having to buy a new router. using apps like wifi analyzer on android, you can see what channels all the wifi APs are using as well as signal strength. With that you can position AND move so a lesser used channel to improve your speeds. Even something as easy and cheap as an antenna upgrade, if you have removable antennas on your router, and be a huge help. So many articles online now a days telling people that their router sucks, so buy these when some basic tech knowledge or a minimal upgrade can go a long ways in improving their wifi.

Google WiFi works like a charm. Only have 1 setup. It's right next to the router. The Xbox in the basement was severely lagging when connected to the router. Google WiFi is sitting right next to it and now the Xbox is screaming online. No connectivity issues at all.

None of the end solutions presented are optimal. Repeaters and extenders add both unnecessary AND slower traffic to your network. First of all set the channels on your router to those with less traffic (NOT auto). Then get a second wireless router and put it at the other end of your house. Connect it to the first router by an Ethernet cat 6 cable only, and set it up as an access point with the same SSID and password, but utilizing different channels than the first router. Your devices will always have a strong signal and won't be able to tell the difference between the two routers, connecting automatically to whichever one has the strongest signal as you walk throughout your house. BAM!

A single router no matter how well configured/placed will not out perform a properly configured modern mesh network like Google WiFi or Netgear orbi. Dual band or tri band routers are a joke. 3 to 6 different ssid's in your house? Really? (6 being extended). Or name them all the same and see how that goes. Devices don't handle that well. A mesh network on the other hand blankets your home in WiFi with one ssid. If it's good (like Google WiFi) the hardware handles the 2.4/5g allocation and you just notice everything works better. Impactful old school tweaks involve getting them to the center or upper level of the house and maybe doing a channel scan and finding a somewhat clear path. Any other "tweaks" are chump change compared to what a modern mesh network will do.

I only disagree with the SSID comment. They can all be the same SSID, as long as they are on different channels.
Android Central Newsletter
Get instant access to breaking news, the hottest reviews, great deals and helpful tips
Thank you for signing up to Android Central. You will receive a verification email shortly.
There was a problem. Please refresh the page and try again.