How to make your Android phone child-friendly with Kid Mode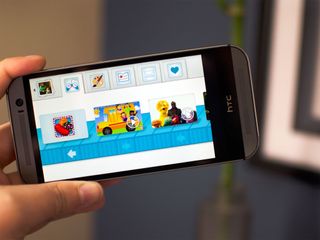 Before you hand your Android phone to your kids, download and enable Kid Mode first!
Kid Mode is a great app made by Zoodles that not only adds some great parental controls to almost any newer Android phone, it also lets them draw, learn, and be creative — under a watchful eye of course. All this can happen without them being able to access or mess with any of your personal stuff. When they're done, just disable Kid Mode and go back to using your phone like you normally would. Here's how:
The first thing you'll need to do is download Kid Mode to your compatible Android phone (opens in new tab). (If you've got an HTC device, it'll probably be there already; HTC bought Zoodles some time ago.) If you see an install button, you should be good to go.
How to set up Kid Mode on your Android phone
Launch the Kid Mode app on your Android phone and tap on the Get Started! button.
Verify the year you were born as this is one way you can disable Kid Mode on your Android phone.
Walk through the child setup process and add all the children that will have access to your Android phone and then tap Done when you've added them all.
Go ahead and add the apps in the next step you'd like your child to have access to aside from what the Kid Mode app itself offers.
Modify any other settings you'd like for your child such as removing certain sites Kid Mode has preinstalled or setting up times and limits.
How to enable and disable Kid Mode
Launch the Kid Mode app once you've set it up and added your children.
Tap on the child's picture and hand your device over. Kid Mode is enabled.
When you're ready to disable Kid Mode, just return the main screen and tap the X in the upper right hand corner.
Enter your passcode when prompted and then continue using your phone like normal.
Kid Mode offers quite a few features for free but you can upgrade to a paid plan for even more control if you'd like. Give it a try and let me know what you think of it in the comments. If you're using something else to keep your kids safe when using Android, let me know that too!
Let Me Be The First To Say,
Good Deal.

The best way to keep a child out of your business, is to not place your business in the hands of a child.

I would NEVER tell my child they could not touch my device.. I was not raised to be that cruel.. So It's nice to see something that allows them use of the device..

It is NOT cruel. I am not cruel and I have never let my kids play on my phone. I am not a cruel mom. My kids respect that my phone is for adults only. They can talk to grandparents and stuff on it but to play games on it not at all. Its not a toy. They do have tablets now but even before that nope not happening.

The Zoodles app has always seemed very unrefined, hard to figure out, and cumbersome to me. We turned to "Kids Place" instead (https://play.google.com/store/apps/details?id=com.kiddoware.kidsplace) and it's free and works awesome. Much easier to use, though it's basically just a launcher that lets you disable any network capabilities and select the apps you want to be available.

My LG G2 comes with guest mode already. Add in a Google Account password to PlayStore purchases, and BOOM!
NO WORRIES!

I also prefer Kids Place. I agree with your critique of Zoodles Kids Mode. Kids Place has a much preferred interface and layout. Simple, straightforward and to the point.

I might check this one out, but I use Kido'z (https://play.google.com/store/apps/details?id=com.kidoz). Works great across my Nexus 7 and phone as it all syncs to one a account.

+1 I have tried them all. Kido'z is by far the best.

I use funamo.com with my kids. It's not free but it works well with school time, app time allowances and protected apps just to name a couple. It also has a funamo safe browser and I can view ALL of there incoming and outgoing text's content remotely. I've got 2 teen daughter's that are on it. I love it, the 16 year old isn't as fond, mostly cause she knows dad is always watching. Posted via Android Central App

My children have Funamo on their tablets too. They hate it, but it simplifies my life.
@Allyson - Funamo is another league way beyond Kids Mode and Kids Place. You should review it. Otherwise you don't understand what I mean.

Let me clarify... these apps is for protecting your phone from the kids, when you given to them for a brief time.
Funamo is a permanent solution for protecting the kid's phone or tablet. Actually... Protecting your kids from the device too.
Restrictions is only half of the equation. It also provides monitoring of apps used (time spent), location, sites visited, address book, text messages exchanged....

It came pre-installed on my HTC ONE M7. Unfortunately, I'm not one of those parents who keep their children entertained by handing them their phone. My kids have no business with my phone so it's useless to me; yet I cannot uninstall it without rooting my phone.

lol My favorite part is that you justified three times why you shouldn't even have commented on this thread...

Why can't they comment once and state their opinion on an app but you can comment multiple times and state yours? Oh right, your opinion is more important than everyone else's. Posted via Android Central App

Thanx for sticking up for your buddy. It's called being part of a conversation that applies to me, thanx. My comments came with the added bonus that I wasn't judging anybody. ...So, two people are at a party talking about something that appeals to both of them, like how their adorable kids are doing in school. Somebody walking by overhears them mention a cool new accomplishment that their 6-yo has done and sticks their head into the conversation and rudely blurts out, "Kids are the worst thing that can happen to somebody. They'll ruin your life, and anybody who says otherwise is an idiot. I'm also a 40 year old virgin" and walks away shaking his head. Not entirely applicable, nor welcome - is it? @bonedatt: nobody said we use them to babysit our kids, so take your judgment elsewhere perhaps. I'd like my kids to be able to have some brief entertainment via a device that may just spark a life-long interest in developing software or something of that nature.

Dude, calm down. It's nothing personal. If my children need brief entertainment they have plenty of books to read. They also have access to a second generation apple tablet, a home PC and a few MP3 players. None of which I share with them. My phone is an important device that does a lot for me so I really can't afford to have them mess it up, all in the name of attempting to satisfy their desires.They're kids, which means they can be unpredictable :).

My kids get good use out of a kids launcher, I love for mine to play on the phone as I have education games and apps for them use. You don't have to give them youtube and other questionable content. Educational and development apps are great for kids, and it gets them used to technology and how it works.

dont knock it till you try it. obviously you should give em the thing and let it raise them.

I use kiddoz on an old N7 I've re-porpoised for the kids. It does what I need it to do. We limit the amount of "screen time" they get and kiddoz is good for helping me control what they do when they do have "screen time".

I have found this app to be better for older children. https://www.androidcentral.com/e?link=https2F2F...

Just took that shit off of my M8. Its my expensive cell phone, not a child's toy. Posted via Android Central App

Good for you, but some people have children. Just sayin'

@Crimsonshadow774 My point exactly!

absolutely great app. i bought her her own nexus 7 but still have this on it because it allows me to keep her off the open internet

What I want is a proper Guest mode for Android devices, but not coming from manufacturers, deeply implemented into AOSP. Just like tablets. Posted via Android Central App

The stock android guest mode is good tho. allows a separate account or a branch off the main for like a child. its not on the phones cuz phones are personal devices, not meant to be shared. tho it is built in there. so if your rooted you can unlock the feature. only speaking on what i have, nexus 5, 7 and 10

Any of these apps allow kids to look at the pictures in the gallery without deleting them by accident?

Hi , KIDOZ allow to do so , it has Camera & Gallery that dedicated for the kid and separated from the main gallery of the device

After trying the app, I Have to say that AVG's "Family center" app is so much better. It has much more possibilities, and it is user friendly. highly recommended!

I would like to suggest Funamo Parental Control https://www.androidcentral.com/e?link=https2F2F...
It's free to install. Kids place also good. But it has some feature you might like.
Android Central Newsletter
Thank you for signing up to Android Central. You will receive a verification email shortly.
There was a problem. Please refresh the page and try again.