How to make a GIF from a PlayStation 4 video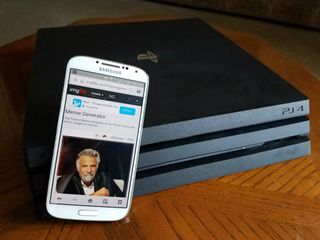 Here we will show you a very simple way to make your gameplay video clips from your PlayStation 4 into awesome GIFs to share on your social media. The process is pretty painless and takes less than 5 minutes to do and you can create multiple GIFs from one video as easily as making one.
Products used in this guide
How to make a GIF on PlayStation 4
Choose the capture gallery app from the PlayStation 4 menu.
Press the options button on your controller to open the menu.
Select copy to USB storage to save the selected video clip.
Remove the USB memory stick from the PlayStation 4 and plug into your PC.
Go to the imgflip website and select Create GIF in the drop-down menu.
Click on the Upload Video button to select your video from the USB memory stick.
Use the slider below the video preview to set the position in the video you want to make into a GIF.
Check the Private box if you want to stop imgflip adding your GIF to its library.
Click the generate GIF Button to open the save screen.
Click the download GIF button or share to the social media sit of your choice.
And there you have it, you have made your first GIF using imgflip and your PS4 gameplay footage. There are other ways to get your gameplay footage as well, you don't have to get it from your console.
If you live stream, you can take the video from Twitch or YouTube and copy and paste the URL into the imgflip website. This will buffer the video into the GIF editing software for you to clip down and make into GIFs. You may have trouble making GIFs from Twitch if your stream is too long, so make highlights of your videos before to shorten the length.
There are of course many other websites you can use to convert GIFs, but I have found imgflip to have the best free tools, as well as an excellent Pro version if you are going to be making a lot of GIFs as I do. The imgflip watermark does appear on the GIFs you make unless you go Pro, but it is much smaller than most watermarks I have seen.
What you will need to make this work
The Big Stuff
The most powerful PlayStation yet
The PlayStation 4 Pro is the pinnacle of Sony's PlayStation line and is worth every penny to play high-quality games with
While it is not fully mandatory to have the PlayStation Pro, you will need to have a PlayStation 4 to make this guide work. As the PS4 Pro is the current best PlayStation console, it seems silly to recommend anything else.
The small stuff
SanDisk Ultra Flair Memory Stick

This 16GB memory stick is large enough to store all the gameplay videos you will need.
As mentioned above, there are other ways to get gameplay footage off of your PlayStation 4 and made into a GIF, but having a memory stick is by far the easiest.
Get the Android Central Newsletter
Instant access to breaking news, the hottest reviews, great deals and helpful tips.
Since the days of the HTC Hero James has had two or three Android phones stuffed into pockets. James is always on hand to offer advice on phones, apps and most recently, PlayStation, especially VR, It's now something of an obsession. Find him @keridel wherever Media Socials itself.