How long are you going to keep your Galaxy Note 20 for?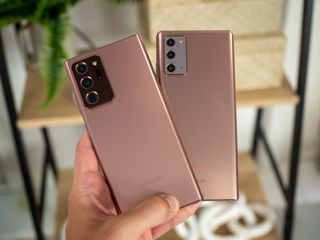 (Image credit: Andrew Martonik / Android Central)
As smartphones get increasingly powerful specs, more impressive features, and better update support, it becomes less and less apparent why anyone would need to upgrade to a new model every single year.
Take the Galaxy Note 20 and Note 20 Ultra, for example. Both phones are two of the most powerful you can buy in 2020, and when you combine that with their endless list of features and three years of major OS updates, it probably makes sense for most folks to hold onto them for a couple of years before thinking about getting something new.
A few of our AC forum members recently started talking about this very subject, sharing their take on when they plan on upgrading their Note 20. Here's what they said:
What about you? How long are you going to keep your Galaxy Note 20 for?
Android Central Newsletter
Get instant access to breaking news, the hottest reviews, great deals and helpful tips
Joe Maring was a Senior Editor for Android Central between 2017 and 2021. You can reach him on Twitter at @JoeMaring1.
These people are not regular users. Regular people don't upgrade every year.

I just got mine, on the AT&T. Couldn't pass up $1000 off with a trade-in deal for a Note 20 Ultra. I will likely keep it for the entire promotional term, since it's so new. Typically I get phones that are already out for about 6 months, and when it's trade-in time, they're not worth crap, and they run slow and have weak batteries. Since this thing is spec's so high, I expect it to still be somewhat relevant in 2 years. Well, 2.5 yrs (30 month term).

As much as i feel tempted to upgrade (i have a 1+6T) I just don't see the need. My phone is just as fast as day one and can do 90% of what these current phones do. It would take a phone like the Xperia 5 II or maybe an upcoming Pixel 5a to pull me away.

This will probably be the first time in a long time that I don't upgrade next year. Unless Samsung can come with something truly innovative, I'm keeping this Note 20 Ultra for 2 years. The only reason I upgraded this year was for the Camera. While I do believe the camera on the Note 20 Ultra is a nice improvement over the Note 10 plus, The results are not as AMAZING as much if they hype suggested, and I took a hit in battery life and storage capacity with this "upgrade".
So, unless Samsung can do some really fantastic leap forward, I will not be upgrading. And no, an under display camera will not be enough.

Fold 3 with s-Pen possibly?

Probably not. It'll be easy too expensive.

I did not want to upgrade from my Note 8, that remains in mint condition, but now in a desk drawer as a... Heaven forbid, back up. But music is important to me, and YouTube music was failing to load, or with lengthly reloading time. I've no idea... Perhaps the issue was older Android software or degrading phone storage. I had little reason to upgrade and dislike wasting money, and that's why you buy high spec phones... Since about 2018, you don't need to upgrade them. Anyways, I'll have my Note 20 Ultra for at least three years. I still dislike the rounded edges, but it does everything so well. 12GB of RAM is phenomenal, enabling so many apps and web pages to be open. I use my phone a lot, so I can justify the price. I sold the new bean shaped ear buds, unopened in the box. I prefer my Bose QC2 over the ear headphones and terrific noise cancelling tech. I got 3 years out of my Note 8.... I can easily see 5 years with my Note 20 Ultra.

I got a Note 8 some years back when it came out, and I kept it until I pre-ordered this Note 20 Ultra. There were (finally) enough improvements, a new color decent enough for upgrading. Moreover, Samsung gave me a 300.00 trade in, free same-color ear buds, and a sanitizer for, resulting in a total of less than 1000 bucks. A deal is when you think you got one...
Android Central Newsletter
Get instant access to breaking news, the hottest reviews, great deals and helpful tips
Thank you for signing up to Android Central. You will receive a verification email shortly.
There was a problem. Please refresh the page and try again.