How to load movies onto your Oculus Go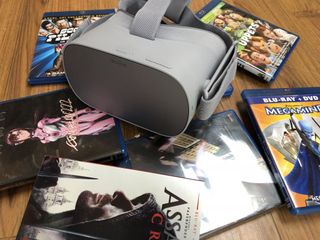 So you couldn't resist that great price point and you bought yourself an Oculus Go. You've spent a little time with it. You've played with a few apps and gotten ensconced in a few games. However, you're now ready to watch some movies on this modern wonder.
Whether you are working with a Windows system or MacOS, it's a breeze to do. Here's how!
Windows
Connect your Oculus Go to your PC with a micro USB cable.
In your headset, you will have to give your PC permission to gain access. Select Allow Access to Data.
Once you are connected to your PC, the Autoplay feature should open. If it does, select Open Device to View Files.
If Autoplay does not start, you can manually browse to Oculus Go Storage through File Explorer. It will be named VR-Headset.
Once you have your VR-Headset open, select Internal Shared Storage.
Open the folder named Movies.
You can now drag and drop videos into the storage of your Oculus Go.
MacOS
Download the File Transfer Tool from Android and install it on your Mac.
Connect your Oculus Go to your Mac with a micro USB cable.
Open the File Transfer Tool you just installed.
In your headset, you will have to give your computer permission to gain access. Select Allow Access to Data.
A folder named VR-Headset should automatically open
Now open the folder called Movies.
You can now drag and drop videos directly into your Oculus Go
Whether you're watching some home movies or Avengers: Infinity War, you can now kick up your virtual feet and enjoy watching whatever you choose. The virtual world is now your oyster.
Use SKYBOX VR
If you want to save space on your Oculus Go, or if you just prefer streaming media content to your headset, you can use SKYBOX VR Video Player. It's a free app that works with DLNA streaming.
You can use your own DLNA server or use a device like the RAVPower Filehub Plus which is a travel router that works with SD cards and USB storage devices.
SKYBOX VR Video Player also works with locally stored files so you can use it as your primary media consumption app.
If you need a step-by-step guide on how to expand your storage on the Oculus Go, including using devices like the RAVPower Filehub Plus, you can check out our full guide.
Updated October 2018: This article was updated with the most recent information.
What formats can it actually play? Avi, mp4, mkv, vob, .TS?

Can I use this process to upload and view VR180 photos/videos, and will they work?

Yea great that you can load movies, BUT you can't sideload apps. :(

Sadly, I only hopped on here to go to the comment section after just reading the title... Anyone else think its odd that it seems there are more and more articles being posted up that either just haven't appeared to be proof read, or had at least a spell checker ran on it? The sheer amount of typos and terrible word placement is just... baffling anymore...
Android Central Newsletter
Get the best of Android Central in in your inbox, every day!
Thank you for signing up to Android Central. You will receive a verification email shortly.
There was a problem. Please refresh the page and try again.