How to expand the storage on your Oculus Go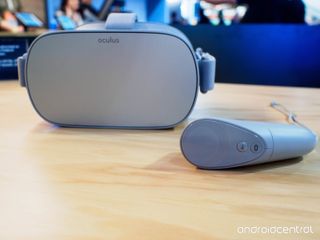 (Image credit: Android Central)
The Oculus Go is an excellent device for viewing media, but high definition video files can fill up storage quickly. The Oculus Go only comes in 32GB or 64GB variants, and it doesn't have OTG support yet. However, that doesn't mean you're stuck with 64 GB. Here's how to view and play more media on your Oculus Go.
How to expand storage
Create a folder on your USB drive, SD card, or external drive called "Share"
Move a folder titled "Movie" into the "Share" folder of your memory expansion device.
Place a movie, television episodes or other file in the "Movie" folder.
Plug your memory expansion device into the RAVPower Filehub Plus.
Power on the RAVPower Filehub Plus.
Open the Settings for your Oculus Go from the home screen.
Select WiFi to show nearby networks.
Connect to the RAVPower Filehub Plus network
Launch a media streaming app such as SKYBOX VR Video Player.
Browse your device's folders to find your "Movie" folder.
You can now stream large media files such as movies to your Oculus Go without taking up valuable inbuilt storage on the device. Additionally, you can keep your Oculus Go and other devices' batteries topped up and can use the same hardware to stream media content to a number of other devices.
Our top equipment picks
The RAVPower Filehub Plus is a compact wireless travel router that also serves as a 6,000 mAh portable battery. It works with USB drives, SD cards, and external hard drives.
Alternatively, you can use the HooToo Wireless travel router. It works in a similar fashion to the RAVPower Filehub Plus. It has a larger 10,400 mAh battery but is slightly less compact. It works with USB devices and can work with SD and microSD card with the proper adapter.
You'll also need to use an app on your Oculus Go that can stream files from a media server. A good one to try is SKYBOX VR Video Player which is free.
VR on the go
A standalone VR headset that can play games and media.
The Oculus Go is light, inexpensive VR that doesn't require a PC. It's a perfect VR headset for enjoying multimedia content, no matter where life takes you.
The device is great for viewing immersive multimedia content on the go; it's not just for games! However, the space fills up quickly so if you want to up your storage, you're going to need some extra tech.
Portable storage
This sleek little multi-tasker can open your Oculus to new worlds.
The RAVPower Filehub Plus is compact enough to keep in your pocket and can also charge your Oculus Go among other devices. It allows you to stream large files and videos to your Oculus Go without taking up space on the device.
There are many portable, travel-oriented routers around that can double as network-attached storage, but RAVPower's is a little nicer-looking than most of them, and a little more pocket-friendly. If you're looking for a little more power, there are other options.
Alternative storage
HooToo Wireless Travel Router
A wireless travel router that can also charge your devices.
The HooToo Wireless Travel Router is still small enough to take in a bag and has a large enough battery to charge your devices multiple times. It allows you to stream large files and videos to your Oculus Go without taking up inbuilt storage.
Get the Android Central Newsletter
Instant access to breaking news, the hottest reviews, great deals and helpful tips.