How to get started with Samsung SmartThings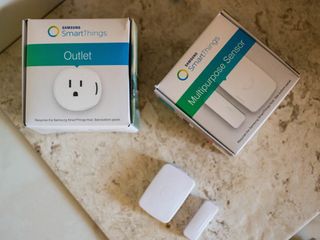 Did you know you can automate your home in about an hour? That's how long it took me to set up the Samsung SmartThings Hub and two additional SmartThings helpers. I set up an outlet (opens in new tab) and a multipurpose sensor (opens in new tab), though you can take your pick from the litter of available SmartThings integrations. They're fun to bring home in an attempt to figure out the most tedious and genius automation formulas.
If you've recently found yourself venturing onto your own journey of installing Samsung SmartThings in your home, here's how to get started.
Getting started with Samsung SmartThings
First things first: before you can get started setting up Samsung SmartThings, ensure that you've got a SmartHub installed somewhere in your home. For this how-to, I'm connecting to the SmartThings via the Connect Home mesh Wi-Fi router system, which has built-in ZigBee compatibility. But you can also connect with the SmartThings Hub (opens in new tab) on its own, regardless of whatever Wi-Fi setup you have to power your household.
Next, you're going to want to have the Samsung Connect (opens in new tab) app installed and ready to go on your smartphone. It doesn't matter if you're using a Samsung smartphone either; I managed just fine with a Google Pixel XL.
Launch the app and plug in your Samsung account information; follow the in-app instructions if you see a prompt, or tap on the floating action button to manually activate the hub. You'll need to enter the "Welcome Code," which is available on a separate card located inside the box the hub came in. Then, connect the hub with the included power and network cables. Once the setup process is squared off, you'll see the device display a solid green light.
How to add a new SmartThings device
Adding a new SmartThings accessory to your network is easy to do as long as the SmartHub is all set up and ready to roar. Note that this walkthrough is for connecting your SmartThings through the Samsung Connect app — not the SmartThings (opens in new tab) app.
Tap on the plus sign to manually add a device.
Tap add device manually if the device doesn't automatically populate.
Select your SmartThing.
Follow the instructions on screen for your specific device.
Tap Done once it's connected.
Now that you've connected your new SmartThings, tap on the device under My devices to customize it. If you're using a SmartThings outlet, for instance, you can see how much power it's drawing from this screen. Or if you're using the multipurpose sensor, you can check to see that the door you configured it for is closed.
Ready to get even more creative with automating your home? You can sync up some of your Samsung SmartThings with the Google Home or play with formulas at IFTTT (opens in new tab) so that you're receiving ample notifications for those motion sensors.
How to program Rules for you Samsung SmartThings
Samsung SmartThings come with their own automated abilities. You can program them out yourself in the Samsung Connect app.
Launch the Samsung Connect app.
Tap the menu button.
Tap Rules.
Tap Add rule.
Enter a name for your rule and choose where you want to use it.
Tap Add Condition.
Tap through your choice of time of day, time period, or device condition.
You can tinker with individual formulas as you see fit. I personally chose to set up my SmartThings outlet to turn on the light at the exact time of day. From Monday to Thursday, a light comes on in the master bedroom at 9 PM to beckon me to begin my nighttime routine. But you can set it up any way you choose. All you need is a little imagination.
Questions?
Let us know in the comments below.
Florence Ion was formerly an editor and columnist at Android Central. She writes about Android-powered devices of all types and explores their usefulness in her everyday life. You can follow her on Twitter or watch her Tuesday nights on All About Android.
Here's another way to get started. 1. Take everything out of box and install.
2. Set everything up on your mobile device and leave house.
3. Get notifications that one or more of your sensors is reporting a break in.
4. Worry through dinner if this new tech is accurate.
5. Come home and see everything is fine.
6. Repeat this pattern for about 5 months.
7. Look for Costco receipt, and return.

I have been using for last year or so and very much impressed. Very stable and predictable. Not perfect, but getting there. What I did is, only bought the hub and individual sensors with z-wave compatible from other vendors for ease of moving to another hub if needed.

Clearly didn't set up properly or something b/c I've been using hues a smart lock multiple smart things multi sensors thermostat and more without any issues other then from time to time a hues light will flicker for a min or to..My fav is having a vibe sensor on my washer and dryer so I know when there done and link that to a hues light to turn green when a load is done or when my ring doorbell detects movement to flicker my hues strip red and my pixil turns on WiFi and my office lights turn on a d my door unlocks when I come home set it all up painlessly in the ifttt app and the reverse happened when I leave my house! Another bonus is automatically brewing coffee for my wife with a smart outlet so she don't have wake me up to get it started for her lol love my smart products wish I had a handful of other devices
Android Central Newsletter
Thank you for signing up to Android Central. You will receive a verification email shortly.
There was a problem. Please refresh the page and try again.