How to get started with Samsung Health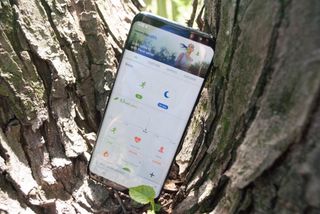 When it comes to trying to get healthier, there are tons of apps out there that can help you in one avenue or another. Samsung Health, previously S Health, is an all in one app here to help you build better habits, and track the habits you already have. While there is a lot going on within the app, getting started is easier than you might think.
Create an account
The first thing that you'll need to do to get started with Samsung Health is create a new account or log into an existing S Health account. If you've ever had an S Health account, then you'll be able to log in and access all of your previous health information that was stored. If you want to start over or need to create a new account, that's also an easy process.
Launch Samsung Health.
Tap Agree to the terms and conditions.
Tap Next.
Type in your information to create an account.
Tap Sign in.
Set goals for yourself
The first thing that you should do after getting logged in to Samsung Health is set some goals for yourself. While there are plenty of specific goals that you can fine tune later, you get suggestions for the first few goals you set. These include counting calories if you're trying to eat better, a step counter to help your activity level, and a sleep tracker to help you get a solid amount of sleep each night.
Launch Samung Health.
Tap Set goals.
Drag the slider bar to adjust the goal to where you want it.
Tap Next to save your goal. Repeat this process with each goal.
Fill out your Profile
The last big step of getting started with Samsung Health is to fill in the information on your profile. This includes benign information, like your display name, as well as entering information about your gender, height, weight, and activity levels.
Your profile page has all the information about your recent activities too. It's where you can see your personal best, as well as view a weekly summary that has a breakdown of your activity.
Launch Samsung Health.
Tap the green icon of a person in the upper right corner to navigate to the profile page.
Tap on gender and tap to choose between male and female.
Tap Next.
Tap the date you were born to set your age.
Tap Next.
Tap and drag the slider to set your height.
Tap Next.
Tap and drag the slider to set your weight.
Tap Done to finish inputting profile info.
Are you using Samsung Health?
Samung Health has plenty of tools to help you build better habits, but before you can jump into everything going on, you'll need to get set up. From creating an account to filling out your profile to setting your initial goals, this is an easy process. So are you using Samsung Health? Be sure to let us know about it in the comments below!
Android Central Newsletter
Get instant access to breaking news, the hottest reviews, great deals and helpful tips
Jen is a staff writer who spends her time researching the products you didn't know you needed. She's also a fantasy novelist and has a serious Civ VI addiction. You can follow her on Twitter.
Currently using it. The fact that you can see a licensed doc over phone video via the amwell integration is pretty awesome. Just wish they would accept VA choice care. Other things such as being able to log my blood sugar levels, blood pressure, water intake, exercise timers and likability between google fit and other apps keep me using it.

Samsung Health is great, I use it daily. I always am annoyed when people list it as a bloatware on their phones - you can disable it if you really hate it so much! Anyways, the only issue with the app is that the default goals are just too weak. It's almost like the app was made for 60+ seniors who are not staying active.

@Matus201 I agree. As far as the default goals, I believe you can change them. If you're referring to the active amount time, etc. I know I changed mine first thing when I set mine up.

Never tried it until recently and was pleasantly surprised at its capabilities. But currently only using it to track caloric intake.

Always used it and probably always will, SHealth is great.

I deleted it. Don't need an app telling me I have to get up and run or any of that crap. I'm already at the gym everyday.
It freaking annoys me with all these damn pop-ups and notifications

It's easy to turn those notifications off.

Wish all the fitness band makers (looking at you fitbit) would open up an api to synch fitness data. I would love to use Samsung Health instead of the fitbit app, but running both of them seems really redundant.

You should look into fitnesssyncer.com I used that go transfer all my Microsoft band data to Fitbit.

I use Samsung Health and Fitbit. I like the Shealth app better, but Fitbit continuously monitors my heart rate and steps, so I like my Fitbit better.

The gear watches have an option to constantly monitor your heart rate.

I wish they made an app that shows gains in a little avatar depending on the info you share. Make it look thirsty if your monitoring water intake & haven't had enough H2O. Look healthier the more you work out. Add muscles if you've been gaining the right kind of weight. Might not be necessary for all but there are a lot of nerdy folk like me who like to level up.

That's a great idea! I love it! Who do we need to call lol?

I've used Samsung Health since it first launched. Over the years, I found myself having to have like 4-5 different health apps to collect and monitor all my health data. Withings for my weight/scale, Jawbone Up for steps/sleep, MyFitnessPal for calorie intake, etc. With the improvements they've made to Samsung Health over the years - coupled with the purchase of a Samsung Gear S2 Classic, I now do most all of my tracking from Samsung Health, or pull data from other apps into Samsung Health automatically. Plus I like that you can set competition's with friends and family and see your scores in real time, motivates you! Really worth using and I agree with the previous poster that I get sad any time someone writes it off as bloatware without giving it a try.

I'm another early adopter of Samsung Health. I used it very heavily on my Galaxy S6, now I pair my Samsung Gear S2 with my Pixel XL to track my runs, workouts and water intake. The Pixel does not monitor your heartbeat so it is a nice addition to owning a Pixel XL by having the Gear S2 still. While I run it gives real time heart rate estimates, cadence, etc., it is a great feature packed app I recommend to other Android users to use, regardless if they have a Samsung phone or not.

I've been using Samsung Health since it was S Health on my Galaxy Note Edge. I use it mostly to track my steps since I do an insane amount of walking during the day. Usually 10-12,000 steps on average. I used it to track my meals, but it's easy to forget sometimes. It's a very good app. It's the only one I've used and it fits my needs. I might try others at some point. But this one is good for me.

Samsung Health and I had a rocky start...lost my first year of data...but now I upload the weekly summaries to Drive, and we get along just fine. I am also loving the notifications that tell me how I'm doing. Like someone else, I track my pressure, glucose, water intake, and soon (because summer), my calories. I LOVE it!

I can't seem to direct reply. So shuddle13 and Drew Weltin would you recommend a Classic Gear S2 over say, a Fiitbit Charge 1/2, Alta or their watch..? I'd like to have one integrated program to scrape everything...
Android Central Newsletter
Get instant access to breaking news, the hottest reviews, great deals and helpful tips
Thank you for signing up to Android Central. You will receive a verification email shortly.
There was a problem. Please refresh the page and try again.