How to get started with Samsung Health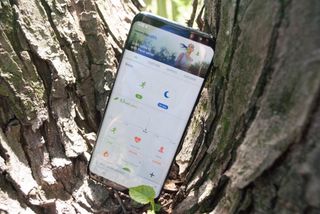 When it comes to trying to get healthier, there are tons of apps out there that can help you in one avenue or another. Samsung Health, previously S Health, is an all in one app here to help you build better habits, and track the habits you already have. While there is a lot going on within the app, getting started is easier than you might think.
Create an account
The first thing that you'll need to do to get started with Samsung Health is create a new account or log into an existing S Health account. If you've ever had an S Health account, then you'll be able to log in and access all of your previous health information that was stored. If you want to start over or need to create a new account, that's also an easy process.
Launch Samsung Health.
Tap Agree to the terms and conditions.
Tap Next.
Type in your information to create an account.
Tap Sign in.
Set goals for yourself
The first thing that you should do after getting logged in to Samsung Health is set some goals for yourself. While there are plenty of specific goals that you can fine tune later, you get suggestions for the first few goals you set. These include counting calories if you're trying to eat better, a step counter to help your activity level, and a sleep tracker to help you get a solid amount of sleep each night.
Launch Samung Health.
Tap Set goals.
Drag the slider bar to adjust the goal to where you want it.
Tap Next to save your goal. Repeat this process with each goal.
Fill out your Profile
The last big step of getting started with Samsung Health is to fill in the information on your profile. This includes benign information, like your display name, as well as entering information about your gender, height, weight, and activity levels.
Your profile page has all the information about your recent activities too. It's where you can see your personal best, as well as view a weekly summary that has a breakdown of your activity.
Launch Samsung Health.
Tap the green icon of a person in the upper right corner to navigate to the profile page.
Tap on gender and tap to choose between male and female.
Tap Next.
Tap the date you were born to set your age.
Tap Next.
Tap and drag the slider to set your height.
Tap Next.
Tap and drag the slider to set your weight.
Tap Done to finish inputting profile info.
Are you using Samsung Health?
Samung Health has plenty of tools to help you build better habits, but before you can jump into everything going on, you'll need to get set up. From creating an account to filling out your profile to setting your initial goals, this is an easy process. So are you using Samsung Health? Be sure to let us know about it in the comments below!
Sign up for Black Friday email alerts!
Get the hottest deals available in your inbox plus news, reviews, opinion, analysis and more from the Android Central team.
Jen is a staff writer who spends her time researching the products you didn't know you needed. She's also a fantasy novelist and has a serious Civ VI addiction. You can follow her on Twitter.