How to get set up with YouTube TV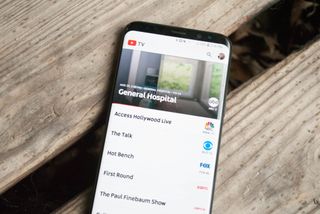 YouTube TV offers a great way to access the cable shows you don't want to miss without the full price tag that a cable subscription inevitably comes with. If you've been considering YouTube TV as a viable alternative in your quest to cut cords, first you'll need to get set up. We've got the details for you here to get started!
How to set up YouTube TV
In order to get started with YouTube TV, you'll need to set it up first. This only takes a few moments, and you can try out this app for free before you're charged for the service. You'll just need to follow the prompts on screen and enter your payment info, and you'll be good to go!
Download and install YouTube TV

(opens in new tab)

.
Tap Try it Free.
Tap the Google Account you want to use.
Tap Next to let YouTube TV find your location.
Tap Allow.
Tap Let's Go.
Tap Next.
Tap Next.
Enter your payment information.
Tap Buy.
Tap Take Tour to get started.
How to stream a program on YouTube TV
When you're ready to watch that awesome program you've been waiting for, it's easy to jump right in. Just a few taps, and you'll be able to start watching!
Open the YouTube TV app.
Tap the program you want to watch.
Tap the program again to start the program.
How to access YouTube TV settings
There are times when you'll need to know where the Settings for YouTube TV are hiding. It's here that you can adjust billing info, add accounts, adjust privacy settings, and more.
Open the YouTube TV app.
Tap the Google user icon.
Tap Settings.
Questions?
Do you still have questions about getting started with YouTube TV? Is there something we didn't cover that we should have? Let us know in the comments below!
Android Central Newsletter
Get instant access to breaking news, the hottest reviews, great deals and helpful tips
Jen is a staff writer who spends her time researching the products you didn't know you needed. She's also a fantasy novelist and has a serious Civ VI addiction. You can follow her on Twitter.
This article is getting a little ahead of itself, since YouTube TV is only offered in about 8 cities right now, if even that many.

A few more then 8.
https://support.google.com/youtubetv/answer/7068923

YouTube TV is in 41 markets...which cover the majority of the US.

I used my free 30 day trial; it worked perfectly fine, no issues. But it's missing a lot of channels. Once they add more content, I will be willing to pay for it.

It's $35 a month for all the major networks and their larger subsidiaries, with free, unlimited cloud DVR. What more do you want for that price?

Tried Sling and then moved to PlayStation Vue for about a year. Switched to YouTube TV about 3 months ago. I like the interface better and also PlayStation Vue was limited playing content away from home. YouTube TV just works great

App works great for me.... Love the local channels (except I don't get the local FOX channel, just the national for some reason). Went ahead and subscribed (family option).... The unlimited DVR works perfectly.

Only thing I can't figure....this is streaming... why is it not available Nationwide?

I think it's because they have to make deals with local affiliates to get local channels. I suppose they could offer it without local channels where they don't have deals, but they might think it hurts the experience

Google needs to push it out into more cities.

What happens if you move away from one of the cities that currently has Youtube Tv? To one that presently don't have it?

You either use a VPN to make it look like you're still there, or you stop using it.

Don't know much about VPN do you recommend one? Thanks for all your help

No VPN needed, just use a GPS debugging app.

I tried the 14 day free trial. The interface is nice, DVR is great; but, the stream froze on me twice. Also, no NBC with football season about to start. :( Will come back if NBC is added in my area, and hopefully HGTV, as well.

Has anyone tried watching live football? I will try the free trial once football season starts, as long as that works I'll cut the cord!!!!

Just left this comment on the other YouTube TV article and figured it's useful enough to know to post it here as well. I really can't believe they aren't mentioning it. One of the other major issues that isn't mentioned at all in the article is how the DVR works. It WILL keep unlimited shows in your DVR for nine months. However, if the episode you are trying to watch is available on-demand, you are forced to watch that version and thus are forced to watch ads. Once it falls off of on-demand, you can watch the recorded version again and skip through commercials. Additionally, the implementation is pretty bad right now as well. If you were watching your recorded version but don't finish and come back later after the on-demand version is out, it switches you to that version. You also lose your place in the show and have to watch all the ads to get back to where you left off. Apparently, this was the only way Google could secure deals and the industry wants to try and make this the norm going forward. For me personally, there's no way I could use a service like this. I just can't support that model.
Android Central Newsletter
Get instant access to breaking news, the hottest reviews, great deals and helpful tips
Thank you for signing up to Android Central. You will receive a verification email shortly.
There was a problem. Please refresh the page and try again.