How to get the Huawei Watch stainless steel mesh band look for less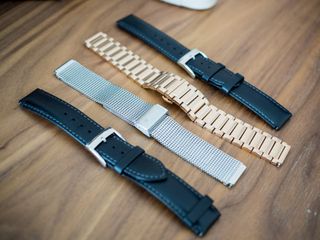 The stainless steel mesh band for the Huawei Watch is a beauty. It's modern and classic at the same time, looks great with every outfit, and it's popular. But with a starting price of $129, it's not exactly nice to your wallet. We have some options that will still look great for way less.
PluStore stainless steel mesh band
Coming in mighty close to the real thing, the stainless steel mesh band from PluStore comes in silver, black, and rose gold. The metal is flexible, comfortable, and durable; wear it at the office or leave it on for your post-work workout.
The quick-release interlocking clasp is a spot-on match to the original band. Installation is simple and the pins are of excellent quality; exactly what you're looking for. For around $20, you might as well get one in each color and still stay well within the budget lines.
Threeeggs stainless steel watch strap
If you're looking to stay true to the solely silver look of the Huawei band, the Threeeggs stainless steel strap will do very nicely. The smooth stainless steel mesh is lovely from a distance or when admired close up close (and you know you want that Huawei Watch to be admired).
Whatever your wrist size, you'll find a snug and comfortable fit with the watch strap, so there's no need to worry about ordering the right size. The six-month warranty should also give you some peace of mind while you take it on every test drive you can think of, and at around $17, you'll have plenty of people thinking you're one big spender (what they don't know won't hurt them).
Rerii mesh stainless steel watch band
Another contender in the colorful bands category comes from Rerii. Their variations of black, silver, and rose gold are all gorgeous match to the Huawei Watch. The brand is known for its wide variety of band styles and solid customer reviews, not to mention the one-year warranty on these stainless steel bands.
The quick-release band is secure but easy to work with and it's not going to shake around on your wrist while you go about your day, whether you're spending your hours at a desk or out and about in the city. Rerii bands start around $20, so nab a couple for yourself to match up with absolutely everything.
Aim101 mesh stainless steel watch band
Three more beauties to bid on in black, silver, and rose gold can be found courtesy of the Aim101 store on eBay. You won't need any tools to install this band; the quick-release pins make installation and removal a breeze, although we suspect that once you put the band on, you won't want to take it off.
The quick-release clasp is secure, the band is fully adjustable to any wrist size, and it's a near perfect match to the original Huawei mesh band. The mesh weave is soft but sturdy, so it won't feel rigid or uncomfortable with prolonged wear. At just under the $16 mark, it's a fantastic buy.
Ritche 18mm mesh stainless steel bracelet
If you're still looking for a better bargain price, then you'll be pleased with the mesh bracelet from Ritche, which comes in just a hair under $10. It comes in beautiful polished silver and, although it's not specifically made to replace Huawei's original, the 18mm size is a seamless fit.
The bracelet itself is slightly thinner than the original band, but mesh bands are designed to be lightweight and flexible, so the Ritche fits the bill for sure. Only you'll know what a steal this accessory was!
Bargain hunters, rejoice!
Still not convinced that these are ideal replacements for the real thing? Have a look at Huawei's band and see for yourself. We think you'll be pleasantly surprised!
If you've found a stellar alternative band for much less, shout it out in the comments below.
Get the Android Central Newsletter
Instant access to breaking news, the hottest reviews, great deals and helpful tips.