How to free up storage space on Android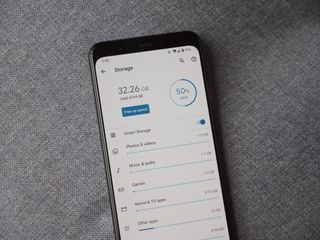 (Image credit: Joe Maring / Android Central)
One of the most important features of your smartphone is its storage. It's how you download your favorite apps, save all of your special photos, download music playlists for long road trips — you name it. The longer you hold onto your phone, the more likely it is you'll start to run out of space at some point down the road. Should you find yourself in this situation, here are a few tips on how to free up storage space on your Android phone.
Products used in this guide
We're using a Google Pixel 4 XL running Android 10 for this guide. Some screenshots may not look 100% the same depending on what phone you have, but the core idea of everything should be the same.
Check how much storage left on your phone
First thing's first, we should take a look at how much space is left on your phone. It's a good idea to go through and clean stuff up every now and then regardless of how much space you have, but if you still have a lot of room to go, there's no sense in going overboard.
Open the Settings on your phone.
Tap Storage.
At the very top of the page, you'll see how many gigabytes of storage you've used, along with a percentage to put things in perspective better. Although devices like the Pixel 4a offer 64GB of storage out of the box, you can fill that up astonishingly quickly.
Delete app data and files
Now that you're at the Storage page, it's time to start taking action. The first thing we're going to suggest you do is to delete app data and files.
Everything is broken up into handy categories, including:
Photos & videos
Music & audio
Games
Movie & TV apps
Other apps
Files
System
Tapping on one of these categories will then show a list of apps that fall under it, and this is where you'll go for deleting data on a per-app basis. Here's an example of what this looks like:
Tap on the category you want (we're using Music & audio).
Tap on an app.
Tap Clear storage.
Tap OK.
As you'll see on the pop-up that appears on your screen, doing this will delete "all files, settings, accounts, databases, etc." In other words, just about everything except the app itself is deleted. If there's an app on your phone that you want to keep installed but don't use that often, this can be helpful.
You can also tap on the Files category to be taken to your phone's file manager, making it easy to delete any random downloads you may have forgotten about.
Use Android's "Free up space" tool
Source: Joe Maring / Android Central
On the Storage page, you'll see a button at the top called "Free up space." Tapping on this will take you through a guided process for clearing up saved files/apps on your phone that Android doesn't think you need.
This is broken up into three categories, including Backed up photos & videos, Downloads, and Infrequently used apps. Just tap on the checkbox next to any of these items, tap the Free up button at the bottom-right of the screen, and you'll give your phone a bunch of extra space just like that.
Make sure Smart Storage is turned on
Source: Joe Maring / Android Central
The best Android phones have cameras that let you take standout photos in any condition. As a result, pictures and videos you take with your phone can be one of the biggest reasons for running out of storage. Android has a cool way to minimize their effect.
Again from the main Storage page, Tap Smart Storage right above the app categories we previously talked about. From here, you have a couple of things you can do.
The toggle will be moved to the right and have an accent color behind it if it's turned on, which it should be for most people. If you tap on Remove backed up photos & videos below that; you can choose whether you wanted your backed up files to be deleted if they're over 30, 60, or 90 days old.
All of the pictures and videos you've ever captured will always be available in Google Photos. This feature simply removes the local versions of them that are taking up unnecessary space on your device.
Buy a microSD card
Last but certainly not least, you can always go out and buy a microSD card if your phone supports them.
MicroSD cards are available in myriad sizes, including 32GB, 64GB, and 128GB, to name a few. We've rounded up the best microSD cards for Android for you to choose from, with many of them being more affordable than you might be thinking.
Not all Android phones offer expandable storage, so ensure yours does before going out and buying a card that may not work with your device.
Our top equipment picks
Outstanding camera
Still the best
The Pixel 4a once again shows that you don't need to pay a premium to get a great phone. The device has reliable hardware, a stellar camera that challenges flagships, and a clean interface with the promise of quick updates.
Add more space
Samsung EVO Select 128GB microSD Card
Lots of extra space for not much money
If you have a phone that offers expandable storage, this microSD card from Samsung is one of the best out there. You get a ton of space, fast data transfer speeds, and a 10-year limited warranty.
Get the Android Central Newsletter
Instant access to breaking news, the hottest reviews, great deals and helpful tips.
Joe Maring was a Senior Editor for Android Central between 2017 and 2021. You can reach him on Twitter at @JoeMaring1.