How to enable VoLTE on the Galaxy Note 7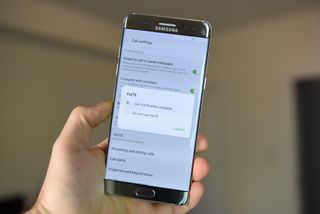 VoLTE is an underrated feature in smartphones today, especially if you make a lot of phone calls. The Galaxy Note 7 supports VoLTE, but depending on your carrier it may not be turned on by default. Here's how to enable it.
How to enable VoLTE on the Galaxy Note 7
From the home screen or app launcher, open the Dialer.
On the top right, tap the three-dot menu button.
Tap Settings.
Tap on VoLTE.
Make sure that Use VoLTE when available is checked.
Note: Not all Galaxy Note 7 variants will have this feature in the same place, and may not have it at all if VoLTe isn't supported by the carrier.
More: Best Galaxy Note 7 tips and tricks
Anything else?
The Galaxy Note 7 has great phone call quality from either 3G or LTE, but if your carrier supports VoLTE it's a big improvement. How's your experience been with VoLTE or HD Voice on the Galaxy Note 7?
Android Central Newsletter
Get instant access to breaking news, the hottest reviews, great deals and helpful tips
Daniel Bader was a former Android Central Editor-in-Chief and Executive Editor for iMore and Windows Central.
Volte even for sprint too?

But the commercial told me that all carriers are basically the same now :thinking emoji:

Sprint is the same as T/VZ in 2012 and TMO in 2013.

Must be part of the missing 1%.

What about data and voice together? I know that works on tmobile.

Works on any GSM carrier and any call using VoLTE.

Question of the day.. Is this available on a 6p??

Lol your making yourself look knowledgeable here.. :-) Would you mind explaining it I can't seem to figure it out. Thanks

Well, first question is which carrier do you have?

It will be under the cellular data settings as "Enhanced 4G LTE Mode" make sure you have it enabled with Verizon as well.

Using VZW Note 7. Option not there? Someone point me in correct direction?

It's known as Advanced Calling on Verizon.

Are there enough articles about Samsung devices lately? Idk. I think there needs to be more. Maybe change the name to Samsung Central to reflect the editorial changes lately. Un installing your app.

Well, Samsung has been in the news a lot lately. Also, I've seen a lot of Pixel coverage too. It's Android. Samsung is huge in the Android space. Makes sense to cover them.

Don't let the uninstall button hit you where the sun doesn't shine...

Hey, here's an idea: Don't read Samsung articles. Sorry you're butthurt that Samsung sells the most Android phones in the US, but they kind of do. Bye, we won't miss you.

Does anyone care that you're leaving?

I don't use their app. I visit their website.

Let's see here........The company who sells the most Android devices, and is by far the most popular manufacturer of android devices, gets the most coverage on an Android website. Shocker.

I bet you complained about the Pokemon articles when that was huge too. And when the V20 comes out, you'll complain about that. How about we get a website that is specifically about whatever device you are currently using and the one you are looking at. I think we all would be better people if that happened.

AT&T definitely has HD Voice Calling, so I would think yes.

AT&T definitely has VoLTE. It's been available on every phone since the Galaxy S5.

AT&T buried it deep in the settings,
Settings-Connections-Mobile Networks-Mobile Data- "Enhanced LTE Services".
It's turned on by default.

So... I'm looking everywhere and can't find this on my T-Mobile model. T-mobile normally calls it HD Voice. I bring this up because I've never had trouble seeing it before; it'd almost always in the settings app with the cellular network settings. I even checked the dialer settings as suggested here and couldn't find it. Interesting.

Yes, they have it. They call it EVS. You will find the news here: https://newsroom.t-mobile.com/news-and-blogs/volte-enhanced-voice-servic...

Thanks for the article, I wasn't aware of EVS. I still can't find the setting anywhere though. I'm assuming it must just be automatic. It was always turned on out of the box anyway

I too have the T-Mobile Note 7 (v2) and the setting is nowhere to be found. Hmmm....

I can not find volte for T-Mobile. I looked everywhere.

Why isn't this enabled by default?

Depends on the carrier. AT&T has it enabled by default.

On T-Mobile it's pretty bad. Dropped call city. Tech just isn't there yet IMO. Too unreliable.

Verizon also states that the HD calls do not use data allowance. For HD video calls the video portion will be charged against the data bucket but not the voice portion.

Can't find on my tmobile note7

Next article should be called "How to enable VoLte on the T-Mobile Galaxy Note7". Because i have no clue how to do it. This article was note useful at all.

I don't think that T-Mobile allows you to modify the setting for VoLTE on their phones. This might help.
https://support.t-mobile.com/docs/DOC-26622#steps7
Android Central Newsletter
Get instant access to breaking news, the hottest reviews, great deals and helpful tips
Thank you for signing up to Android Central. You will receive a verification email shortly.
There was a problem. Please refresh the page and try again.