How to enable encryption in Android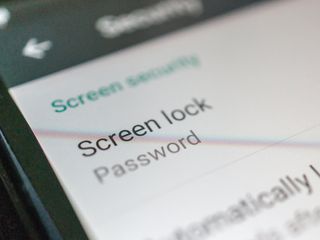 Since October 2015 with the launch of Android Marshmallow on the Nexus 6P and Nexus 5X, encryption is now enabled by default on Android. It's also not a simple matter to turn it off — it requires unofficial software and a custom kernel — so there's really nothing you need to do. The instructions below are for phones running Android Lollipop, which are a large portion of the install base. We've kept them available in case you need them.
We've talked a bit about encryption recently, specifically Android's full disk encryption setting. You can read a bit about what encryption on Android is and how it works here, and you can have a look here to see why you may or may not want to use it and how it affects you. Right now, let's have a look at how to enable it if you decide you need (or want) it.
Every version of Android since Android 3.0 Honeycomb has full disk encryption (from here on we're calling it FDE) available as an option, but this guide is based on Lollipop as shipped by Google on Nexus devices. Most settings and information will be the same no matter what version you're running, but there may be small differences in the way thing look. If you have any doubts or questions, hit the forums and get straight before you tap any buttons.
Set a password on your Android
You can turn on encryption without using any screen security, but the way things work mean you need to protect your phone with a lock screen password to get the most out of it. In this case, it can be a regular password, a PIN or a pattern lock. The system will use this passphrase to unlock the phone and decrypt the data on the disk.
Remember this password. If you forget, you'll need a full and complete factory wipe of all user data to get back into your system. Think of this as your master key — keep it private and don't use the same password you would use anywhere else.
Charge things up, and begin the encryption process
Open the settings on your Android and under "Security" you'll find an option for encryption. When you tap on the setting, you'll see a screen similar to the above.
The encryption process can take an hour or more, and is a pretty power-draining process. You'll need to start off with a device that's fully charged, and keep it plugged in until it's finished. When everything is done, your phone will reboot and you'll be required to enter your passphrase to get things started. While trusted agents like Google smart lock or other apps that can change lock screen security settings will still function as intended, every time your phone boots up you'll be asked to enter your password during the boot process.
There's a bit of discussion to be had about performance and encryption (the latter affects the former), but at this point, you're done. Your phone is locked up nice and tight, and without your master password, the chances of someone else accessing your data without your permission or knowledge is pretty slim.
Not everyone will want or need to encrypt their entire phone, but knowing the option is available — and how to do it — is what's important.
Android Central Newsletter
Get instant access to breaking news, the hottest reviews, great deals and helpful tips
Senior Editor — Google Ecosystem
Jerry is an amateur woodworker and struggling shade tree mechanic. There's nothing he can't take apart, but many things he can't reassemble. You'll find him writing and speaking his loud opinion on Android Central and occasionally on Twitter.
Step 1: Reshuffle the letters in "Android". Posted via Android Central App

You can get spell checkers for Andorid now?

Hey Posted via the Android Central App

Hay yall Posted via the Android Central App

Shouldn't everyone have their phone encrypted just in case they lose it or have it stolen? Posted via the Android Central App

It can be a major hassle for those of us using custom roms, and plain does not work if you want to use something like multirom. I really depends on what you keep on your phone, their is only a very slight chance of losing or having my phone stolen
and if it's stolen most likely it's just to wipe and resell, not mine my personal info.
and even if it does remote wipe is there. For me their's just not enough they could get from my phone to be worth the hassle and slower performance.
Now I'm sure security minded people are going to hate this comment, and of course we probably should if we really want to be safer
But the truth is their are reasons why a lot of people don't
Also most people don't know better, until very recently with devices like the nexus 6 you had to know to encrypt your phone and most people don't

I just saw that mine is encrypted, don't remember doing it. I have nexus 6. Did it do it auto? What's changed Posted via the Android Central App

If you have Lollipop, then yes it's encrypted by default.

Close. the N6 and N9 both came encrypted. So far, nothing else comes out of the box like that.

I'm pretty sure I read somewhere that if your device came with Lollipop installed (e.g.: Nexus 6/9) ir's turned on by default. However, if your device was updated to Lollipop it's optional.

Well that's not true for the lg g2 flex where it comes out with lollipop after coming out to its KitKat parents. It's not turned on by default, so I suppose manufacturers also have a say regarding that. Posted via the Android Central App

"... it can be a regular password, a PIN or a pattern lock. " How about a finger print [Galaxy Note 4]? Same protection?

Nope. For the Note 4, you have to use a password.

Lol Posted via the Android Central App

Figured I would give this a try last night. After returning to my phone 3 hours later, found the phone to be hung on the splash screen. I left it for a while longer and finally pulled the battery. Obviously, since the process didn't finish, I had to wipe my phone. Actually, now that I did, I find there are more features turned on by default that I like than were turned on after I did the stock upgrade from kitkat to lollipop. Not to mention, the phone seems a ton faster!

I think that Andorid was the name of Samantha's mother on "Bewitched." http://www.artfire.com/uploads/product/7/167/77167/6377167/6377167/large...

I encrypted my Nexus 5 after I updated to Lollipop. Surprisingly it only took 15 minutes. I was expecting at least an hour since I have about 5GB of music and 5GB of miscellaneous files on it. Posted via Android Central App

I have read that there are poor performance issues on the N5. Can you confirm, or deny this? I have the N5, and have been contemplating encryption. Thank you

I haven't seen any at all, just takes longer to boot up. I actually think that encrypting stabilized the lollipop update. At times the notification panel looked completely off like it was a window in the task manager, signal type (4G/LTE Etc) would disappear for hours while still having connection then just reappear later. Erratic battery life and all that. After encryption everything stabilized, except the battery which needed to be "retrained" to take a full charge again. Posted via Android Central App

I tried this on my Nexus 5 a few weeks ago. Ended up restoring the factory image to remove it, the performance was horrible, at times the phone was literally unusable.
Android Central Newsletter
Get instant access to breaking news, the hottest reviews, great deals and helpful tips
Thank you for signing up to Android Central. You will receive a verification email shortly.
There was a problem. Please refresh the page and try again.