How to disable and delete Samsung Pay from your Galaxy phone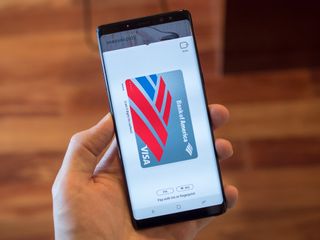 (Image credit: Android Central)
When it comes to paying conveniently, Samsung Pay makes using your phone as a bank card an easy process; however, there may come a time when you don't want to use the app anymore want to know how to remove Samsung Pay. Once upon a time, you couldn't uninstall Samsung Pay, only disable it, but these days, Samsung has seen the error of its ways and allows you to completely uninstall the Samsung Pay app.
Before you jump straight to the nuclear option, though, if you just want Samsung Pay to stop popping up when you don't need it, there's a setting to help with that.
How to keep Samsung Pay from activating on your home screen or lock screen
If you still want to keep Samsung Pay around in case you left your wallet at home and really need that six-pack of beer from the 7-11, you can just turn off the somewhat intrusive "Favorite cards" that appear at the bottom of some screens on your phone.
Open Samsung Pay.
Tap the three-line menu icon in the top left corner.
Tap Settings.
Tap Use Favorite Cards.
Toggle off Lock screen, Home screen, and Screen off.
With this turned off, Samsung Pay should only activate when you open the app and tap it to a terminal to pay. If, however, you just want to just get Samsung Pay off your phone, most recent Samsung phones allow you to uninstall Samsung Pay and be rid of it completely, and unlike the previous methods of merely disabling the app, uninstalling can be done in three easy taps.
How to remove Samsung Pay from your Galaxy phone
Press and hold the Samsung Pay icon in your app drawer until a menu appears.
Tap Uninstall.
Tap OK to confirm you want to uninstall this app.
With the app completely uninstalled, you can install a different contactless payment app like Google Pay (opens in new tab). You could also swipe down the Quick Settings and toggle off NFC if you don't intend to use a payments app and don't want the sensor left to be triggered by some random tag.
Versatile flagship
(opens in new tab)
Making better use of a triple-lens system
The Galaxy S20 features one of the best triple-lens arrangements around, with wide, ultra-wide, and telephoto lenses at your disposal. It also has the same internals as the larger S20+ and Ultra in a more pocketable and more affordable device.
Android Central Newsletter
Get instant access to breaking news, the hottest reviews, great deals and helpful tips
Ara Wagoner was a staff writer at Android Central. She themes phones and pokes YouTube Music with a stick. When she's not writing about cases, Chromebooks, or customization, she's wandering around Walt Disney World. If you see her without headphones, RUN. You can follow her on Twitter at @arawagco.
Must be a slow news day. Don't know why you would want to stop using Samsung pay unless you don't use any mobile payment system out of paranoia. I love using android pay but with Samsung pay I can use it just about anywhere and get double rewards. It's a no brainer.

Simple.
As a switcher of phones, why will I have my info across multiple phones? Android, iOS and Windows phone at that. Additionally, it doesn't take much effort for me to take my credit and debit cards out.

Then in your case it doesn't work. As for me, I don't switch phones often and I have no issues adding a card to a mobile payment system. I understand that taking debit card out isn't hard. That's not the point. The point is more security, ease of having multiple cards and being able to switch on the fly on top of being able to get rewards when it comes to Samsung pay. And many times I don't like to carry cards on me like when I go play basketball or jogging, but my phone is with me.

Ah okay, I can understand that. I was just answering why someone might not want to use it.

Well I just switched phones, from a Galaxy S6 edge 64GB to a Galaxy S8+ the switch for Samsung Pay was easy. Not having an issue with pulling out a card because it doesn't take that long is a WEAK excuse. Not opening your wallet in a line were potential thieves can openly view cards and cash in your wallet is putting you at risk. The added benefit of encryption of your card number for single use protects you from skimmers collecting your information. If you have access to Samsung Party and aren't using it your just foolish!

I'm the same way. I love Samsung Pay! I used android pay(where I could) when I had my nexus 6P. But now with my galaxy s8+, I use Samsung Pay all the time. It works almost everywhere(sometimes it takes a couple times to get it to work) and you get rewards! Really a no brainer for me.

It would be nice to actually have the ability to use Samsung Pay (i.e Canada, we're still waiting)

Hi. I was in Vancouver and was able to use Samsung Pay everywhere! Look for the NFC sign and if no NFC just ask sales person to push credit, line up the phone where you normally would swipe and voila! That's the advantage of Samsung pay over and android and apple pays!!!! Many of the Vancouver merchants had the verifone POS devices with NFC ability!

Samsung Pay is amazing. There is no better solution in my opinion. Here in Canada I use it daily and agree that the rewards are an added bonus.

I don't know why I would use Samsung Pay when I already got Android Pay..

I thought same thing at first too... waited so long for device to actually SUPPORT Android pay, and then not use it (my S3 and Note3 both had NFC - but due to carrier/Android/Samsung shenanigans was never able to do any mobile payments.) But, as it turns out I ended up preferring Samsung pay on my retired Note7 an loaner S7's.... big reason is MST (Magnetic Secure Transmission.) This allows the card to be used not just with NFC terminals... but just about any normal swipe terminal. My wife used it twice this weekend with her S8 at stores that said "paying with phone doesn't work here" and then totally surprised when it went through. It was also easy to store some other rewards & entry cards (botanical gardens, libraries) that use barcode instead of swipe, and it worked easily. (Although this part may be in the Android app also.)

Now you got my interest in trying out Samsung Pay.. Where I live only a handful retail franchises and grocery stores support Android Pay or any kid of NFC based payment system.. So the use of Android Pay is limited. But here's my question hopefully you can answer before I actually test it, does it work with card readers that require inserting card chips??

Yes, it does.
Gas-pumps won't work.
There are a few oddball stores where they've taken extra steps to makit it not work (Wal-mart being one.) Others have their terminals set up so that they need to know you are using credit card before trying to swipe (typically they see you grabbing card out of your wallet and hit a button on their side without you knowing)... if it seems to fail, ask if they need to hit credit.... that solves it in quite a few cases. So, we're still not at the point where you can leave your cards at home... but its much better than it was a couple years when we were waiting for all terminals to be upgraded to use NFC (and even then it wouldn't work because your device manufacturer or carrier wanted to force you into their own (albeit non-existant) payment app.

Some gas pumps will work if you can set your phone next to the reader and slide a dummy card without a magstrip (i use a library card). The key with them is that they use the insert of the card to start the reader. Simply place the phone next to the reader and slide a dummy card in and out of the terminal and it may work. I have had good success at many gas stations this way. 7-11 is the exception. It looks like their reader is to far back to get the MST transmission.
Walmart has something wonky going on with their system. My BOA debit card won't work to save for nothing, but i have a regular CC that works fine every time i try it.

I literally just used Samsung Pay yesterday at my local Walmart with my GearS3. But I will say this sometimes I do have trouble there on some days. But most days it works just fine.

I found Android Pay to be smoother for NFC, but Samsung Pay more usable due to the MST tech working at most card readers (including most, but not all, where chips are normally needed). The S7 made it easy to config using both Pay options this way. Biggest catch for Samsung pay is where swipes require inserting the card, even though no chip is used, as the MST signal can't reach the reader (many gas pumps are like this); or where the clerk thinks that Samsung Pay is witchcraft - I had one clerk manually remove the payment info from their register and tell me I would have to use a card.

Yes it does. I would not understand why people would want to disable this. Anywhere. Even gas ststions work with it. Samsung has a patent where they can read magnetic readers. Apple has to have the nfc terminals. The magnetic ones won't get you rewards but the nfc terminals will.

Okay. I understand why you might say that, but Samsung Pay is so much better than Android Pay and Apple Pay, especially if you have a Gear S3. With Android Pay on my phone, I have used it at places of business that accept NFC (contactless payment systems) but, in order to use it, I have to take out my phone, unlock the phone, etc. There are also businesses that accept NFC but don't advertise that they do. I went to a local pizza place and they accept contactless payments, but the contactless payment logo does not appear on the payment terminal screen until after the cashier total's out the sale. By that point, I already had my physical card in my hand and ready to swipe. As others have pointed out, Samsung Pay uses a technology called MST (Google "LoopPay", "MST", "Magnetic Secure Transmission" for more info). On my Gear S3, I can use both NFC and MST by pressing a button and holding the watch next to the terminal. It's so much easier, faster, and more convenient than Android Pay and using an actual debit/credit card. I also get reward points from Samsung for using Samsung Pay. If I save up enough points, I can get gift cards and other items, so I actually have the incentive to use Samsung Pay. :)

Of course, everyone has the right to decide what they are comfortable with (I know quite a few people who have never bought anything online, and don't use debit cards. I don't remember my parents EVER using ATM's even.) They would likely want to turn this off. But they just as willingly over their years handed their cards to servers at a restaurant as they walked away for 5-10 minutes.... and on at least one occasion had the card stolen (they know it was server because it was the only place they used the card in a couple years... and immediately fraudulent charges started.) But by most accounts, from what I've read, these mobile payments like Apple/Android/Samsung Pay are more secure than pin code with card; and still more secure even than cards with embedded fingerprint readers that Europe is proposing.

I have tried to uninstall Samsung pay multiple times, You cannot fully uninstall it on the Galaxy S7 (G930U) once you restart your phone, it will re-download itself over time, then it will annoyingly situate itself at the bottom menu button (using now launcher), until you accidentally click on it. I am one of those people who do not use any type of NFC payment. If you look in the Application Manager, there will be 2 instances of Samsung Pay, 1 instance of the Samsung Pay Framework. You can only Uninstall one instance of the Samsung Pay Application.

Download Package Disabler from play store and disable everything Samsung or Android pay related (or anything you think is users to you). Done.

This must be for S8 series only because my S7 Edge doesn't even give me an option to disable, much less, uninstall. Would love to get rid of it and the annoying prompts to use it.

Same here: Download Package Disabler from play store and disable everything Samsung or Android pay related (or anything you think is users to you). Done.

Samsung Pay is by far the best tap and pay. Not sure why you would want to disable it. But nice guide either way.

Why in the f_____ would you want to disable Samsung Pay? Why own a Samsung device in the first place? Samsung Pay is the most advanced feature any of these phones can offer. And if you own a S3 watch like I do, you don't have to do absolutely nothing when paying. Just press the "pay" button and your done. Heck, you can even add your signature to the app and you don't even have to sign. Now, doesn't that make life easier? It sure does. No more credit cards.

Yeah man your right. I don't get people at all. Never will. That's like one of the main selling points to the phone.

Their next article will be "why you should use android pay". Ive noticed the theme on these sites is to hate on sammy since its clearly the biggest brand

Are you crazy ? Uninstall is not existing and disable is grey out so impossible me to remove that **** bloatware as usual with my Galaxy S7. Last time that I buy a Samsung device !!! Enough is enough.

I was in debating between Galaxy S7 Active and OnePlus 3T. Although, OP 3T has 6GB RAM and faster UI (which is very tempting to me, I'm a AOSP fan), I bought Galaxy S7 Active just for Samsung Pay. And I'm glad that I made that choice. It is the best feature any mobile phone ever offered!!! It is just amazing!

Is there a way to disable the feature that allows you to swipe up to see the cards? Seems sketchy to have such easy access to all of your credit cards.if say your kids or wife as are using your phone..I dont want them available like that. Can that happen? Does Google pay do the same thing? Maybe I'll go that route.

Yes. It's in the article.

Wow..rehashed article from 2017

Although samsung pay is great. Not sure why you would disable it.
Android Central Newsletter
Get instant access to breaking news, the hottest reviews, great deals and helpful tips
Thank you for signing up to Android Central. You will receive a verification email shortly.
There was a problem. Please refresh the page and try again.