How to change the voice of Google Assistant on your phone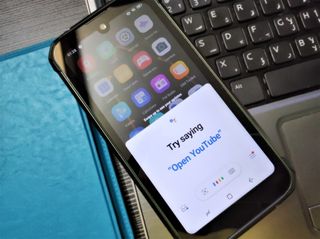 (Image credit: Namerah Saud Fatmi / Android Central)
Google Assistant is at the center of your Google experience. Whenever you ask Google for some information or to control any of your Google Home compatible devices, it'll chat back at you. It'll either tell you what you wanted to know, or in some cases; it'll say, "OK, I'm going to do that thing you just told me to do." As iconic as that voice is, maybe you're looking for something different. Fortunately, there are other options. Voice actor Antonia Flynn provided the original voice of Google Assistant. Depending on where you live, you may have different options. Also, assistant voice options vary from region to region. We'll show you how to change that voice to another one and how to customize it when you get responses.
How to change the voice of Google Assistant on your phone
Open Google Assistant. On an Android phone or tablet, you can say "OK Google" or swipe in from one of the two bottom corners of your screen. On an iPad or iPhone, you can open the Assistant app.
Tap the button in the bottom left corner that looks like a button with three lines coming out of it.
Tap your profile photo in the upper right corner.
Scroll down and tap Assistant Settings.
There will be a set of circles you can place a check into. Depending on your region, you may have a "cameo" appearance. As of this writing, it's actor Issa Rae. Otherwise, you can scroll to the right to see more voices, each represented by a color. When you tap on each one, it will select it and give you a sample of the voice. At this point, you're done. The last circle you tapped will be your selected voice.
While you're here, you can tap Phone under Speech output. Here you can choose how conversational Assistant will be. Basically, if you select Hands-free only, Assistant will execute commands without telling you it's doing it. If you select On, Google will respond when you ask it to do things (e.g., "OK, setting a timer for XX minutes," or "OK, turning four lights on," etc.)
Source: Adam Doud/Android Central
Google Assistant is incredibly useful in your day-to-day Google experience. It's nice to know you can change things up now and then, and it's straightforward to do.
Google Assistant on your screen
The center of your kitchen
The Nest Hub 7" is a smart screen that completes your smart home. You can access Google Assistant, whatever it sounds like, with our voice, and not only will Assistant tell you the information you need, but they'll also show you the information, such as weather, photos, etc. It's one of our favorite Assistant-enabled devices.
Get the Android Central Newsletter
Instant access to breaking news, the hottest reviews, great deals and helpful tips.
Adam has been writing and podcasting the mobile tech space for almost a decade. When he's not writing, he hosts the Benefit of the Doud podcast, spends way too much time on Twitter, and redesigns his office space over and over.