How to back up the Lenovo Mirage Solo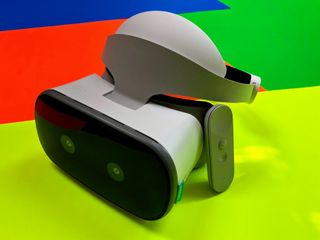 It's always a bad feeling when your fancy VR headset dies. No mass market good is perfect, and even some duds are going to make it out into the world. But the one thing worse than losing your VR headset is losing your game progress along with your VR headset.
Here's how to backup your Lenovo Mirage Solo!
Back it up, back it up
How to backup your Lenovo Mirage Solo
Place the headset on your head.
Press the indented button on the Daydream controller to wake the controller up.
Select the Settings icon near the top of the screen.
Select All Settings.
Use the touchpad on the controller to scroll to the bottom of the Settings list.
Select System.
Select Backup.
By default, Backups are on. Your game save data, list of downloaded applications, and other settings will be backed up to your Google Drive storage. If for some reason backups are turned off, simply toggle the switch next to Backup to Google Drive.
Have you had to manually backup your Mirage Solo data? Let us know down below!
Android Central Newsletter
Thank you for signing up to Android Central. You will receive a verification email shortly.
There was a problem. Please refresh the page and try again.