How to add the Copa America Centenario schedule to Google Calendar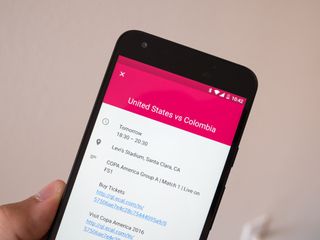 The prestigious Copa America tournament puts 16 nations from the Americas against one another in a fantastic tournament that will play out across the country, with some of the biggest names in world soccer (or, as most would say, football) playing for their country.
In the 100th rendition of Copa America (that's where the "Centenario" part comes from), it's actually being held right here in the United States, and that means not only will you be able to go watch a game in person if you so desire, but for the rest of us it'll also be broadcast on U.S. television and played in familiar stadiums across the country.
Whether you want to follow a specific country's climb through the tournament — which kicks off June 3 with the United States versus Colombia — or revel in the entire event, adding the schedule to your Google Calendar is a great way to keep up with it. This is how you do it.
You have to get this done on the web, rather than your phone, but it's pretty simple:
Head to https://www.ussoccer.com/teams/usmnt on your computer
Scroll down to Full schedule and click Sync your digital match calendar
Select which nations you'd like to see the schedule for, or click Full schedule to see every match
Click Sync schedule at the bottom of the page
On the next page, select Google Calendar in the upper-left corner, and click Next
Enter your name, email address and postal code (feel free to use any information here you wish ... your email address is all that matters)
(Bonus: You may want to uncheck the "Yes ..." dialogue box at the bottom)
Click Yes, Sync me option, and you'll be redirected to your Google Calendar page with the new calendar added
If you want to have this newly synced calendar on your phone or tablet, be sure to hop into your calendar app of choice and check that it's syncing to your device — some calendar app don't automatically sync new calendars.
Once added to Google Calendar, the schedule will show you which nations are playing, where the match is held, what time it starts and what TV channel it's on for your location. The benefit of having a synced calendar like this is that it can update over time, showing you results right in the calendar and updating future events as the tournament moves along.
Now, no matter which nation you support, or if you're just here for the spectacle of it all, you can follow along with the whole Copa America Centenario tournament as it rolls out the next couple of weeks.
Andrew was an Executive Editor, U.S. at Android Central between 2012 and 2020.
Alternatively watch a far superior product in Euro 2016. *ducks*

There are a few subpar teams in Copa America and when they get matched up there will be ugly matches, but you're talking about a tournament with Uraguay, Colombia, Brazil, Argentina, Mexico and Costa Rica in it ... plenty of great play and high-profile players all around.

Andrew, don't forget Mexico!
;-) Posted via the Android Central App

Funny, I meant to put Mexico in that list and put Brazil twice instead :P

Just came in here to thank you for watching out for the often neglected football fans! Mexico is my team, but I'm looking forward to watching as many matches as possible. Uruguay, Colombia, Brazil, and Argentina are very strong also. And before I get slammed, when it comes to women's matches, which I also watch, the US is my team. In fact, I'm watching the US vs Japan match now.

Typical brainwashed fan that believes Europe has the best Football just because of Europeans. Don't forget that the elite Europeans clubs have Latin Americans as their stars. Posted via the Android Central App

Why not watch both? The Euro's don't start until 6/10. So, you get a whole week worth of matches before that. That's what I'll be doing or trying to at least.

I think they are both great cups to watch. But yes the Euro seems superior, but I think it is catching on in Europe because of the great players from the Americas such as Neymar, Messi, Suarez, to name of few, that fans in Europe will want to watch. I just threw you a shoe, lol

Good looking out to fellow futbol fans!!

Fair warning, this will add a couple spammy "Enter Sweepstakes" entries into your calendar.

Thanks! I'll add this tonight! Posted from my Nexus 6P.

Thanks for this. Added Would appreciate the same thing for the Euros if you guys come across one.

+1 and thanks Andrew! Posted via the Android Central App

See my link below. Seems to work.

Is this only for desktop? What about the mobile Google calendar? Posted via the Android Central App

Thank you, thank you, thank you!!! Literally took me less than two minutes, and that included reading! I have no excuses for missing any of the big matches, now. If anyone cares, I found this one for the Euros, although I make no claims about authenticity or safety! open Google Calendar.
On the left side, find "Other calendars" and click the down arrow .
Select Add by URL.
Enter https://www.google.com/calendar/ical/mesnerlyons.com_1cekr7hg3lln0494sq5...
Click Add calendar. The calendar will appear on the left side under "Other calendars."

Thanks for this. I googled and found the one for Euro too.

Weicome June with Copa America and Euro 2016!

Copa American is in Google Calendar's interesting calendar section. You are welcome
Android Central Newsletter
Get the best of Android Central in in your inbox, every day!
Thank you for signing up to Android Central. You will receive a verification email shortly.
There was a problem. Please refresh the page and try again.