The Honor 8 is getting its long-awaited Nougat update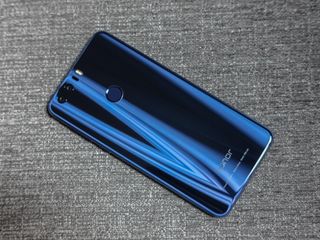 Users of the popular unlocked device can look forward to EMUI 5.0 and its many improvements — particularly to notifications and the home screen — along with Nougat's myriad upgrades, beginning February 10. Honor is particularly calling out the transition to what it considers "stock Android" on the Honor 8, though that simplification does still have its own quirks, as we've seen in the Huawei Mate 9.
The company says it will take a few weeks for all Honor 8 units to get upgraded to Android 7.0, but the whole thing should be complete by the end of February. Honor also says that the Honor 6X is slated to receive Nougat in Q2.
Oh, and Honor created this helpful graphic to explain the EMUI 5.0 update for the Honor 8. Enjoy.
Android Central Newsletter
Get instant access to breaking news, the hottest reviews, great deals and helpful tips
Daniel Bader was a former Android Central Editor-in-Chief and Executive Editor for iMore and Windows Central.
Is this a good phone? How's it holding up over time?

I've had the phone for a few months now, so I can't say what the long term is. But, based on my experience so far there will not be any issues. This is by far the best phone I've had and think I will only buy Huawei phones going forward as a primary device.

Before the honor 8 I had the s7 edge and a few others. This is probably the best phone I've ever had.

Honor 8 is a great phone.
Pretty much problem free.
Look in the Honor 8 forum here and see for yourself.

The honor 8 forum and the people that contribute are great!

Still waiting Nougat for moto g4 in Europe :(((

My gf loves hers. First phone that can keep up with all the multitasking she does that isn't giant.

It's a terrific phone. My favorite of 2016.

Wahoo finally...
Now I can move on Lol ...

Yay! When it finally hits my phone, I plan to try it out!

I just bought one as a backup (primary device is an Exynos S7 Edge). I might make it my primary device if performance and battery is decent on Nougat.

Are we twins? I have the same phones!. I like both devices and probably won't change one for a few months.I find the H8 on EMUI 4.1 has better battery life than the S7E running the 7.0 beta. I just hope that EMUI 5.0 doesn't make app drawer compulsory, I got the H8 BECAUSE it wasn't stock android and was different. I use Action Launcher on my S7E so I want my other devices software to feel different.

You have an option to use the app drawer or not fortunately :)

It's not really stock Android. It's closer to it but also quite a ways from it. It's really odd that they're saying that, but the Honor 8 is going to be a much better device with this update. I loved the Honor 8 and it was a seriously big surprise in 2016 as it turned out to be what's basically a Huawei P9 with a glass back and a much lower price. The only thing that held it back for me were some software quirks which EMUI 5 pretty much resolves.

Not just the lower price point, this has an extra gig of RAM than the P9.

I do hope that Google messenger works with it. I rolled back from the beta because the contacts within the all would show up as "UNKNOWN"

It works on emui 5 and nougat on my mate 9 so here's hoping haha

I had EMUI 5 on my device a few times with the Charles using the Charles method, messenger was messed up everytime. Not sure the why it was the only app to do so

i wish i had picked up this phone a couple months ago.

Can anyone confirm there is a way to turn off the app drawer?

Yes, it's a choice in EMUI 5.

I have seen in beta screenshots that you choose if you want the app drawer or not in settings.

I really like the design of this phone!

The Honor 8 is a fantastic device, and a Joy to use.

Wow nice .. I think it's a great phone
Android Central Newsletter
Get instant access to breaking news, the hottest reviews, great deals and helpful tips
Thank you for signing up to Android Central. You will receive a verification email shortly.
There was a problem. Please refresh the page and try again.