Home screen layouts and how to theme them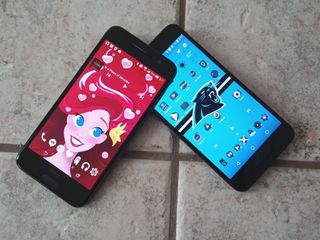 Even if you don't actively theme your phone, you do actively lay out your home screen. Layouts are the way you arrange the apps and widgets on your home screen. We don't talk about them nearly as much when theming as we should. In fact, I try to avoid specific layouts in my themes so they are more accessible to users of varying tastes. But layouts are important, whether you intend to theme your phone or not.
Some people like their home screen to have as little on it as possible. Some people want everything on the home screen they possibly can squeeze in there. Some people are a little of column A and a little of column B, because we believe that the space on our home screen is meant to be used, but we don't need/want to cover up every inch of it. No matter which camp you fall in, all of us can benefit from seeing the differences and the benefits of each approach.
Heavy home screens
These are without a doubt the most prevalent layouts in the mobile space, in part because these layouts look a lot like how Windows Phone and iOS home screens look: a vast sea of app icons and (maybe) widgets. For users who have recently migrated from one of these platforms, or users on their first smartphone, this busy layout is a taste of the familiar, like the desktop they save everything to at home.
Because everything important is in one place, these users spend little time digging through apps they don't frequently use in their app drawer. It keeps some users focused on the apps they need to use, rather than getting sucked in by an app that catches their eye in the drawer. If there are widgets here, they're usually a clock, some settings toggles, and maybe a weather widget.
Despite the time-consuming look of these home screens, these layouts are usually the quickest to come together: drag everything you need to the home screen and maybe sort them. However, busy home screens also don't leave much space open for gestures beyond a double-tap.
These layouts may look chaotic to the untrained eye, but to the user who set them, everything has a place and they know where that place is. When theming a heavy home screen like these, stick to simple wallpapers without a single area of focus. Icon packs are especially important here as the screen is covered in apps. If you use a lot of obscure apps that are unlikely to be themed in icon packs, alternative icons and filters for unthemed icons matter.
Minimalist home screens
At the other end of the home screen spectrum lie screens with as little on them as possible. Minimalist home screens are tidy, they are simple, they are here to stay out of the way and let you get what you need to do done. The default layout on most third-party launchers, and even some manufacturer launchers like Google Now Launcher, lean towards the minimalist side so as to not overwhelm new users.
Sometimes, their home screen will be completely clear, just a small array of apps in the dock and a wallpaper that's easy on the eyes. Maybe there's a single widget at the top with the time and weather, or maybe another row of apps above the dock, but that's it. While this makes it easier to find the few apps that are there, this does mean that you'll dip into your app drawer more often, so app drawer organization becomes much more important.
Folders allow many of us to cheat, giving us a clean look on the home screen while still offering more apps outside the app drawer. When theming a lean home screen, you have much more freedom with your wallpaper, as that will be the most prominent element on your screen.
The need for your icon pack to compliment the wallpaper is higher with these layouts because the few apps that are there stand out more. Widgets with clear backgrounds play especially well with minimalist layouts, but a bright, custom widget can also serve as a bit of a statement.
Mixed home screens
Mixed home screens try to strike a balance between the shelves of shortcuts and the emptiness of a minimal layout. These layouts can skew busy or simple, trying to make the most of the space given to them without overcrowding things. When building themes for myself or the site, this is the layout category I strive for.
The key to a well-balanced layout is defining the space you do and do not want to use. If you've got a phablet and don't want to strain yout thumbs reaching for that top row, keep your folders and icons down low while leaving the top for glanceable widgets, or leaving it open to show off your wallpaper. I usually keep the middle open on my themes, both to let my wallpaper shine through and to have an open space for gestures.
Because mixed layouts are somewhat built around their device or wallpaper, they'll adapt to most themes you throw at them. If your wallpaper is busy in the middle of your screen, lay out your elements on the top and bottom of the screen. If your wallpaper features a character's profile on the left side, keep your apps and widgets to the right.
The key here is being flexible with your element placement and playing around with your layout until you find what works for you.
Beyond these three broad categories for home screen layouts, there are many more precise flavors and variants to try, and there's a method to the madness for each and every one. My dock consists of six folders and a phone. A friend of mine hides almost every app and just uses search to pull them up.
How do you make order out of the chaos on your home screen? We're always looking for ideas. Share your layout with us in the comments below, and stay tuned for more theming tips and tricks here on Android Central.
Android Central Newsletter
Get instant access to breaking news, the hottest reviews, great deals and helpful tips
Ara Wagoner was a staff writer at Android Central. She themes phones and pokes YouTube Music with a stick. When she's not writing about cases, Chromebooks, or customization, she's wandering around Walt Disney World. If you see her without headphones, RUN. You can follow her on Twitter at @arawagco.
I've always been a minimalist when it comes to my screen layout. My wife is the opposite, with every app icon on her screens. Her phone makes me crazy, lol. Oh, well, opposites attract, eh?! Doc Posted via the Android Central App on my Motorola Droid Turbo 2

I'm happy to see more and more theme articles showing up lately. It's one of the better things about Android, but it isn't the easiest to get started with (depending on your device, of course). Posted via the Android Central App

Some of these are cpu hogs, yes? Posted from my Nexus 6/Nexus 7 2013/Surface Pro 3

Nope. You have to get really animation heavy for the home screen to have much impact on the system, in my experience. Posted via the Android Central App

Widget refresh rate has to affect battery more I works assume? Posted via the Android Central App

Technically, but the only time I've ever seen a widget show up in my battery stats was after a bad update.

I can get on board with the Pokemon one. Lam I Am

I use Apex Launcher...tried many of them and I like the menus and how to navigate it. My latest favorite icon pack is the Empire icon pack by DrumDestroyer. My other favorite icon pack is Balx by djskarpia.

Oh dear Lord. Pls share the wallpaper with me/us. Especially the minimalist ones. I am in love. Posted via the Android Central App

The mountain one is from Materialistik https://www.androidcentral.com/e?link=https2F2Flinks2Ftype2Fsid2Fhttps2F2Fstore2Fdetails3Dcom.sikebo.materialistik.material.icons&token=MfZzdIH0

Want the train wallpaper please

http://disneyparks.disney.go.com/blog/wallpapers/page/10/ here ya go.

Thank you so much, my son is gonna love it....... Funny I thought that was big thunder mountain and it is Posted via my HTC One M9

Disney Parks Blog has always been a huge resource for my themes. March Magic gave me custom dock icons and they post beautiful wallpapers on a regular basis. Posted via the Android Central App

I go minimalistic with just one widget on average on every homescreen and wallpaper for that last one? Really nice one Posted via the Android Central App on my Frost Nexus 6P

that last one, meaning the train one? http://disneyparks.disney.go.com/blog/wallpapers/page/10/

I want the wallpaper for the third minimalistic home screen.... Posted via the Android Central App

Mountain wallpaper was included with Materialistik https://www.androidcentral.com/e?link=https2F2Flinks2Ftype2Fsid2Fhttps2F2Fstore2Fdetails3Dcom.sikebo.materialistik.material.icons&token=dID91t-D

I want a theme that gets me holo Yolo back. Posted from my Nexus 6/Nexus 7 2013/Surface Pro 3

That could be an interesting throwback thursday sometime...

Ara, I'm a very seasoned user but I found alot of your ideas and suggestions very very helpful. I'd just like to say thank you. Posted via the Android Central App

You're welcome! And I'm hoping to bring more suggestions to our readers in the future because if there's one thing my theming experience over the last few years has taught me it's that home screens evolve.

+1. Great article. Definitely need more on theming. Posted via the Android Central App

Very interesting article. I feel like I'm more of a mixed/in-between user. I like the look of the minimalist type, but since I'm new to Android (came from wp), I don't know how to make folders. Going to see if that I can find that somewhere. Using the Nexus 5x.

Folders vary depending on the launcher, but for most, just drag one app icon on top of another on the home screen. I need to do up a quick post on that, though because folders are important in home screen theming and layouts. Posted via the Android Central App

Ooh that's good to know, thank you! I'll appreciate that when you make it.

I think folders could be a whole article, especially with all the advanced folder options on Nova, ADW, and Action launchers for example. (First Icon is my usual folder preference.)

It's a causality loop! (Actually I didn't notice the comments were from a year ago..)

Asus Zenfone 2 with Nova Launcher, Moonshine icons (my default icon pack) and Min icon pack for small dock icons. Running CM 12.1 https://flic.kr/s/aHskudhLdN

I actually really like that!

The Astronaut wallpaper pls :) Posted via the Android Central App

Link for the storm trooper/smoke (for me) and Ariel (for my daughter)!

The Ariel one came from Disney Style, the link is in this week's Wallpaper Wednesday post. I'm going to be pestering the AC staff for links when it's not their Friday night. Posted via the Android Central App

And stormtrooper: https://www.androidcentral.com/e?link=https2F2Fr.cfm3D1660903D213953D8854953DUUacUdUcU15585913Dhttp252F252Fpeople252Fworks%252F12336016-smoke-stormtrooper-helmet-colour&token=0RK--72u

Does the Google Play Store still add the app icons on your home screen by default? Posted via the Android Central App

Yeah, but you can (and should) shut it off easily. Posted via the Android Central App

I would say out of these, I'm definitely a "mixed" home screen person. Although I do keep everything clean and not too cluttered. Gold Platinum Galaxy Note 5

I wish I could use icon packs with the Google Launcher. I wonder if illiterate people get the full effect of alphabet soup

https://www.androidcentral.com/e?link=https2F2F... https://www.androidcentral.com/e?link=https2F2F... One of these should do it for you, but they only change the icon on the home screen. They can't change the icon in the app drawer.

What keeps you with the Google Launcher? Out of sheer curiosity? Posted via the Android Central App

I don't really know. I just like the simplicity of it. I wonder if illiterate people get the full effect of alphabet soup

There are simple launchers out there that still offer the benefits of customization. It's just a matter of diving into one.

I've had a few. Nova Prime, TSF Shell, and Action, but I always seem to go back to Google's. I wonder if illiterate people get the full effect of alphabet soup

Same here. Google Now Launcher is my mainstay. At times I switch between Nova and Action Launcher 3 Posted via the Android Central App

I don't quite understand the fascination of GNL. I would put 5-6 launchers ahead of it. Posted via the Android Central App

That's your opinion and it works for you, but for me I like the simplicity of it. I understand that it lacks customization, but it works fine for me I wonder if illiterate people get the full effect of alphabet soup

I don't understand either. I've even discussed this and conducted polls on Google+. For some reason people (me included) love the Google Now Launcher. Posted via the Android Central App

I believe it's the "Swipe right to Google Now" feature that some keep coming back to GNL.

That's why I prefer it. Posted via the Android Central App

And that can be done via gestures in other launchers. Not seeing the benefit of Google Launcher over more customizable launchers personally.

Really good read. Made me smile when I got to the minimalist home screen. Describes me to a tee. Posted via my LG G4

I'm of the minimalist school of thought. I have four folders with the apps that I use most often sorted by category and then individual icons below those consisting of phone, contacts, messenger and camera. Posted via the Android Central App

I favor mixed home screens, but some look closer to heavy. I have my most used apps on the first screen and I designate the other home screen panels for entertainment, productivity, etc. It's all very organized, I think. And I really like the HTC Sense themes.

I'm really enjoying the theme articles. I'm more minimalist. I use Nova on my Nexus 6. Posted via the Android Central App

I just use one of my own pics from a recent holiday we've had, one dock on bottom for the things I use and that's it. Nova launcher is my fave. I'm a minimalist, looking at my partners iCrap gives me a headache with all those widgets... Chuckle..

Except her widgets would be in her notification center, not on her home screen because iOS still doesn't allow home screen widgets. But I get it, looking at busy home screens sometimes gives me a headache, too.

When I had an iPhone, I almost never swiped down, except for notifications. I never knew how to change what widgets I could and couldn't see. Maybe you can't, I still don't know :)
With Android, it's so much easier. Just press and hold. And it's on the home screen, which is so nice.

Ive tried different launchers. Nova just fits me the best. My app drawer is left alone and alphabetical. However I like my set up minimal. The gestures and ability to swipe apps and folders for different actions is a feature I cant live without. Posted via the Android Central App

What's the wallpaper and icon pack for the 3rd one one under minimalist homescreens? Really liking the look of it! Blackberry Priv
Nvidia Shield "Portable"
Sony Xperia Z3 Tablet Compact

The mountain wallpaper came with the materialistik icon pack https://www.androidcentral.com/e?link=https2F2Flinks2Ftype2Fsid2Fhttps2F2Fstore2Fdetails3Dcom.sikebo.materialistik.material.icons&token=cHHf03VM

I have one home screen which the "home" button brings up,showing time and temp, but I have 3 other "home screens", one for the apps i use most, one for lessor used apps, one for games, and one for etc. I rarely have to go the the app drawer. I just swipe through them.

+1 for the minimalist way of life. I was using Google launcher and recently switched to action launcher 3, I have not looked back. I love folders! Posted via the Android Central App

Does anybody know where I could download the mountain wallpaper from the minimalist verisons? I did a quick Google search for it and I couldn't find anything... Posted via the Android Central App

It's included in Materialistik https://www.androidcentral.com/e?link=https2F2Flinks2Ftype2Fsid2Fhttps2F2Fstore2Fdetails3Dcom.sikebo.materialistik.material.icons&token=LY8Siu3Q

Thanks! Posted via the Android Central App

On my own phone (LG G4 with Nova Prime), I use a mixed setup. I like to mix both the clean look of minimalism with the functionality of a heavy home screen setup. My dad's Galaxy A5 (2016) has a minimalist setup while my mom's Zenfone 2 has a heavy home screen. My dad's LG G3 (second line) is like mine. All their phones use Nova Prime so that the experience is somewhat consistent so they don't have to fumble around as much when using another phone. This is my current home screen. I'm open to suggestions on improving it, but don't say "change your wallpaper". It's not going away until I say so. https://drive.google.com/open?id=0B62T5GPQ81UdV1N3SzFvVG1NX1k

This link should work if it asks for permission. https://drive.google.com/file/d/0B62T5GPQ81UdV1N3SzFvVG1NX1k/view?usp=do... Please don't die, my love (New G4)

A purple or neon icon pack might work better with that wallpaper, and the music widget might distract from the wallpaper more if you used Jack's Music Widget. The widget in the middle I can't help you with. Posted via the Android Central App

What's the clock/weather widget you're using? Posted via the Android Central App

Pastelus Widgets. It's a paid widget and requires Zooper. https://www.androidcentral.com/e?link=https2F2F...

Thanks! Posted via the Android Central App

I've always tried using a balance of widgets and apps, with the music widget taking the majority of the home screen, with most apps in the app drawer. Maybe a row of apps below the music widget, and other pages with either just widgets, just apps, or a couple widgets and a few apps. from my bossass LG G4

Love the weather widget showing 'wantagh'. Anyone know whats called?

Weather Timeline https://www.androidcentral.com/e?link=https2F2Flinks2Ftype2Fsid2Fhttps2F2Fstore2Fdetails3Dcom.samruston.weather&token=q3nycQan

Some people pretty much put all their apps in their homescreen. Might as well not put anything there and just press the app icon to see all your apps. It looks like a pain to locate your desired app. Google Nexus 6P

I like cramming in as much stuff as I can onto 4 home screen pages. On the first page I use a clock/weather, and Google widget with 4 folders below with my most used apps which include a utilities, a camera/gallery, and social media folders. On the second page are a mix of folders and single icons. The other 2 pages are mostly widgets including Gmail and outlook with a couple of folders for infrequently used apps. I have the note 4 and I really like Flip so I keep it on the far left page where it was pre-installed. My wife has the same phone but hers is a mess. She keeps everything alphabetical in the app drawer and uses that. Her home pages are a mess of various crap and pre-installed widgets. She insists that she needs every notification you can think of including the super battery draining Facebook app. I have that app disabled and I access Facebook on the net. She has to take a charger with her to work as she can barely stay charged past noon. Posted via the Android Central App

What about the superminimalist? All I see when my home screen is first launched is the wallpaper (which rotates automagically through a library of a couple of hundred images). Everything is accessed quickly and easily via various gestures. SL3, Snap Widget Drawer, Wallpaper Changer and MacroDroid are my friends... - SL3 home icons are hidden by default - touch the SL3 hotspot to bring them up. All of those have a pop-up widget assigned to double tap, plus I've got the Snap Widget Drawer loaded with a couple of instances of Car Widget loaded with Car Useful shortcuts and my Music Player Widgets. SL3 app drawer is a swipe from the left edge of the screen, Google Now a left to right swipe from the middle of the screen or a double tap on the home button. Swipe up for app search, swipe down for SL3 search, long press on back button brings up some custom text menus (built in MacroDroid app) for various shortcuts.....

That amazing... I'm going to try that Posted via the Android Central App

Thanks for the great article Ara. I am a big minimalist user. Love to see my wallpaper shine through so only have three icons at bottom with middle one being an amalgamation of my most used Would love the link to the smoking stormtrooper wallpaper please Posted via the Android Central App

https://www.androidcentral.com/e?link=https2F2Fr.cfm3D1660903D213953D8854953DUUacUdUcU15585923Dhttp252F252Fpeople252Fworks%252F12336016-smoke-stormtrooper-helmet-colour&token=SkoGB8gD

Thank you very much Ara Posted via the Android Central App

I'm in the minimalist camp with one row of folders above the dock and maybe a clock widget depending on the wallpaper.

Oh, by the way. Ara, what's the Google widget on Minimalist Screenshot #2 and Mixed Screenshot #3? It's probably the best Google search widget I've ever seen.

The launcher looks like Action Launcher 3 to me. With it, you can colour the search widget (and app drawer and widget drawer) to compliment the wallpaper colours :)

What they said. Posted via the Android Central App

Damn. I really want that widget but I also don't wanna ditch Nova Prime. Oh well. I'm always down to trying something new, so perhaps I'll give it a go.

It's the Quickbar in Action Launcher 3.

Can I get that mountain wallpaper?

That wallpaper was included with Materialistik https://www.androidcentral.com/e?link=https2F2Flinks2Ftype2Fsid2Fhttps2F2Fstore2Fdetails3Dcom.sikebo.materialistik.material.icons&token=Yasd4O3M

Transparent widgets mean you can have a busy home screen without it looking too cluttered
http://i469.photobucket.com/albums/rr57/3lixirx/Screenshot_20160213-1124...

In 5 years of using Samsung devices, I've largely used Nova Launcher to set up my home screen as a two-page affair: the main one with about ten folders which group most of my apps into categories, while the second page has my Google Now, Business Calendar, and Business Tasks widgets. I use a favorite photo as my wallpaper and arrange the folders around the main subject of the photo. What's nice about Nova Launcher is it really allowed me to take advantage of the display -- I am technically able to create a 7x7 grid of icons/folders per homescreen page. I also have seven apps in my most-used apps row. Nova Launcher also allows me to resize my widgets to just the size I want instead of following the widget's real size so I can fit all my widgets in the available space. Just last month I switched to the LG V10. Despite the negative reviews about LG's supposedly heavy skin, I found the LG UI to be fast, responsive, and quite flexible. I never felt the desire to install Nova Launcher at all. I have my homescreen set up as three pages. The main one is minimalist with just the wallpaper, a small weather widget on the top-left and at the bottom I have the Phone, Camera, App Drawer, Chrome, and a folder with my most-used messaging tools: Viber, SMS (for which I am using GoSMS Pro for its dual-SIM support), and Gmail. LG UI also allowed me to reorder the soft keys (screen capture tool, SIM switch, Home, Back, and recent apps) in the order of the frequency of use so as to be closer to my thumb. A second page has my apps categorized into folders and my Google Now, Business Calendar and Business Tasks widgets. I added a third page to contain LG Memo so I can add notes I want to be on hand for the day, the Google widget, and two more app folders. The main difference between the LG UI and Nova Launcher is I can only get a 5x5 grid of icons/folders and resizing of widgets is a bit limited on LG UI. On my Samsung devices, I also used to install an app with a widget to turn off the display so that I don't over-use the hardware power button (which died an early death on my Samsung Galaxy Note). LG's feature of tapping/knocking twice on the screen to turn it on and off has now taken its place and it's much better. For the V10's Second Screen, by default I can do a swipe while the main display is off and get access to the Sound/Vibrate switch, Wifi, Flashlight, and Camera functions. When the main display is on, I have CityMapper, Aldiko ebook reader, LG Remote (for controlling my TV and set top box), LG calculator, and Spotify shortcuts for quick access. Another swipe takes me to music controls. With my minimalist main homescreen page, I can now switch wallpapers everyday (twice actually) depending on what I want to look at for day & night time.

Which is the Icon pack in the second topic (Minimalist) , third screenshot ? I really like it!

The one with the mountain? Materialistik https://www.androidcentral.com/e?link=https2F2Flinks2Ftype2Fsid2Fhttps2F2Fstore2Fdetails3Dcom.sikebo.materialistik.material.icons&token=5VtER2Mf

Yeah that one thanks ;) Already had that pack but didn't forgot...

I've been using Smart Launcher for over three years, now, and it's my launcher of choice. It has an auto-organizing app drawer that lets you go as minimal as you want on the home screen, yet easily access any app. App drawer is a swipe to the left (or the right--your choice), and widget panels are a swipe the other way. Smart Launcher lends itself best to minimal or mixed home screens, by virtue of dedicating a portion of home screen real estate for a single widget and another space for apps/folders). I've run my Galaxy S4 with just a clock and one button (a folder with my frequently-used apps) on the home screen and with 42 tiny buttons squeezed into the bottom half of the home screen (in homage to the Hitchhiker's Guide ( https://www.dropbox.com/sc/ofnyu6z8ej6ok02/AAB3HQlOEzSs-izI95ELWtPWa ); right now I run a mixed screen with 12 app icons that still allows me to enjoy my wallpaper: https://www.dropbox.com/sc/m1v8zd51nvlacri/AACC9nHxigeR9A45IdDsj57Da [The second screenshot here is of the Productivity category in my app drawer: category icons run down one side of the screen, allowing you to switch from one to another with a minimum of page-swiping.]

You know what I would like? A desktop app for planning out your homescreens. It would be your homescreens simulated in a window, and a dynamic pool of your app icons in another. I don't go crazy and prefer a light home screen with the other apps on the following screens, but I like those screens and folders organized. Sometimes it bugs me when I have a group of related apps, and one lone soldier just there because there was no place logical to put it besides the Misc folder. Anyway, my main homescreen is just the animated weather clock at the top, with one icon for the music player in the bottom left, and one folder for all other media in the bottom right. This way I can enjoy whatever wallpaper or theme I happen to be using that day. The next two screens are full, but are organized by purpose and have folders for groups (Tech Tools, news/weather, Games). The fourth homescreen is shopping/financial, with Android pay, bank app, Google Wallet, and Fuel & Costs all across the top, and the big Key Ring widget that lets you flip through the cards on the homescreen taking up the rest. I usually go with uncluttered abstract or artistic wallpapers, and once in a while a good nature shot or cityscape. I have played with the idea of putting a face shot of Blake Belladonna on there (I'll be honest; I have a crush), but that might get me the side eye, lol.

I'm a minimalist for sure. Less jank and prettier. Posted via the Android Central App

I'm somewhere between minimalist and mixed.
My wallpaper has tended to be a picture with black bars above and below (because I wanted the whole picture showing but didn't want to crop) so I would put the apps as best I could over the black bars and then maybe over a bit of the background of the actual picture.
I'm currently rocking the DIY Deadpool theme though, which has one screen with the Deadpool clock widget and a second screen with the apps I expect to use the most along the top and the bottom in neatly organized folders. My bottom bar is all the utilities I need: phone and contacts in a folder, all of my messaging apps in a folder, my app drawer, chrome, and then camera and photos in a folder.
All on my awesome Nexus 6 running Pure Nexus Project :D

Literally just the dock icons and a clock widget on my default homescreen. I like the super minimalist look so I can marvel at the pretty wallpapers I set.

Ara. Could you pleAse provide the link to the smoking stormtrooper face ? Posted via the Android Central App

https://www.androidcentral.com/e?link=https2F2... Posted via the Android Central App

I like a minimalist main/home screen. I take advantage of features in Nova Launcher. Like folders in the dock and multiple pages in the dock. I've eliminated the need for a app drawer icon with gestures. I have the bulk of widgets on page 2 and 3. My set up hasn't really changed in 5 years. Posted via the Android Central App

That last weather widget? AT&T Galaxy Note 3

Yahoo Weather. The flickr integration is awesome when looking for weather at vacay destinations.

Behold!
https://photos.google.com/share/AF1QipOxN4nYebkB48XhEduNZG741RXXgx9q_qu8...
One page setup, Action Launcher, most of them icons is folders.

Ara, great article, thank you. Note 5 (just in case, hog = Harley Davidson)

I use power toggles to create small transparent bands of icons--to my eye it's less cluttered even with a lot of them.

My home screen is almost ALL widgets. It's all about quick access to glancable information. Time, date, weather, battery, appointments, to do lists. All of which kept as minimal design wise as possible so that they go well together, don't distract visually, or clash with any wallpapers. I don't even have a dock. To get to apps, I use the app drawer (which is it's own page, just a swipe away) or the recent apps switcher. It wasn't always that way, but I found I just natural moved into that behaviour. So the dock was just wasted space. Posted via the Android Central App

My home screen has 2 rows on the bottom of 5 app icons. Then the Google Search bar above, and above that is my weather widget (5x2).

I wish Android TV had a customizable Home screen.

PREACH. You can re-order your apps, but I want to replace that boring background.

I enjoy your articles very much and I have found them very helpful as this is my first Android phone, coming from WP.
Thanks a lot !

Nice article. I am a big fan of minimalist home screens. I use Action launcher and Zooper pro to theme my phone. I also like samsung's themes as they are great for getting a consistent look and a easy theme experience.

Lost of minimalists in the comments. If you include all the apps in folders, I have 32 apps on my homepage. I almost never have to go anywhere else.

Yep, between my five dock folders (and phone icon), I have 30 on my home screen, all on the dock (folders).

Always been a minimalist, https://photos.google.com/share/AF1QipMedpSUu66d1nb7pMieHBPJF4zRgCHn6lmz...

What is the name of the circular icon pack in the 2nd screenshot under the "Mixed" home screen section please? The screenshot is the one which has the Google weather widget at the top with a metallic grey background.

That came from a co-worker, so I'm not entirely sure, but I'd bet money on it being Elun.

I've tried maximalist and minimalist but always end up gravitating to mixed. I use Google Launcher with a single homepage. There are five folders arranged so that they don't cover the sports logo. As there are several teams that I follow in different leagues I change the background from time to time depending on if they are active or not. If I want other widgets, folders or apps displayed I put them on a second homepage (swipe to the left). https://photos.google.com/share/AF1QipPdQGYVVPnma4jXvSrorUw9SVRzTPM4wkwx...

Even those examples of minimalist home screens look junky to me. My setup hides so much, but I keep everything as easily accessible through a pie, voice commands(thanks tasker), Tesla notifications, fingerprint app, with tasker , and other means. One homescreen only has one folder, used as a icon, to hold all pertinent google apps that I use, the other(I only use two), hold two folders set up the same way, and I use transparency to a fault. My appdrawer is vertically scrolling, and 90 percent of root apps are hidden from that, and the appdrawer. I will try to make it more minimalist than that, whenever I see a opportunity
Android Central Newsletter
Get instant access to breaking news, the hottest reviews, great deals and helpful tips
Thank you for signing up to Android Central. You will receive a verification email shortly.
There was a problem. Please refresh the page and try again.