Here's where you'll find the microSD card slot on the Moto X Play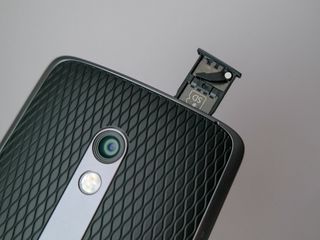 Many of you will see the headline and think, "what on Earth is this guy talking about?" But you know what, the Moto X Play is the first phone in some time I've actually opened up the in-box documentation to figure something out. Because it's not obvious where the microSD card lives.
The front of the phone has a sticker on the screen that describes some key features, one of which is microSD support. So where the hell is the slot for it?
Oh, right, it's there. In the SIM card tray. On the back of the SIM card to be precise.
There's only one slot on the Moto X Play and it's along the top of the phone. There's also nothing to tell you what actually lives in that slot. And when you take the back off there's nothing at all. Enter the documentation.
I'm not ashamed to admit I scratched my head for a couple of minutes. But there it is. Pop the SIM tray tool in, pop out the tray, turn it over and when you're putting in your SIM card, throw a microSD in at the same time.
Who ever knew that stuff in the box was useful?
Did the manual say not to put it in backwards? Google knows why kids love the taste of cinnamon toast crunch. And they're willing to sell it to you.

LoL Posted via the Android Central App

The first time someone puts in the SD card backwards it will be a design flaw instead of an idiot problem. Posted via the Android Central App

It won't insert backwards, because that would damage the phone.

jesus, enough with this already. If something shouldn't be used in a manner that damages it, you should do whatever you can to prevent the user from doing that. You don't, it's a design flaw, period. Hmmm, I wonder why your car has a handbrake warning....Oh, I know why...

What about trying to insert a Micro USB cable backwards in the dark? Does my phone need a label for that? What about filming in portait? Or what about putting a label on my jug of milk that says do not place in fridge with cap off and upside down. Do not open beer with teeth. Do not place long hair next to oscillating fan. I don't think Samsung did anything wrong. Try doing a lot of things wrong and odds are something will break or you'll end up with milk all over the place. How about people just use their brains every once and a while.

Every stylus is inserted with the tip being the first to go into the slot. It's not rocket science. While it's impossible to do so on the Note 4, and being easy to do on the Note 5, and while I agree that a warning should be on the phone (They actually DID warn you. On the manual that nobody bothers to read), this is primarily user error. A design flaw is something that proves to be a big issue in daily use. Like if the S Pen keeps getting stuck even if I put it in correctly. This is the S Pen getting stuck just because it's inserted the wrong way in. Samsung *can* do a minor S Pen redesign to minimize the risk, but the bottom line is that you can't fix stupid. Pay attention to how you insert the S Pen and you won't have to endure customer support.

Adrian: I actually know a girl who called me up and said her car was sluggish and had a burning smell. She drove it twenty miles with the parking brake on, lol. Posted via the Android Central App

Here we go.... Check out the new Nexus! https://youtu.be/u3uFOavLo_w, not a Rick roll

Not gonna lie but even though you said it wasn't a Rick Roll I was still expecting it to be,

Close enough Posted via the Android Central App

no, go read the thread, it is a pretty accurate reaction

Brilliant! Posted via the Android Central App

Whooomp there it is! Whooomp there it is! I need a beer Posted via the Android Central App

Just one? Yeah, work tomorrow. Damn work. Posted via the Android Central App

Work sucks! There needs to be a national BEER holiday with pay!

MotoX PE, where are you!?

Too bad this phone is Verizon exclusive cause I am considering it over One plus 2.

I think a lot will go for this over the One Plus 2. Myself included. Waiting for invites is just insulting. Either get your production sorted or get out of the business.

Will Verizon up the processor auntie? Is the 615 agood processor compared to the Moto x 2014?

No, the 801 is still better than the 615. The x play is a lower-end phone than the moto x 2014

Ya, the 801 is easily more powerful. And the adreno 330 destroys the adreno 405 that the 615 has

i was on qualcomms website and the snapdragon 615 doesnt seem that bad compared to the 801. What is going to be bogged down with the 615 chip? Bad gaming? bad video playback?

To me there's no major difference except for the architectures and clock speeds. I'd rather have the improved camera, battery life, SD card over a marginally faster chipset. But that's the thing you love about android devices, you get choices. Posted via the Android Central App

The play is about 40% more powerful than a Nexus 4 which still does everything just fine.

LOL reading is a rare thing, so I can understand the humor in this article. ;)

We should read more! We don't read enough.

Do you then have to remove your SIM card when you need to remove the SD Card?

You have to remove it from the phone, yes. The SD slot is on the same tray so you can't do it any other way.

Didn't the AC guys way back say SD cards are insecure and obsolete and get used to not having them?
I see a lot of devices with them this year, YAY!@

You can thank Samsung for keeping them afloat right before you complain about them taking it away... Check out the new Nexus! https://youtu.be/u3uFOavLo_w, not a Rick roll

Too bad Samsung couldn't figure out how to do something like this.

I want this phone so bad 'murica ;'(
Android Central Newsletter
Get the best of Android Central in in your inbox, every day!
Thank you for signing up to Android Central. You will receive a verification email shortly.
There was a problem. Please refresh the page and try again.