Here's what comes in the Project Fi welcome box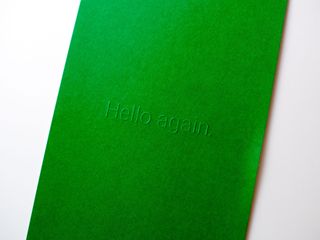 Google has done some neat packaging for its Nexus devices and accessories (Google Glass was particularly high-end), hardly cutting back on the presentation. Project Fi is no slouch here, and Google sends out a very large box when you sign up for the new carrier to help make sure you have a good first experience with the invite-only service.
The welcome box, which is about the size of a Nexus 9, matches the look of Nexus device boxes with white cardboard and bright primary colors inside. And when you open it up, you're greeted with a great stash of accessories for your Nexus 6. Check 'em out.
The box is divided into three sections with plastic containers holding a set of headphones, a mobile battery pack and a white case for your Nexus 6. Each one is neatly wrapped in plastic with a cheeky saying on the front, and will definitely have you feeling giddy if you're a Google fan.
The headphones are white with blue ear tips (there are three pairs) and a green/white/blue volume rocker along the right wire with a nice "Fi" logo on it. The headphones end with a gigantic 3.5mm headphone jack that has a splitter coming off of it so you can plug in a second set of headphones "for a friend" ... I don't really need to share my music all that often, and with how big the headphone jack is I can guarantee I won't be using the headphones at all. Shame, they're actually quite cool other than that.
The battery pack carries the Google colors and a Project Fi logo on the front, and has a 6000 mAh capacity. It has dual USB outputs — one at 2.1A and another at 1A. The design of the battery is decidedly more practical than the headphones.
The case is a very standard white Case Mate model that's a hard shell with a small rubber bumper that goes on it to give it more grip around the phone. Another "Fi" logo adorns the bottom-left corner of the back, and the button covers on the side are fun blue and green colors.
Even if you don't plan on using Project Fi for long, the limited edition accessories you get are at least a cool consolation prize for signing up and giving it a try. We'll be following up with plenty of impressions of using Project Fi in the coming weeks!
Andrew was an Executive Editor, U.S. at Android Central between 2012 and 2020.
Signed up and still waiting to try out with my Nexus 6 on a separate line. Posted via my Galaxy S6!

This makes me wish I needed another phone line. Very classy of Google Posted via the Android Central App

I signed up so long ago.... Still no word yet. Posted via the Android Central App

I can't wait to try it out. Put Fi on my N6 and my T-Mobile on my N4. Posted via the Android Central App

I have my invite. Now I just need to wait out my contract, which is over on August 29.

Good thing that invite doesn't expire.

Indeed. I was initially afraid it might.

Good to know! I got my invite, and after hearing this news, might consider holding out until the next Nexus phone comes out.

Yea, I've got an invite too. I just don't want a Nexus 6. I'm going to hold it until the rumored Nexus 5 '15 comes out, I guess.

There's the head phones that didn't come with my nexus 6. Posted via the Android Central App

You don't want these, though :-/

I don't have any right now. My kids like to rip the little rubber pieces off the ear piece. Posted via the Android Central App

You gotta keep your stuff away from the kiddos. Posted from my Motorola Moto G.

Lol. Mine are in the box Posted via the Android Central App

Love the freebies. Haven't used the headphones yet, but the battery pack was a great touch, especially since the battery on the new N6 isn't lasting as long as I would have expected. Love the Fi service, though. Love it. Posted via the Android Central App

What's been your experience with Fi? Pretty seamless? I live in Austin and really hope Fi would keep me on the *MUCH* faster T-Mobile network and then dump me to Sprint in the boonies.

It's been good. I'm not noticing any Wi-Fi calling, but its early so I suppose time will tell. I've been in Mexico and the data is seamless, though not really at 4G speeds. I actually get some decent speeds on Sprint now, compared to the 13 years I was with them on my own. I have an app that I can pull up that shows me which network that I'm connected to. I've gotten over 50M on T-Mobile and 30M on Sprint. Posted via the Android Central App

Thats bc T-Slowbol doesn't have any coverage outside city limits I know bc My Nexus 9 is t-slow and I had to leave the cell service bc of no rural coverage. I travel a lot for work.

T-mobile has had great new LTE coverage in Idaho over this past year. I get signal and data when I'm on the trails on my RZR that's just as fast if not faster than my brother's Verizon signal that he pays twice as much for. Posted via the Android Central App

Still waiting for my invite.

I'm glad I decided to try it out with my invite alongside my normal service while they are still giving these out.
It's too bad though that the splitter for the headphones isn't a separate attachment, but for free with the service it's really hard to complain too much, especially since you ALSO get a battery pack and case

If and when this comes to the UK, I am sure that people will want to use Fi, judging by their current US Prices, they're really cheap. Here's hoping.

Well you can bet that pricing will be good, but not great, if it were to ever come to the UK. They're not going to keep the same prices as they have in the U.S. if they bring it elsewhere, it's going to be priced to fit that market.

Getting that in the mail was a pleasant surprise. It made me really glad I had procrastinated buying a case for my phone.

Got my invite on Friday. I still need a phone though. Like others I'm going to wait to see what the second phone might be before I decide to switch. The Nexus 6 is just big. really big.

Thats what i thought until I got it and use it.

Yup, that's the issue right now, really.

I got my invite last week too - but I'm the lead on a family plan with a company discount at AT&T - so if I pull out - the rates go up. So I'm waiting for the rest to get their invites so we can move all together. I left that feedback when I called Support just to verify the invites don't expire (they don't).

hoping the nexus 2015 comes with a 5.2" display, larger battery and competitive camera. Posted via the Android Central App

Anybody know (or can confirm) if you will get this welcome kit even if you already bought a Nexus 6? Or do you only get the goodies if you buy the phone when you sign up for Project Fi?

I have my own Nexus 6 and my shipping email said I'm getting a SIM and the welcome kit

I was just about to ask the same question,,,,I am stoked to try FI anyway and the bonus googies are icing on the cake.

You still get the Welcome Kit I got mine and Fi is pretty nice.

Only received the sim card. No welcome kit/goodies. I selected the already have a Nexus 6 option. Did anybody get the sim and then the welcome kit separate?

I did the same, just the aim, and today I got the welcome kit in the mail. Score!!! Posted via the Android Central App

This is what I would get for trading in my Google Voice number, huh?

I'm not exactly sure that's how it works. I still send texts through hangouts via the GV number that I ported to Fi. It seems to route all texts through hangouts and not the messenger app. If I send a text through messenger the response shows up as hangouts. Odd for sure. As far as knowing what network you are on at any given time, who cares as long as you have a signal. Want out to work with my X 14. The N6 is rather large, not unmanageable but it is big compared to my retina mini. Posted via the Android Central App

I'm still waiting on an invite also. Can't wait to use this with CM12 on my Galaxy S5!

I signed up for Project Fi and got the Nexus 6 at the same time, with 24 monthly payments. I just received my device without any accessories. The additional package as described in the article is meant to be a surprise and will arrive a few days later, with no set date, or tracking information. I'm guessing those who already have a Nexus 6 will receive the welcome kit with accessories right away. Nice way of surprising new customers. Love my new number too. And the ease of activating the service on Nexus 6.

Still waiting, very excited! Bought the N6 from T-Mobile. Posted via the Android Central App

Was beginning to wonder when the reviews of this network were going to start. Just got my phone and kit yesterday. Bought from Fi not the Google store. Sim installed, and welcome kit in toe. Touched my X and N6 and all was good. Voice coverage has been better. Data, so far, another story. Thinking it'll change. Posted via the Android Central App

Wondering putting that sim to some other (non-nexus) device will work ?

Not sure. Was thinking about that with my Moto X14. Probably not though. Posted via the Android Central App

works fine in my mexus 5 (so far). Though I dont believe it has the same hardware that is required for Fi to work 'properly'. But it does make/reveive calls/texts fine.

I just placed my order for a new N6 when my Fi invite came in a couple days ago. I can't wait to dump AT&T, Tmo has very good service in the area and Sprint is decent. So I shouldn't have issues. I am a very low data user because I spend over 90% of my time on Wifi. This will actually save me quite a bit in monthly costs. So I'm pretty excited to give it a try.

I requested a Google Fi invite about 2 months ago and received notification on 6/21 that I was accepted to receive the SIM card and activate my account. I received my welcome kit today and promptly activated my (now ex) Verizon Wireless Nexus6 and have to say I am IMPRESSED. The call quality is great and the phone switches seamlessly from my home WI-FI to cell when I leave. I'll be testing it heavily for the next month and if all works well I will sever my connections with Verizon. Don't get me wrong, Verizon has been good to me over the last several years but I am tired of paying WELL over $100 a month when I can switch to FI and save some serious $.

Got my invite today. Had been waiting for the Note 5 but decided to give it a go.

My status changed from 12 weeks or more to Invite Status: Expect your invite in 1–2 weeks.

Six weeks ago I asked for a Invite to the Project Fi because I am a prisoner to Verizonwireless - but as of last night I am no longer a prisoner. I now feel much better all around. The setup was easy, I just turned it on and touched the back of my old and new phone together and it moved everything over like magic. I ported over my old cell number which was simple and within a hour I was making and receiving calls. Love it so Fi!

Just connected my new Nexus 6P to Fi. Hopefully I can get one of those cool Welcome kits. Posted via the Android Central App

bought my nexus 6 from amozon so could get on project fi. It came christmas eve and then ordered fi sim which came with some blocks and a sim card and a short charging cord. My wife got a case and extra battery with hers but she bought her phone from project fi. I don't guess I am going to get the case and battery. Got the fi sim installed and now I can receive calls and send and receive text but can''t make calls. It is also hard to answer incoming calls. if I am in the icon menu the box comes up at top and pushing answer works sometimes and other times no. If I am on the scrteen without icons the dot in middle works if slide it to the right so have to be there to answer
Android Central Newsletter
Get the best of Android Central in in your inbox, every day!
Thank you for signing up to Android Central. You will receive a verification email shortly.
There was a problem. Please refresh the page and try again.