Here's how you can save an extra $150 on the Google Pixel 3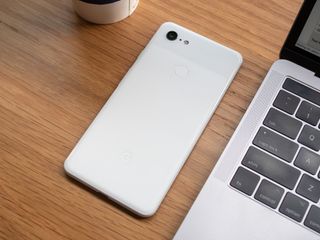 We're big fans of the Google Pixel 3 here at Android Central, and while we highly recommend buying the phone for yourself if you have the means to, we also understand that spending at least $799 on a new phone isn't realistic for a lot of folks.
The Google Store is running a sale right now to make the Pixel 3 series a bit easier on your wallet, with the regular Pixel 3 going for just $699 and the larger 3 XL selling for $749. That's $100 and $150 off each phone, respectively.
That discount is applied automatically, but at the checkout page, but you can also choose to enter one of the below promo codes instead. You'll get the same $100 or $150 discount, plus the person whose code you use will score $100 to spend on the Google Store for themselves. Also, even though the current Google Store discounts expire on December 22, the promo codes are good through December 31.
A lot of the AC forum members have been sharing their codes for other people to use. Here are a few that have already been shared:
If none of those work for you, feel free to try mine as well!
Pixel 3 promo code: B-PRAEX9GTM3P06ZF91OR388L
Pixel 3 XL promo code: B-PRUDGN00R6MGW2PY9Q61JZK
Have a code of your own that you want to offer to someone?
Joe Maring was a Senior Editor for Android Central between 2017 and 2021. You can reach him on Twitter at @JoeMaring1.
How do you find your referral code? Or is this US only?

Just enter the code at checkout, valid through Jan 1st, 2019. Pixel 3 promo code: B-4WA6S3SNJH7EH904EBKL3NX
Pixel 3 XL promo code: B-4WDSACZ2276Q7CYX3BHJBO5

The promo codes don't work on top of the $150 google is giving at the store already. Trying to apply the codes in checkout the message is : "You can only use one code per order. Codes cannot be combined with other promotions. " Happy to wrong about this if I am missing something here!

Hey Rinkeedink -- You're right about that one. I've updated the article accordingly to account for that. Sucks you can't stack the discounts, but the promo codes do have the benefit of lasting through Dec. 31 whereas the current Google Store discounts are done on the 22nd. Thanks for the catch!

You also need to update the title and take out the misleading "an extra" part...

Here's a couple more Pixel 3 Promo code:
B-N9LCB13CL5DK9ZTQRPE2Z7IPixel
3 XL Promo code:
B-N9ZB876ZIVNYWIDAIHGRYG2

Here's $100 off Pixel 3: B-RGKHCDILFSNBU5Z4M7N9RM4 Here's $150 off Pixel 3 XL: B-RGTI4F22ZC8T7CADPLGRBVD Please say thanks if you use either of these!

Pixel 3 $100 off:
B-93PWYNXHVQD9PN5VTLBWJ55
Pixel 3 XL $150 off:
B-93N51JPB4KREOMZ2R1U4U6A

How is this an "extra" $150 if the discount cannot be stacked with the discount offered by Google? Please fix the title of your post to be accurate and not misleading.

Pixel 3 Promo code:
B-H063RGF6S7378J2YJLEMKGV Pixel 3 XL Promo code:
B-H01IOW6BXK20UC31KOOU6JT

Here is some more codes Pixel 3 Promo code:
B-2JIX70KJY0DUJRV5WP58C4G
Pixel 3 XL Promo code:
B-2JBIK1UZON93WGX5EBMV8NS

Additional codes: Pixel 3 Promo code:
B-04DENPCF0J1PTSDR5O8RG71 Pixel 3 XL Promo code:
B-04NM9LZDWOLX7KTQ0IEXA9F

Hey everyone. I took advantage and got me and the wife pixel 3xl's!
Here is my codes if interested.
Had to save for pixel stands and this can help us get there.
Pixel 3 Promo code:
B-W8K98JEX1HLDTA0UD1J9V2U
Pixel 3 XL Promo code:
B-W8GZFR44TKZZJ9QNM30WZWS

📢📢 Enjoy the season and new codes are here:
Pixel 3 Promo code:
B-6M167YQEZ2F77A2SYV37CQT
Pixel 3 XL Promo code:
B-6LYF0E6QWJ9YLGW5M07PP6A

Pixel 3 Promo code:
B-P7EX7NZK187UZUZSD8FOQNP Pixel 3 XL Promo code:
B-P80HXHRIRL2Z7U7HCR6BP6D

Pixel 3 Promo code:
B-L0622QTF9BDSRTBBS4HC5WY Pixel 3 XL Promo code:
B-L0EUGB0UWSBTZN412X9PEYN

Did anyone get there $100 for someone using there code??
Android Central Newsletter
Thank you for signing up to Android Central. You will receive a verification email shortly.
There was a problem. Please refresh the page and try again.