Motorola's #hellomotoworld invite all-but-confirms shatterproof Moto Z2 Force announcement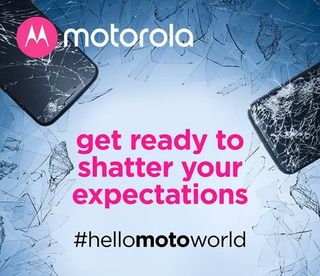 Motorola already sent out a "save the date" for its #hellomotoworld event on July 25, but now proper invites are coming out and they give us a great indication of what we can expect to see announced. The tagline "get ready to shatter your expectations" is breaking through all sorts of glass and the silhouette of two shattered phone screens.
That's about as good an indication as you'll get that the Moto Z2 Force will be announced on July 25 as a follow-up to the shatterproof Moto Z Force Droid Edition launched in mid-summer 2016.
Expectations are that the Moto Z Force will once again be the top-of-the-line flagship for Motorola, but unlike last year it won't have a "standard" Moto Z2 anchored underneath it. Because of this, we can expect the Moto Z2 Force (if that is its name) to have more generalized appeal rather than simply being the bigger, more expensive phone with a shatterproof display.
To its credit Motorola has greatly improved its "ShatterShield" screen technology (opens in new tab) in recent iterations, dramatically cutting down on the compromises typically associated with the screen tech. It no longer requires a funky plastic layer on the screen that makes it feel horrible, nor does it include an inordinate amount of glare or separation between the screen and glass covering. Presumably the 2017 version will be even better, and that's one of the reasons why Motorola sees it appropriate to simply have the Moto Z2 Force and no standard flagship below it.
There's also a rumor that Motorola may take this opportunity to introduce the mid-range Moto X4, though the invite doesn't give us any additional clues there.
Whatever the combination of announcements ends up being, we'll all find out on July 25 — the event is at 11:00 a.m. ET in New York City, and we'll be there to cover it live.
Andrew was an Executive Editor, U.S. at Android Central between 2012 and 2020.
I swear to you if it looks and feels like a regular screen I'll exchange my S8 for it. I'm tired of beautiful phones that you're forced to put a case on and if you break them you have to pay a fortune to fix.

The first Z Force looks and feels like a normal screen I think. If it's a cold day it will not feel as cold as glass. I think the hardness is about the same. The article refers to "previous iterations". There are only two, the current Moto Z Force Droid and the Droid Turbo 2. Some people complain about the display on the Droid Turbo 2. People, including my wife and myself, have no problem with the display on the Moto Z Force Droid. The Moto Z2 Force should be great! I expect a snapdragon 835, not that it needs to be faster but the die shrink should help battery life a little more - though that is already great. I hope they don't make the battery smaller to make the phone thinner - never a good idea in my mind. When considering a phone keep in mind how many more are destroyed by broken screens than water. Plus the Force does have a water proof nano-coating. Who knows, maybe the Z2 Force will be waterproof. Moto Mods are great too! I didn't buy it for that would would have a hard time going back to not having them.

If it doesn't feel like a regular screen a tempered glass protector would help and also keep the shatter shield from scratching as easily as it does.

Ha, I was *just* complaining in another thread that T-Mobile doesn't have a big enough selection of phones, so this can't come soon enough. If the reviews are anything above mediocre, then I will seriously consider this.

What phones aren't available on T-Mobile?

I'm really looking forward to this phones release. I am hoping that it will be available unlocked but if the price is on par with the Pixel 2, I'll probably just get the Pixel.

I wish more companies would try to maintain secrecy up until their launches. It's one thing if you want to leak details to gauge the public response, but putting obvious spoilers into invitations is like saying, "we don't want you to be surprised when we reveal our new product." It takes away from the impact of the actual announcement when everyone already knows what the people on stage are going to say.

Please be on T-Mobile, let me JoD

I'm looking forward to seeing this, and it would be really nice to see the Moto X4 as well, as opposed to the Moto G5S plus, but I think we'll be made to wait longer to see the X4, unfortunately.

I expected timely updates and a transparent EULA. Shattered.

If they release the keyboard Moto mod then I'll consider this because that would be a worthwhile alternative to the Galaxy Note

It'll be a happy day when the Droid brand doesn't have to be tied to that boat anchor called Verizon

I have been using the X Force (UK unlocked) since release. I work in railway maintenance and the phone has had more abuse than is reasonable. Still going strong. When you do drop it face down on to the ballast you get the inevitable cheer from people who think you have ****** your phone. Then you get to be all smug. Pretty much everyone on the rail has a cracked screen. All they need to do is release the Z2F in the UK, and they have my money.
Android Central Newsletter
Get the best of Android Central in in your inbox, every day!
Thank you for signing up to Android Central. You will receive a verification email shortly.
There was a problem. Please refresh the page and try again.