Show your love of Canada this holiday weekend with our Heart Canada home screen theme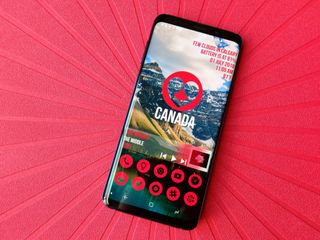 There's a lot to love about Canada. You've got good healthcare — and with all that poutine and you've got all that maple syrup, you certainly need it — you're going to have nationwide cannabis legalization this October, you've got Justin Trudeau, and the biggest chance of a riot in Canada seems to be a hockey match. If it weren't for those winters and how much more expensive technological gadgetry seems to be up there, I'd be all over it!
It's a lovely country full of lovely people and lovely locales, so doesn't it deserve a lovely home screen theme to celebrate Canada Day? Last year we made two glorious Canada Day Themes for the occasion, but this year, we've used KWGT to take our Heart Canada theme to the next level!
Today's theme has been assembled in Smart Launcher 5 to take advantage of the Icon Pack Studio integration and the gridless widget-placement system, but it can be easily applied to most customizable launchers like Nova Launcher and Action Launcher.
Applying a breathtaking Canada wallpaper
Canada Circle Icons in Icon Pack Studio
Applying a breathtaking Canada wallpaper
This theme is a bit unique in that you can use just about any Canada wallpaper behind the Heart Canada widget and stencil icons, but as I was aiming to recapture as much of the magic from last year's Canada Heart theme, I found a breathtaking wallpaper of Moraine Lake, which is one of the most photographed and beloved Canadian sights on Reddit's /r/EarthPorn community, but there's plenty of other cool Canadian wallpaper options if you're looking for something different.
Long-press an empty space on your home screen until a menu appears.
Tap Wallpaper.
Tap Other images.
Tap Photos.
Navigate to and tap your downloaded Canada wallpaper.
Adjust the wallpaper left or right if desired and tap Set Wallpaper.
Tap Home screen and lock screen.
Canada Circle Icons in Icon Pack Studio
With your wallpaper picked and applied, it's time to get our Canada on, and that starts with custom red stencil icons made in Icon Pack Studio. If you've never heard of Icon Pack Studio, they're a nifty little make-your-own icon app that will let you kiss gaps in your app drawer goodbye.
I've already built the pack, so all you have to do is import this CanadaCircle Icons Preset and apply it.
Importing the CanadaCircle Icons pack in Icon Pack Studio
Open Icon Pack Studio.
Tap Let's start.
Tap Next five times to skip through the initial icon pack building process. Note: please come back later and play with Icon Pack Studio to see if it could fit another theme of yours down the road.
Tap Save to exit the initial icon pack building process.
Tap the three-dot menu in the top right corner of the screen.
Tap Import Iconpack.
Navigate to and tap the CanadaCircle Icons file you downloaded.
The pack will be added to your Icon Pack Studio library. Now we need to apply them, and that process varies slightly depending on if you're using Smart Launcher 5 — which Icon Pack Studio was made to accompany — or another launcher with icon pack support.
Applying CanadaCircle Icons to Smart Launcher 5
Tap the three-dot menu below the CanadaCircle Icons pack.
Tap Apply.
Tap Home Screen and App Grid to apply the icons to both your home screen and app drawer.
Tap OK.
You can go back to the home screen to witness the applied pack.
Applying CanadaCircle Icons to other launchers
Tap the three-dot menu below the CanadaCircle Icons pack.
Tap Export.
Icon Pack Studio is meant for personal use, not for commercial profit. Tap I agree to acknowledge that you're just using this pack for yourself.
Once the pack is exported in a handy app installer package and is ready to install, a notification will appear on your phone. Tap to install.
You need to allow Icon Pack Studio to install the exported icon pack as a separate app so tap Settings.
Tap Allow from this source. On older versions of Android, you will instead be tapping Allow unknown sources.
Tap the back button to return to the install screen.
Tap Install.
Once the app is installed, tap Open.
Tap Apply.
Tap your desired launcher in the popup launcher menu.
Tap OK or Apply depending on your launcher.
Your icons will now be applied to your chosen launcher.
Heart Canada Preset in KWGT
Let's get down to the main event: the Heart Canada widget. This multi-section Kustom widget — KWGT for short — features an easily glanceable information widget in the top right corner, a Canadian-colored music widget that can work with just about any music app on Android including the YouTube Music service that recently came to Canada, and a bold central Heart Canada logo. The Heart Canada icon itself is a monochromatic vector recreation of the logo from last year's Canada Heart wallpaper, because I loved that logo but wanted a theme that was higher resolution and usable with other wallpapers.
Get to know KWGT, an essential tool for Android themers and widget lovers
Importing Heart Canada Preset in KWGT
Before we get started, you will need to download both KWGT and KWGT Pro Key, which is required for importing presets like our Heart Canada Preset. Once you download the Heart Canada Preset, use a file manager app to copy it to Internal Memory/Kustom/widgets. If you haven't opened Kustom before, you might have to make the Kustom folder or widgets subfolder. Once the preset file is saved in Kustom/Widgets, importing it is a snap.
Long-press an empty space on your home screen until a menu appears.
Tap the plus icon next to the lock icon.
Tap Widget.
Scroll down the widget list and tap Kustom.
Tap KWGT 4x4.
Tap the widget to configure it.
In the Exported tab, tap Heart Canada Preset.
The preset will load. Tap the floppy disc icon in the top right bar of the screen to Save the widget.
If you haven't previously given KWGT Notification Access, Tap Fix. We need notification access for the widget to pull in music information and controls from your music app's notification.
Tap Kustom Notifications to grant it Notification access.
Tap Allow.
Tap the back button.
Tap the floppy disc icon in the top right bar of the screen to Save the widget.
Tap the home button to see the applied widget.
Adjusting your Heart Canada widget
Want to make the whole widget bigger or smaller in relation to your widget box? Tap Layer and adjust the Scale up to down to your liking. Depending on the widget of your screen, you may want to do this for the music widget to better fit across the bottom of your widget.
Want to reposition the sections of the widget to better fit your home screen or particular widget size? Tap the section you wish to move (for instance the Heart Canada icon), and then tap Position. Adjust the X and Y offsets to reposition the section of the widget.
You can change what tapping an individual element or group triggers. For the base Canada Heart Preset, tapping the Heart Canada icon opens the Kustom editor so you can adjust the widget to your liking, but you could change it to open your favorite music app or weather app.
Weather providers offer different descriptions of current weather conditions and some providers are more accurate in different regions than others. To change the weather provider KWGT uses, tap the three-line menu icon in the top left corner of the screen and tap Settings. Under Weather, you can tap Weather Provider and select from half a dozen sources.
KWGT by default will pull in the details and controls for any media notification that it sees. If you only want KWGT to pull in data from one app, you can enter KWGT Settings and set Preferred Music Player to your chosen music app.
There are a lot of ways to customize KWGTs, and I welcome you to play with this preset and find even more amazing ways to customize it. Put the information you'll need in the top-right corner — I add in a text box that will display a current Google Assistant reminder on my home screen to help remind me of what I need to do.
Your turn
Whether your love of Canada stems from its vast natural beauty, vibrantly diverse cities, or its even more diverse people, show your love of Canada proudly on your home screen every day with this theme. And if you have any other themes you'd like for us to tackle, reach out to us in the comments! I learned my way around a vector editor to create this theme, and I'm ready and waiting to build some more themes that can use them!
Ara Wagoner was a staff writer at Android Central. She themes phones and pokes YouTube Music with a stick. When she's not writing about cases, Chromebooks, or customization, she's wandering around Walt Disney World. If you see her without headphones, RUN. You can follow her on Twitter at @arawagco.
A beautiful country with super tolerant people. Happy Canada Day to all you Canucks out there!

No way, I bleed red, white, and blue.

Then let your nice northern neighbors have this and wait patiently. Their holiday is first, they get their theme first.
Android Central Newsletter
Get the best of Android Central in in your inbox, every day!
Thank you for signing up to Android Central. You will receive a verification email shortly.
There was a problem. Please refresh the page and try again.