Head of mobile chips said to be to leaving Intel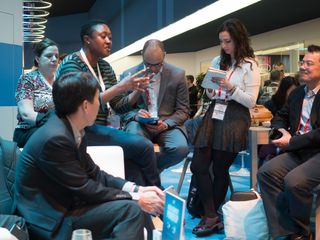 Aicha Evans may be leaving Intel, the Wall Street Journal reported Friday, citing unnamed sources. The move may be part of a larger management change, WSJ said. Bloomberg also reported Friday that Evans had submitted her resignation.
Evans had been with Intel for more than 10 years but was still in the early stages as head of the Communication and Devices Group, part of the Platform Engineering Group and, specifically, responsible for the modems in Intel's phones.
Evans had a frank talk with journalists at Mobile World Congress in February in Barcelona, where she in no uncertain terms admitted that Intel simply hadn't done as well as it had hoped over the past year, and that the company basically had blown things a dozen years ago.
Intel's grand re-entrance into the mobile market came in 2015 with the ASUS Zenfone 2, a mid-ranger that had a small but fervent fan base. (See our interview with Evans and ASUS' Jonny Shih.) The company had its chipsets (sans modem) in a handful of tablets, but the ZF2 was the first to sport an Intel modem. And MWC 2016 was the coming out of the next-generation of modem, the Intel XMM 7480. But Evans told us in February that the Android space — and particularly the players involved — was more difficult than anticipated. "I learned that running Android on [Intel Architecture] is not as easy as I thought," she said in Barcelona. "I learned that China is not like getting Google certification and you're done."
Intel has yet to publicly comment on the reports of Evans' departure.
Dang. The mobile processor market is hard to fight in at this point, since Qualcomm is still the dominant player in the market, while Samsung and even MediaTek are increasing their presence.

MediaTek is very impressive, now a luxury brand like Sony is choosing them for 2016 smartphones instead of Qualcomm.
I'm worried about Intel though, Baytrail is still very powerful CPU compared to Android starter devices and is almost 2.5 years old, I think Intel can still convince many OEMs to put this chip on 2016 phones, is very cheap chip but a great chip after all.

Meh, they killed innovations and competition in the pc market, is this their karma ?

The only thing that can save us now is Zen. Posted from my Nexus 6/Nexus 7 2013/Surface Pro 3

My body is so ready for Zen. AMD has one last great chance, I'm holding out on my workstation build for it. I'm still rocking Ivy Bridge, and I want to give AMD a shot. Posted via the Android Central App

I hope Zen is the killer CPU AMD needs. It needs to have strong instructions-per-core performance.

Exactly. That's been thier weak point for many years.

Since phenom, the successor to K8. Posted from my Nexus 6/Nexus 7 2013/Surface Pro 3

So you're blaming Intel for being so strong in the PC market that AMD can't stay competitive? Lol Posted via the Android Central App

Bit them in the ass, thinking that computers is the be-all to end all. Sent via Tandy Color Computer

Did Intel expect immediate improvement? It feels like she had a very short tenure with the mobile chip department.

Most likely this decision killed her "Intel's grand re-entrance into the mobile market came in 2015 with the ASUS Zenfone 2" I could be wrong tho, but that certainly didn't help her. Sent via Tandy Color Computer

Good, if there's one company out there, in the mobile space, that you can say utterly gets in its own way at any turn...it's Intel. They are the BlackBerry of chip design, they entered the space with the most potential to dominate and then throw away every opportunity to do so. If getting rid of stuck in the mud execs is the first step down the path towards viability in the market...then so be it... This is from a former 3dfx employee...I know corporate idiocy when I see it and it always starts at the top Posted via the Android Central App

aahh...3dfx
Your my hero.
Though you cost me many dollars with your stock.

3dfx Voodoo! I bought that card so i could play mechwarrior with the superior graphics! It was awesome!

I had 2 x 8mb voodoos in sli. I was a gaming God in unreal and Mechwarrior lol Posted via the Android Central App

My personal favorite intel cpu from a architecture design is the pentium M Posted from my Nexus 6/Nexus 7 2013/Surface Pro 3

I work here at Intel, she had her work cut out for her. We have been doing chips for mobile lot longer than the public gets to see and have a lot still not released. The previous CEO didnt take mobile seriously and yes it is taking a long time to catch up. Its a very sore topic around here sometimes. Her leaving was typical burn out at the pace they have us moving.

Such a shame. I'm not aware of what sector makes Intel the most money, but not cornering mobile head on like Qualcomm definitely was a big mistake. Posted via the Android Central App

My friend tommy leshorne had been with Intel for many years. Know him?

Thanks for your inside viewpoint. In that case, it's understandable then.

I'd like to see a variety of chips in our phones, so I hope they don't give up on smartphones.

Intel REALLY messed up by selling XScale immediately before the smartphone revolution.

An opportunity opened up for them with Qualcomm's misstep with the SD 810. Unfortunately, they had nothing waiting in the wings to take advantage.
Android Central Newsletter
Get the best of Android Central in in your inbox, every day!
Thank you for signing up to Android Central. You will receive a verification email shortly.
There was a problem. Please refresh the page and try again.