Have you gotten the Android Pie update on your Galaxy S8?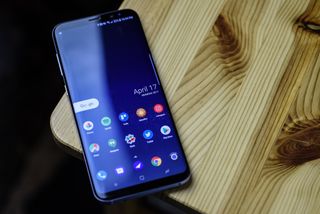 (Image credit: Android Central)
Despite having been released back in 2017, the Galaxy S8 and S8+ are still kicking along just fine here in 2019. In fact, the AT&T and T-Mobile variants of the phones started receiving their big Android Pie update on March 29.
Browsing through the AC forums, it looks like most owners of the phone have received the update in all of its glory.
How about you? Are you rocking Android Pie on your Galaxy S8?
Join the conversation in the forums!
Get the Android Central Newsletter
Instant access to breaking news, the hottest reviews, great deals and helpful tips.
Joe Maring was a Senior Editor for Android Central between 2017 and 2021. You can reach him on Twitter at @JoeMaring1.
I was considering getting the S10+, but then my S8+ got the update. It's faster, better battery life, enabling a hotspot takes less than a second and doesn't bog down my phone to do so. I didn't enjoy the settings changes Samsung made just to show us there is something new. For example, why does the default AOD require a tap before seeing it? It's an AOD. Thankfully I found that setting, and a couple other settings. My only complaint is the multitasking switcher moves to the previously used app instead of staying on the one I was just in. I like to close apps I'm not using, and multiple times I've closed the wrong app out of habit.

Get GoodLock from the Galaxy store and dive into a wealth of customization settings. The part of GoodLock that deals with your concerns about the recent apps is called "TaskChanger". For me it's THE best part of the app cause I didn't like the way recent apps were handled by default as well.

Is Good Lock just a gateway application for other Samsung apps? When I touch any of the options from Good Lock it just takes me back to the Galaxy Store to download a new app. Thanks!

Yep. You have to download modules. The app itself is just the overarching vessel. Then download the modules you're interested in.

Love goodlock task changer got it set up to swipe them away and have the home bar set for swipes with pie. It's not bb10 but it's better than poking buttons all the time

Go into the settings on your phone
Tap Lock Screen
Scroll down and tap Always on Display
Tap on "Display Mode"
Change Always on display from "tap to show" to "show always" This is due to the new default for One UI being set as Tap to Show. It's a battery saving feature

I agree... download good lock

Yes, love the NavBar customization. I added screen lock to the bar to preserve button life.

Love the update but i use samsung themes and email use to change color according to the theme i would use but now it is white screen and will not follow the theme. Ive tried different theme and none of them work.

Many of the Samsung themes don't work on Pie. Those theme devs need to update their themes. Just use the default theme.

Still waiting for it on my unlocked S8 on Verizon!!

Is this a late April Fool's article? As a LONG time AT&T subscriber I will not believe in any update for ...a long time!

I got my update on March 29 -- I'm on AT&T in Southern California.

And us chumps who were foolish enough to go with LG are still waiting for the update on our 2018 flagship.

Yep that's why I traded in my (paid $350) LG v35 for $550 to get the S10.

Ever since I updated to Pie on my Galaxy S8+and S9+it removed the functionality of custom contact lists being displayed. Now I have numbers on my phone that I don't want. I kept a separate label called removed from phone and I don't want them on my phone. I need to downgrade as soon as possible

Just a note for anyone that uses the alarm clock function on your Galaxy phone. The Pie update made a change to the "getnextalarm" function so any displays you have that show the next alarm will show the alarm starting 5 minutes before it actually is supposed to. The alarm will go off on time (at least in my experience it does) but using the "Big Digital Clock" app it shows as being set 5 minutes earlier than it's scheduled. You can, if you chose, download Google's clock and use it. The alarms will show correctly but you'll lose the Bixby tie-in with the alarms. Personally, I like being woke up to the Bixby update. It's the calmest and smoothest alarm I've ever heard. ;)

Haven't received the update for my S8 Active on AT&T...

Put it on my mom's s8 today

After checking for it almost everyday through the month of march, I finally received it on my s8+ on xfinitymobile 4-3-19. I really like it so far. Northern Va.

Yep. Got the update on my unlocked T-Mobile Branded Galaxy S8+ last week! Have since downloaded Good Lock and have been making tweeks. Running Microsoft Launcher. Downloaded a super cool One UI icon pack to use in conjunction with the stock icons so every single app icon looks like a One UI icon.
Using. Using QuickStar, ClockFace, Routines and MultiStar from the GoodLock app.
All together a great update!

I updated and unfortunately I can no longer hear a sound after every text I get. Does anyone know how to fix this? Now I have to keep watching the screen to see if I get a reply to my texts unless I want to keep turning off the screen.