Hands on with Android 4.0 ICS on the Droid RAZR MAXX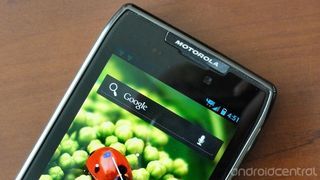 Verizon's finally pushing out the Android 4.0.4 Ice Cream Sandwich update for the Motorola Droid RAZR and RAZR MAXX, bringing Moto's U.S. flagship. This moves the RAZRs up to what is for the next day or so, the latest version of the OS. Starting right at the top, you'll notice a re-vamped lock screen, allowing you to choose to unlock normally, or launch directly into one of three apps -- the phone, camera or text messaging.
The home screen launcher has changed a fair bit too. You still get five screens to customize, but gone is the Motorola-styled launcher of old, an in its place sits the sleek stock Android launcher, albeit without the persistent Google search bar. That means you get a horizontal-scrolling list of apps, and widgets can be selected by long-pressing them and adding them to the home screen. Face unlock is included too, for whatever that's worth -- we think it's pretty clear by now that that's a bit of a gimmick.You also get the new ICS browser, which is nice, and the ability to use Chrome Beta for Android if you want.
Check out our hands-on video after the break.
Alex was with Android Central for over a decade, producing written and video content for the site, and served as global Executive Editor from 2016 to 2022.
Pretty pleased to see a move to near stock by Motorola. Could signal speedier updates in future too and lays down the gauntlet a little to other manufacturers. I know that Google are 'hands off' but have to wonder at the influence a little. Not upsetting to see Blur disappear I have to be honest.

Looking at the release timeline of this update, its clear this was in the works well before the Google purchase, it was probably done well before the purchase was completed but Verizons testing just took forever. But youre right, near-stock OEM skin is a great thing to see, especially from Moto.

I don't get the myth of "if manufacturers went to stock Adroid, we will get faster updates." As proof, I give you LG, remember that phone G2x with stock Android? How are updates on that? Unless you get a proper Nexus (CDMA are now at carriers mercy, look at VZW, also, not all GSM devices get updates that fast), you are at the mercy of carrier (unless you get unlocked device) and the manufacturer. That's them breaks. I wish every device sold was Nexus like with updates, but that's not the world we live in.

Hopefully the Droid 4 isn't far behind!

Ugh, if the Droid 4 doesnt get ICS no more MOTO for me

My Droid RAZR isn't pulling the update :-(

When the hell is NY (upstate) going to get the ICS update? Tuesday, 6/26/2012, 9:40pm, and still no update.

No blur or other OEM launcher crap.
Just give us a phone using the stock launcher. It's ok if you want to add any special wall paper, lock screens or subtle effects like the ability to know when you are looking at the phone, but please keep closer to the base stock experience. None of this HTC Sense bogged down interface. I know Phil thinks Sense is more friendly than stock - What does this mean "Friendly?" ...but the with the "friendly" came degraded performance requiring degraded multitasking. This is the way to do it.

People have choices, a Nexus is one. Quit complaining

downloaded the "almost official build friday" This Phone Rocks even more... By far the BEST phone i have ever had... There is nothing the iphone brings to the table better than this phone does it rocks. I completely understand why Verizon sold more of these phones than the iPhone... Excellent excellent phone.

i just wish the screen was a little better thats basically it moto really needs to step up on the screens, no matter how great everything else is.

Good Looking ICS update on a great device. Still waiting on the ICS for the Rezound. Alex Dobie IMO does the best reviews of anyone on any website. The guy is good to listen to and knows what he is doing.

Wow.........what a crappy herky-jerky video Alex! Real professional job!

@hornbroo: dont be such an ass....the guys is doing this while traveling half way around the world, probably jet lagged, in a motel room, without his standard equipment from home in a foreign country on a phone not available in his home land. Can you try not to be a ugly American and treat our guest nicely?

That is totally unnecessary and inaccurate. What kind of highly produced cinematic experience were you expecting for such a small topic?

"Unnecessary"...yes, "inaccurate"? I understand the circumstances around making the video but it is accurate as far as the video being jerky. That sweet ass pea green swirl rug probably helped make the movement seem a little more exaggerated.

If this is the direction that Motorola is going I will have to give them a good look.. I really like it.

ive been running the official ota since june 15th when it leaked and i can tell you it is fantastic. i applaud moto for keeping as close to the stock aosp look as they could. it runs fantastic, not overly bloated and the new radios are giving me 4 bars 4g where as my old gnexus would have 0 or 1.

Oh shit! Look at Motorola going all stock-esque and stuff! Now if the other two big boys would follow their lead...

Yes, hopefully HTC and Samsung will follow suit. Previous versions of android were a little lacking and I can't blame them for adding a nice interface to top off a great os. With ics its just not needed any more.

Thanks Alex... even though I've been using ICS for a few days I did not realize how to go into the task manager.

i havent received anything in Knoxville TN yet

No update in PA at all? Why? ?????

I'm in PA too and no update :( Pittsburgh area

No update in nyc or upstate ny at all?

Checked last night and still no update in NYC.

First, the bad: I lose syllables in voice calls now with my RAZR MAXX while in 4G service areas, even when I have 3 or more bars. It did it yesterday with full signal bars. It sounds like I am in a bad signal area and makes it hard to understand the people on the other end of the phone. Plus, the volume sounds lower to me and to the people on the other end. Not like 50% lower, but like 25% lower - you can still hear each other but you have to turn the volume all the way up and listen more closely when in the car or a noisy place where you didn't have to do that before. Plus, they removed the checkbox in the volume menu that allowed you to link notification volume and ringer volume. Now, I have to go into the System Settings->Sound->Volume menu multiple times per day to raise or lower my notification volume, since it isn't tied to the volume buttons anymore. Super annoying for me. The good: It is faster and has a great look - really cool. Everything flows better now, and the phone seems more responsive. Even the Amazon Appstore started working right again instead of bogging down and ignoring my taps. Big improvement in the "smartphone" aspect of the phone. it is a better pocket computer now. I hope a minor update is coming soon to improve call quality and the stinking volume checkbox they forgot... LOL

Maybe a factory reset is in order. Sometimes after a major update like this files can get screwed up. Just guessing of course but if it is that bad give it a go.

Like Windows, a factory reset is strongly suggested.
I did it after ICS and works like gold!

Still waiting for confirmed OTA push to people who were not part of soak test. I'm in NYC and still waiting for it on my Razr Maxx.

Any news on the SIM unlock? Is it included. I want to root, but am waiting to make sure that the SIM is unlocked.

Nothing in DC for OTA. There truly is no respect for the Nations Capital. Come on Verizon ... you have millions of users waiting.

I got mine downloaded this morning. I'm going to install upgrade later today after I've had a chance to backup some of my data and application settings.
Android Central Newsletter
Thank you for signing up to Android Central. You will receive a verification email shortly.
There was a problem. Please refresh the page and try again.