Grab a Nextbit Robin for just $145 — yes, really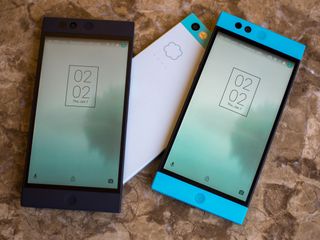 After hovering around in the mid-$200 range for a while, and regularly receiving small price drops, you can now pick up the exceptionally solid Nextbit Robin for just $145 on Amazon (opens in new tab). It's available in both Mint and Midnight color options, in the standard configuration of 32GB of storage with the addition of 100GB of cloud storage.
Looking at the Amazon page you'll also see that the Robin is available for shipping directly from Amazon, meaning if you have Prime you can get it in time for Christmas if you order soon. So not only is this a great deal for the phone, it's also available as a last-minute gift (even if it's just for yourself).
We're not sure how long the reduced price will last, but you can check it out at the link below.
See at Amazon (opens in new tab)
Get the Android Central Newsletter
Instant access to breaking news, the hottest reviews, great deals and helpful tips.
Andrew was an Executive Editor, U.S. at Android Central between 2012 and 2020.
I can't help but feel this thing looks more like a toy than a premium device due to the plastic, etc. In other words 'pass'

I love the way it looks. The battery life though was no good for me.

Yeah, the battery is so-so and the build quality is rather disappointing as well.

I get three full days of usage out of mine. No Facebook or chat apps, Location History turned off and Cortana instead of Google Now. Has busy Gmail and Exchange accounts, and most pull notifications are set to happen when I open the apps. I only use the screen about 45 minutes per day. Three days is exceptional, in my experience.

Your usage sounds like that is why. You're a special case.

It does! My wife had one for a while and if it had a better camera and processor I probably would have got one myself. I was absolutely in love with the way that phone looked and felt in hand. A phone that dosen't feel like it was built to be put directly into a case is very rare these days. Also the fingerprint scanner on the power button is pure genius.

It seems really slippery to me. I don't want to use a case because it's already a bigger phone than I like. Bought a dbrand skin and the Post Office lost it. First world problems.

Not all phones can have premium breakable glass.

So how's the structural engineering? Still flimsy and easy to bend?

I never got that impression.

Look at Jerryrigeverything's durability test for the Robin on Youtube. He bent in half like it was a cracker, it's one of the weakest phones ever.

Yeah, I'm worried that if I sit down the wrong way with the phone in my pocket that it will break.

It's unfortunate but it is hard to believe they can survive another year. From its inception, I could never imagine a huge market for its cloud storage feature, most people don't need that much space and for those that do may not understand the feature anyhow. This is going the way of Pebble soon.......

These are such great underated mid range phones. The design is unique and a joy to live with. It definitely gets noticed in a sea of rounded rectangles. Also they are currently beta testing 7.0 so you can expect it to be getting nougat soon. I don't even need another one but at this price point I am considering picking one up as a spare/backup phone... or even something to throw at the kids to entertain them that's easier to bring along than a giant tablet.

So this or Nexus 5x on Fi for $199? Does Robin even have 7.0 yet?

Due to NDA I can neither confirm or deny this

NDA? Anyone can sign up for the 7.0 beta on their website...

I'd pick the Robin instead. You get an extra GB or ram and twice the storage in comparison to the $199 5x (which is important since neither takes an SD card). The Robin nougat update is currently in beta, I doubt it'll be that long before the official rolls out.

I wonder if the company is gonna last or fold along with its storage and support

It looks like they are unloading the overstock, what's next for the company?

5x for fantastic camera,decent design and extended updates to probably 9.0.

Nexus 5X OS updates stop in `10 months. October 2017.

Super great phone and super amazing customer service

It's a really nice phone. I have one and while I'm replacing it with the Honor 8, the experience has been really good.

Can't help but see them fading into the land of extinct Android manufacturers and probably hosing a bunch of people's cloud data. I'm sure they will offer a fair warning when that day comes, but I'll stick with flagships from brands too invested to walk away.

You mean like HTC? Motorola? Blackberry?

None of whom are storing your data in the cloud for you. The Robin is. So yeah, any of those brands could go toes up and it would make no difference to your apps. Not so with the Robin.

That's a pretty good price but I don't by any means want one though. To me its like the Wii U on sale for 149. Hmmmm that's a pretty nice price *walks right by*.

Won't ship to Canada.. On Amazon dot ca 450$ wtf I hate amazon sometimes

And it's not on VZW. Over and over again, I don't even have to read the reviews anymore. If it's cool and unique, it's not on VZW. I know it's more cost, but i wonder if some of these failing phones wouldn't fail if they ponied up and went with some CDMA and got it on the biggest carrier. I am guessing it's a combination of money and time, both of which are valuable - time is often more an issue than money. Yeah, I ran a startup tech company for a while. So I get it. But the lesson i learned there is don't go to half your market. Go to all of it. I'd LOVE this phone. It's got a great feature set. It's unique for a change. Or as unique a an android phone *can* be, anyway. I like it. But I can't use it.

Maybe time to leave the wireless company that doesn't play well with others?
If you need both services get Project Fi and enjoy being on both CDMA and GSM...

I guess I could go with ATT or T-Mobile and not have service at all. Yup, I've tried them. It's been that way for a very long time.

bought it and used it for a while. nice enough phone but too many little niggles with various functions. it seemed to me that nextbit were unable to fix them so I can only assume that either initial hardware design or factory QC are at fault.
it managed most things well enough. cloud stuff is/was a complete waste of time without more granular control for the user.
design was nice, durability not a problem for normal use.
I feel that discounts are really a fire sale and nextbit might be struggling against the competition.

No problem using the phone here. I really like it, and it's a great deal at that price. I also don't care about the cloud stuff.