3rd-generation Google Chromecast purchased at Best Buy weeks early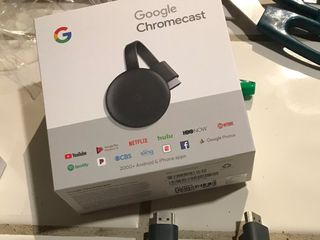 It's been a hot minute (read, 3 years) since Google updated the Chromecast, but a recent FCC filing made it seem a new model was coming. If a redditor who managed to buy one early is to be believed, not only do we have a good look at the new model, we also have a date for its public release — and a better idea of when the Google Pixel 3 event will be held.
Redditor /u/GroveStreetHomie says that they found this on the shelf at their local Best Buy, and when they went to buy it, the cashier couldn't ring it up, as the SKU had been held the system for an October 9th release date. Luckily for us all, since the new and old Chromecasts have the same price, the store staff apparently let them buy it under the current generation Chromecast's SKU. Upon getting it home, they gave us all a quick comparison of the 2nd and 3rd generation:
"It seems a little thicker."
"The top is no longer glossy and the Chrome logo has been replaced with the G Google logo."
"Still micro-USB (sad right)."
"They did remove the magnetic HDMI connector on the tip and base of the Chromecast which is a bummer."
Sticking to microUSB is indeed unfortunate, as is the loss of the magnets for easy cable management and securing of the Chromecast to the back of your TV. We can't see how the new model performs — if it indeed has Bluetooth support as the FCC filing suggested — as the current Google Home app (opens in new tab) is incompatible with the new model, but we won't have much longer to wait.
After all, October 9th is only 10 days away. The question is, will that date only bring a new Chromecast, or the new Google Pixel 3, too?
According to the FCC listing from August, this new Chromecast will be the first to support Bluetooth. The current model does have a Bluetooth chip, but it's only used during the initial setup process and can't be enabled by users afterward.
The FCC documents show that Google thought about just sending a software update to the exisitng Chromecast to enable this functionality, but "because this new model requires a new equipment code (DSS) not covered by the original certification for FCC ID A4RNC2-6A5, the new version of device requires a new FCC ID."
Along with Bluetooth functionality, the new Chromecast will also offer improved Wi-Fi reception with 5GHz networks:
Google might announce the new Chromecast at its upcoming Pixel 3 event that's expected to take place in early October, but seeing as how the design for the updated model will be identical to the current one, it's entirely possible it'll simply be sold in place of the existing Chromecast with no fanfare surrounding it. The October 9th release date mentioned by the Best Buy staff it still fast approaching, and we still do not know exactly when the Made by Google event will be.
Here's why the NVIDIA Shield TV is still being updated after three years
Updated September 29, 2018: We've updated this post to include the first appearance of the presumed 3rd generation Chromecast, found and acquired by a lucky redditor on Friday night, 11 days before its alleged October 9th release date.
Ara Wagoner was a staff writer at Android Central. She themes phones and pokes YouTube Music with a stick. When she's not writing about cases, Chromebooks, or customization, she's wandering around Walt Disney World. If you see her without headphones, RUN. You can follow her on Twitter at @arawagco.
HDMI 2.1 with variable refresh rate (VRR) support would be nice...
But is it still too early to ask for that?

I want an updated chromecast audio too

I wondered that as well, my chromecast audio works fine, no need to be updated. Saying that my Video chromecast works fine, but then have not used that for months, my Blue-ray player and now TV box does what i used to send through the video chromecast. I does use the audio one a lot.

Hopefully, it supports private listening like my Roku devices. Often time I use that instead of my Chromecast so the wife can sleep. My Samsung TV only supports BT to other Samsung headphones #killtheclosedecosystem

That would be an EXCELLENT use for Bluetooth on this thing.

Ya, if that is an ability, I'll buy a couple. Definitely one for the bedroom. I woke the SO up last night watching old game shows. Damned buzzers!

I was just about to upgrade my first gens. Good I'll wait a bit longer

Why would you care if it's microUSB when it comes with its own cable and you never unplug it?

My guess would be to be able to use the cable to possibly charge other devices. That, or we just want to completely get away from micro USB

I agree, saying that some people make a fuss about mobile phones coming with micro USB, mine did and I see no problem with it, as long as the thing charge.

1080p 60fps videos would be nice... Considering I pretty much all but ditched the original ChromeCast because they took away its ability to stream 1080p anything it seems. It either stutters like crap if you're using an app that lets you force a resolution, or it just stays all blocky and never switches itself to a higher res (as in, like with the YouTube app). If these would AT LEAST do that.. Then I'd happily buy some more. Right now I had to ditch them for the Ultra's JUST so I could get actual 1080p content on my TVs... Granted, it still rarely seems like the content actually GETS to 1080p quality... Oh, and yea, the ability to listen to audio FROM the ChromeCast would be AWESOME.

Sounds like a connection issue or issue with your device. My chromecast does 1080p just fine. It also does 60fps just fine.

Agreed, my chromecast handles everything but 4k content being pushed to it.. That's the one thing I'd like to see with this new one. Take amazing videos with my phone and then I have to do work-arounds to cast and enjoy it.

I still have the first gen Chromecasts on my TVs.. They stilll work pretty good. I do want to upgrade them all though, I want them to all be on the 5GHz network.
Android Central Newsletter
Thank you for signing up to Android Central. You will receive a verification email shortly.
There was a problem. Please refresh the page and try again.