Google 'Ultra Pixel' phone rumored to ditch navigation keys, have dual cameras (Update: fake)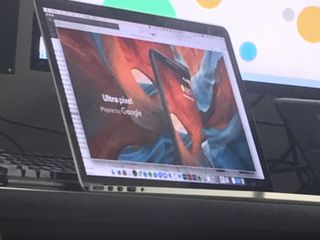 Update September 30: This story turned out to be a hoax by YouTuber BRECCIA. He's apparently looking for work if anyone would like to hire someone to deceive your clients.
Original article below:
Google's Pixel 2 event next Wednesday will be here before we know it, and alongside the highly anticipated Pixel 2 and Pixel 2 XL, we're also expecting Google to show off a Home Mini, and Pixelbook to go alongside its latest flagship smartphones. However, according to a new rumor that just popped up, Google is also working on an even more premium handset in the form of the Google Pixel Ultra.
Arun Maini from the YouTube channel Mrwhosetheboss uploaded a video in which he talks about an email that he received from an anonymous source. In this email, Maini's source sent him images and videos that supposedly reveal a Pixel Ultra phone that we haven't heard about up until now.
The photo that shows off the Ultra Pixel the most is that of a laptop with a screenshot of what appears to be a promo image. It shows off the front of the Ultra Pixel with very slim top and side bezels (similar to what we're expecting from the Pixel 2 XL), along with professional-looking artwork and wallpaper to match.
Next to the phone itself, we see branding that reads "Ultra pixel" and underneath "Phone by Google." The font used looks to be right in line with what Google's been using for other marketing material, but the lowercase "p" for "Ultra pixel" is an oddity. This could be a typo on Google's end, or it could be a sign that this whole image is entirely fake. You can watch Maini's video to be the judge yourself, but what we're seeing here does look legitimate.
Maini continues on in his video to say that the Ultra Pixel will have a dual-camera system (something we're not expecting in the Pixel 2 or 2 XL ) and a "new kind of fingerprint scanner." We don't have any concrete info to judge just what this means, but there is the chance that this means Google will be implementing a fingerprint scanner that's embedded under the display of the Ultra Pixel. Technology like this does exist, but we've yet to see it in a mass-produced consumer handset. It's not necessarily impossible for Google to pull off something like this, but the likelihood of it happening is still up in the air.
Lastly, and perhaps the most interesting, the Ultra Pixel will supposedly do away with Android's Back, Home, and Recent navigation buttons in favor of a system that's based purely on gestures. Another photo that Maini received shows a swipe up gesture on the Ultra Pixel to access the phone's multitasking screen, and in another instance, we see a screenshot of three phones next to each other with the text "The future of Android is Fluid."
What does all of this mean? It's entirely possible that Google is working on an Ultra Pixel phone to be released alongside the Pixel 2 and Pixel 2 XL, with the Ultra Pixel being the company's true flagship for 2017. This is identical to what Apple just did with the iPhone X, and with Google's intent to beat Apple and its own game, we wouldn't be surprised at all by a move along these lines.
As for the removal of Android's navigation buttons, that's a different story. I don't doubt that we'll see a drastic change in the way we interact with the Android OS at some point in the near future, but seeing as how this is the first time we've ever heard of such a proposal, I'm inclined to believe that the navigation buttons will be staying where they've been for all these years — at least this time around.
Thankfully, we only have to wait until next Wednesday to stop with all of the speculation.
Get the Android Central Newsletter
Instant access to breaking news, the hottest reviews, great deals and helpful tips.