Google's fancy new Wallpaper app is the best thing about its leaked 'Pixel launcher'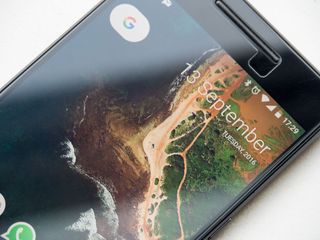 In the past day notorious HTC leaker @LlabTooFeR has leaked the latest version of Google's "Pixel launcher" — the home screen app that'll be preloaded on the two upcoming HTC-built Pixel phones (neé Nexus). Obviously it's important that this is branded as the Pixel launcher — removing any doubt that that's what this year's Google phones will be called. Also big: No more Google search bar, instead a Google "tab" icon you can drag out to get to Google Now. And the app drawer has changed significantly, almost moving back to the Android 2.x days where the drawer was a literal drawer that you'd pull up to see your apps.
All of that is important a neat, but what's way cooler is what Google's now doing with wallpapers.
Google's new wallpaper picker exists as a separate APK, meaning it can be installed without loading the Pixel launcher, and used with any Android home screen. As well as standard options like your own photos and built-in wallpapers, the app gives you a vast selection of wallpapers from different categories of artwork:
Earth: Satellite-style imagery, as we've seen from the past couple of Nexus releases
Landscapes: Beautiful scenery like the sort you might find preloaded on a Chromebook
Cityscape: Urban photography, including a few impressive macro shots with beautiful bokeh effects.
Life: A collection of photos featuring abstract, floral and everyday objects.
Textures: Repeating patterns, sometimes abstract, sometimes from the real world.
These categories appear to be curated, and pulled down from the Internet, so it's likely the library will grow and change over time. After selecting a wallpaper, you can view more details, including where it was taken and by whom.
Each category has as few dozen options to choose from, and if you want a new wallpaper from any of these categories every day, the "Daily wallpaper" feature lets you start off each morning with a fresh background. It's reminiscent of the Muzei app created by Google designer Roman Nurik, which did much the same thing with classic artworks.
This new wallpaper app, which should be loaded on the upcoming Pixel phones, is great way to provide owners with an easy way to freshen up their wallpaper on a regular basis, and stop things from becoming stale. Good wallpapers are hard to find, and a phone maker providing free, high-quality wallpapers as a service is a feature so obvious it's surprising it's not happened before. And what we see here is just the start. We're hearing that the loadout of still wallpaper will be augmented with some sweet new live wallpapers — along similar lines — when the Pixel phones eventually land.
The wallpaper picker — and the Pixel launcher itself — is available from LlabTooFeR's site. Sideload at your own risk.
Google's Pixel phones — new launcher, wallpapers and all — are rumored to arrive in early October.
Alex was with Android Central for over a decade, producing written and video content for the site, and served as global Executive Editor from 2016 to 2022.
Thanks for the info. I'll try it out, currently using IF and Bing's image of day for my background. Just love having a new image up daily.

hope this feature comes to nexus as well

He said that it's a separate APK which means that it will be in the Play store for anyone to download.

that doesnt mean it will be available on playstore.
even if its available there is no guarantee that google will enable installing this on nexus

Considering its working on every other android phone and tablet I'd say nexus is a safe bet.

If I use this in my S7, can I still distinguish between home and lock screen wallpapers (for the wallpaper apk)?

Works great on my Moto Z Droid Play.
Thanks

I don't know why I'm saying this ,
SIr you have the best Practical Smartphone of current gen ,,with 3500mah and 14nm 625cpu

So will Pixel Launcher be in the store?

YMMV, but for me running CM12, the app only appears within the wallpaper settings, and when you make a selection, it hangs on downloading the image. Oh well. Hoping to get a new phone soon anyway.

It seems to hang, but can just take a long time.

wow! what am i doing wrong? Neither apk will open

What is your android version? Pixel launcher doesn't work to any phones I tested below marshmallow. Posted via the Android Central App

I'm using the Pixel Launcher on my G4 Plus. It's crazy awesome

Strange. Wouldn't open with the built in explorer, but would with a third party one.

Not to ask a stupid question but did you check the option in settings to allow installing from unknown sources? *oops. Nevermind. Was stupid.

So do we loose our swipe to the right for google now? Have to tap the button near the top twice?

Thats what I'm seeing. Not sure I like that, but the other stuff is pretty cool.

The only reason you can't swipe right to open Google now is a permission issue. This thing needs system (root) level access to tie into Google now. They'll probably have that fixed when it goes live instead of just leaked.

Just put the Google App as the centre app in the dock (now you can add five apps to the dock you not losing anything from the Now launcher dock) and you have Google Now with just one tap. Better than the swipe for me.

How do you add apps to the dock? Tried the hold and move but didn't work for me.

It works for me just by dragging the app icon to the dock I'm on a nexus 5x.

I'm really diggin the wallpaper picker. Google sure have some great looking pics specially their landscapes. Posted via the Android Central App

One more thing to look forward to. Actually this is right up my alley. Can't wait.

Father...why...why!? I HATE YOU. I mustn't run away, I mustn't run away, I mustn't run away...!

"Alright I'll do it. I'll be your pilot."

Aw, some low-life downvoted our comments as if they didn't pertain to the article or offended them. Poor low-life.

Will this only work on marshmallow, and nougat? A friend is trying it on his moto x 2nd gen with lollipop, and it keeps crashing.

Am I the only one having trouble accessing the website?

Strangely, the site seems to be unreachable... But another site, one that claims to police android, has mirror links in their article.

I'm seeing some synergy with Chrome OS which has basically the same wallpaper picker.

I just hope the new Pixel phones don't mean "premium pricing", as the other Pixel products do. I like the build quality, but haven't seen the value enough to invest in a Pixel product. With Nexus, I've owned nearly every model. 6P has quality at an affordable price.

Am I the only person in the world who's decidedly -NOT- excited about the Pixel Launcher? What avenues of "moving forward" do those of us who want the latest hardware, but are IRON COMMITTED to a "vanilla" Android experience have? Is there even any at all? I don't want a proprietary "Pixel Launcher", to hell with the Pixel Launcher! I want [as close as such a thing exists to] -PURE ANDROID!- In my mind, that's THE ENTIRE POINT of a 1st party Google phone in the first place! I swore off Samsung after my Note 3 because I didn't like Touchwiz, and -DESPISED- the long wait for updates. I said "never again" to Sammy, and committed myself to the notion that any Android phones I should have in the future be Nexus devices. But if even Google's own phones won't offer a vanilla experience anymore, then why the hell not go with a Samsung? They make the best phone hardware in the world (when it's not blowing up, that is), they have the biggest install base, many of their proprietary apps are decent, and the Note 7 is a thing of ABSOLUTE BEAUTY - completely and utterly unrivaled in the entire panorama of mobile technology both past and present. Of course, the prospect of Samsung itself makes me -A LOT- less eager to return to Android from iOS where I currently am, but none of the other 3rd party offerings really blow me away, and it seems the days of "vanilla" may be tragically gone! Yes, yes, I know there's always "Google Now Launcher", but one thing I learned from my days on the Note 3 (where I used Google Now exclusively in the final five to six months) is that adding a software layer on top of a software layer on top of an operating system was far less than ideal and did no favors to battery life, temperature, base performance, or stability. Plus, it's not comprehensive. It doesn't revert things like the drop down menu, or the settings app. I also don't like the idea of rooting because then I have to completely redo the software all over again each time there's an upgrade - at least that's been my experience with CyanogenMod. Plus I can kiss goodbye any warranty I might have, and I'm just the kind of klutz who would drop his phone into the toilet five seconds after the warranty is gone. Listen, I'm going to either be SUPER BITTER if I have to resort to GNL.....or WORSE....SUPER RELUCTANT to ever come back to Android in the first place, if GNL (or rooting) are my only options! On balance, as a current iPhone user, I can say that I prefer Android OS to iOS and the premier Android handsets to the iPhone hardware, but if this is the Android scene that I'm offered upon return, then I'm very seriously teetering on the edge of saying "no thank you" and staying with what I've got! Cheers!

Um, the Pixel will be Vanilla Android. Not sure what your raving about.

Okay, let's test this: Is pixel launcher the default Nougat launcher that would be found on all "vanilla" or "vanilla-ish" instances of Android Nougat, such as on Moto phones, and the older Nexus devices? When my friend with a 6p updates to Nougat, will he have Pixel launcher?..... ....Or do only the Pixel phones get the Pixel launcher? This is central to our discussion because if it's the former, then you're absolutely right, please accept my apologies, and I drop my complaint. However, if it's the latter then it is a software layer not intrinsic to the version of the operating system, and not "vanilla". It is "Google's Touchwiz", and the loss of the central feature that made me interested in 1st party phones in the first place. At that point, why not go back to Samsung since they do indeed have the coolest phones? Of course that prospect alone may well be enough to just keep me over here with Apple for a while longer. Anyway, that's what I'm [quote unquote] "raving" about. So which one is it? A phone-specific software layer that only pixel phones will get, or a new launcher that comes baked-in to any install of Nougat which has no third party launcher tacked on to override it? Only the latter would constitute "vanilla". Let me know. And even though your bedside manner kinda sucks, I do at least appreciate and want to thank you for taking the time to read it and engage. Way better than the "tl;dr troll" that wasted a little bit of all three of our lives. :-) Cheers!

Depends on exactly what you mean by "vanilla"? AOSP is Vanilla. Vanilla types, like Moto X, then I would count the Pixel as Vanilla. It's not heavily skinned with tons of gimmicks. Changing the search bar, and deeper integration with Assistant, imo, doesn't place the Pixel in the realm of heavily skinned or forked devices like Sammy, LG, or what Amazon has done. It's menus and such (where you usually find heavy skinning) should be along the vanilla lines. And Assistance integration will be more of a service, than a re-skin. Unless they add in HTC sense or TouchWiz, with totally different home screens, icons, and revamped menus, then I would still call it "vanilla" even if the search bar is now a round G button as the largest visual change, and having Assistant baked into the former NOW

Meh, if it's pricing is in line with the 6p I'll pick up the bigger pixel...Marlin is it? I've grown used to 5.5" or bigger screen sizes so I don't want to make the step down.

I like that update daily option.

I like it but meh on the drawer. It's too cluttered for my taste and the application icons far too tiny.

This is the same thing that Microsoft had with their Lumia phones: Bing Daily changing lock screen wallpaper. I loved it with my Lumias so this is gonna be awesome all over again :D

Is there anywhere we can download those wallpapers from online?

That's what I want since it seems that this can only apply wallpapers to the home screen and not the lock screen (I'm using S7 edge) Has anyone found a way to apply these wallpapers to the lock screen?

"Sideload at your own risk" Has anyone ever or know of anyone who had issues when doing so? I know I'm being super paranoid. I've been wanting to try it out but, yeah, paranoid.

Nope. No issues. Just standard APK's, which can be easily uninstalled it any issue occurs.

Why does it want me to DL a cloud service app I"ve never heard of to download the APK?
Android Central Newsletter
Get the best of Android Central in in your inbox, every day!
Thank you for signing up to Android Central. You will receive a verification email shortly.
There was a problem. Please refresh the page and try again.