Spotify's Chromecast approach is the start of an unfortunate new chapter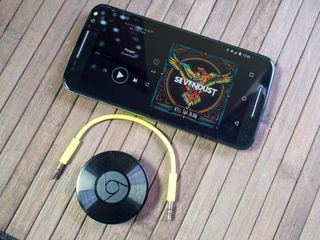 (Image credit: Android Central)
The internet erupted with applause when Google announced on stage that Spotify would finally be added to the ever-increasing list of apps that support Chromecast. The cheers seemed well deserved, especially since Spotify sat as one of the few big audio experiences without Chromecast support in recent months. Now we not only have Spotify, but the new Chromecast Audio meant it could be enjoyed on just about any speaker you could find.
Unfortunately, now that Chromecast support for Spotify has arrived we see there's a giant caveat to this new feature, and it's hard to look at this as anything other than the start of something bad for all Chromecast users.
Spotify Music updated for iOS and Android today, with a message welcoming Chromecast owners to the new UI for sending audio from your phone to another device. The feature only works for new Chromecast 2015 models for now, as an update to the original Chromecast is needed for Spotify to support it, but by the time that update arrives there will be a lot of happy Spotify users out there. The ability to send your audio off your phone, but still control it with your phone, is amazing. Unlike Bluetooth, there's no system sounds or gaps in playback when you get notifications on your phone when listening through a Chromecast. It's not like AirPlay where the phone or tablet is doing the heavy lifting, either.
It's a fantastic way to stream, and up until right now every Google Cast device worked in mostly the same way. You cast to a Chromecast the same way you cast to an Nvidia Shield TV or Nexus Player, because all of these things were treated exactly the same by the host app controlling the experience. Now, starting with Spotify, Chromecast Audio units are not treated the same as everything else. In order to use Spotify on a Chromecast Audio, you have to have a Spotify Premium subscription. When Google updates the rest of the Cast lineup the list of things you can cast Spotify to will be significant, but separating out one kind of Cast device hasn't happened before.
The truly unfortunate part of this is Google's lack of action. It's not unheard of for Chromecast support to live behind a paywall for some of the smaller apps and games, but segregating the Chromecast Audio is entirely about ensuring Spotify is targeting a specific users and treating them differently from the rest of the group. It should be an all or nothing experience with paywalls, where all Chromecasts are always treated the same. There's no technical reason for this to happen, and because Google's control over the Cast ecosystem is not only absolute but entirely private. The only people capable of reaching in and stopping this is the Chromecast team.
While it's hard to fault Google for not being more locked down, the way this is being handled is just plain bad for the users. Perhaps more important, it sets a dangerous precedent for other app developers to attempt. The Chromecast ecosystem is still relatively young, and the larger it gets the more likely we are to see new ways to monetize the experience. While there's nothing wrong with developers making money, a divided user experience seems like a terrible way to get there.
Sign up for Black Friday email alerts!
Get the hottest deals available in your inbox plus news, reviews, opinion, analysis and more from the Android Central team.