Google's Area 120 launches GameSnacks to bring games to developing markets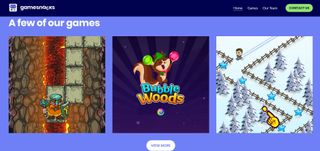 What you need to know
Google's Area 120 incubator has a new project called GameSnacks.
The goal of GameSnacks is to create a quick and easily accessible way for users in emerging markets to play casual games.
The games are compressed and optimized, allowing them to run on devices with 1GB of RAM and load quickly even over 3G networks.
Google's in-house Area 120 incubator has a new project called GameSnacks that features "bite-sized HTML5 games, accessible to everyone." It launched on February 13, 2020, with the primary goal of bringing easy to play, fast loading games to developing markets.
Each day, users in the developing world experience the internet for the first time on a mobile device. Oftentimes, in these markets, that means using an entry-level phone low on memory and running on a slow network with expensive data plans.
These conditions can lead to a less than ideal experience when apps and services are designed for more capable phones and networks. One of the challenges then becomes to build new services that can provide a pleasant user experience within these constraints.
That's exactly where Google's Area 120 team comes into play with GameSnacks. The team was founded by Ani Mohan and Neel Rao, and features six members in total. Together they have created a web portal with games that need little instruction and will load quickly on entry-level devices. For example, the game Tower can be played on devices with only 1GB of RAM and loads in seconds over a 3G network.
This feat was accomplished by compressing the assets used in web games and only loading the ones that are necessary, instead of the whole game all at once. That makes it possible for GameSnacks games to load within a few seconds, instead of waiting up to 12 seconds for unoptimized games. GameSnacks can even work on connections as slow as 500Kbps.
GameSnacks has partnered with Gojek, a leading technology platform, to help bring new games to its platform with the GoGames service. With Gojek's help, they will first bring games to Indonesia before expanding to other markets in Southeast Asia.
Other GameSnack partners include game developers such as, Famobi, Inlogic Games, Black Moon Design, Geek Games, and Enclave Games. If you already develop HTML5 games or want to see your game join the roster, GameSnacks wants you to get in touch using this form.
While mobile gaming is the primary focus of GameSnacks, it is built on HTML5, which means it's available across all platforms with a web browser, including your computer or iOS devices. Eventually, GameSnacks is expected to expand even further by partnering with developers to embed its games into their apps.
Get the Android Central Newsletter
Instant access to breaking news, the hottest reviews, great deals and helpful tips.