Google's Amazon Echo competitor has always been a question of *when*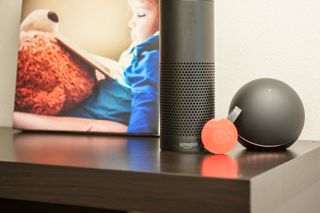 When it comes to interpreting your voice and feeding back relevant information, nobody does it better than this company. Especially when it comes to putting it into a product that can be conveniently tucked away in a corner, or on display for all to see.
If you're thinking Google, you're wrong.
I'm talking, of course, about Amazon Echo, and its "Alexa" personification. A report last week from The Information (behind a paywall, but this link should work for a bit) says that Google is working on an Echo competitor.
That news is, at best, unsurprising.
Echo doesn't do anything in particular that Google hasn't done in some way for years. Voice recognition? Yep. Knowledge Graph search results for random questions about lots of things? Absolutely. Streaming music? Sure. Google does all that.
The question isn't whether Google's working on an Echo competitor — it's why the hell hasn't there been one all this time.The question isn't whether Google's working on an Echo competitor — it's why the hell hasn't there been one all this time.— Phil Nickinson ✘ (@philnickinson) March 24, 2016
What it's failed to do is bring it all together into one compelling package. Chromecast is great (especially at its price), but it's a dongle attached to a TV and needs a phone or tablet to control it. Android TV boxes haven't really taken off yet. The Nexus Q was beautifully over-designed, under-featured, overpriced — and was rightfully aborted.
Certainly the parts are all there. Google's been knocking on the door of your home for years. But it's way past time for it to ask for an invite in.
But even busting out some sort of connected speaker with Google Now-type capabilities — and it's already pretty close to that with the "Cast" technology built into speakers like the existing stuff from Sony or LG Music Flow — is only part of the equation. A big part of what makes Echo a successful product is "Alexa." It's that personification of hardware and intelligent software — in the same way that Apple has done with Siri — that has been missing from Google Now since its inception. Google can get away with that on phones and tablets, I think. We're talking to things in our pockets. We know these are phones and tablets, meant to do our bidding, and as likely as not to die an untimely death on some sidewalk somewhere.
But when you're talking about something that's going to be in your living room or on your kitchen counter every time you walk past, it starts to become less of a thing and more of an interactive (if inanimate) part of your family. That lack of personality isn't all that surprising. Google always has been, at its heart and soul, about engineering. And engineering isn't about fluffy personalities. But if it wants to make devices that we want to purchase and that we want to interactive with long before we need to, then it's going to have to put a pretty face on things. (Or at least a voice.) On the hardware front, the OnHub routers are waiting in the wings, presumably as early prototypes of what might (or might well not) be to come.
In any event, there's a balance to be had. We're not quite ready for Samantha. But we also need more than just shouting "OK, Google," toward our television set, or a speaker tucked away in a the corner — which, of course, still doesn't exist. Amazon has a huge head start on everyone, even though we're still very much talking about a niche product for early adopters. But the clock is ticking on how long until reasonably priced, connected home hubs become a truly viable product.
And it's time for Google to get in the game.
Get the Android Central Newsletter
Instant access to breaking news, the hottest reviews, great deals and helpful tips.