Google's Action Blocks is a great app — now it needs to be on the Nest Hub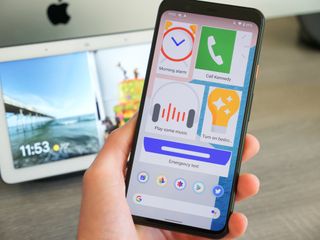 (Image credit: Joe Maring / Android Central)
Over the past year, we've seen a trend with Google to really double-down on its accessibility features for Android. Android 10 introduced Live Caption for on-device transcribing of any spoken audio on your phone, and with the upcoming Android 11 update, Voice Access gets a big upgrade to make controlling your phone with just your voice a substantially better experience.
Google continued its accessibility push on May 21 with updates to its Live Transcribe and Sound Amplifier apps, and this day also saw the quiet launch of a new app called "Action Blocks." Action Blocks is a free download for any phone running Android 5.0 or later, and it's pretty darn impressive.
In case you missed out on the news, here's a quick recap of what exactly the Action Blocks app does.
After downloading the app on your phone, you can create Action Blocks for performing a variety of tasks — such as calling a specific contact, sending a text to a friend or family member with a pre-written message, checking your calendar, etc. There's an extensive list of things you can do with these Action Blocks, and once they're created, you place them anywhere on your home screen for easy access. Now, instead of having to open Google Messages and type out a text to a loved one that you need help, you can tap the Action Block on your home screen and have that entire process taken care for you just like that.
Action Blocks are powered by the Google Assistant, and they're essentially a shortcut for having to actually talk to the Assistant to issue your specific command. They're easy to set up, are very user-friendly from a design point-of-view, and require nothing more than a single tap to perform the desired action.
For people that may have difficulty understanding how every app on their phone works, Action Blocks solves that dilemma perfectly. Now that it's available for virtually any modern Android owner that wants to use it, it's time for Google to bring the feature to another platform — smart displays.
Smart displays — like Google's own Nest Hub and Nest Hub Max — are already excellent devices that just about anyone can use with ease. Rather than having complicated apps to navigate and understand, everything is done by your voice. Whether you want to check on the weather, play a song, or control smart home devices, all of these things are just one voice command away. The display is there to offer visual aids relating to your voice commands, but it's not currently designed to be the primary method of interaction. However, Action Blocks could change that.
Imagine it's late at night and you don't want to disturb your significant other while they're sleeping. With Action Blocks on a Nest Hub or any other smart display, you could just tap the screen to set an alarm, get the weather forecast, or see your upcoming calendar appointments for the following day. From an accessibility standpoint, this could also be useful for having another area in your home where you can just tap the screen and instantly call an emergency contact.
Seeing as how Action Blocks are powered by the Google Assistant, which is also what powers the Nest Hub and other Google-centric smart displays, this seems like a match made in heaven. Whether you create Action Blocks directly on your smart display or in the Action Blocks app on your phone and can then send them to it, there's a huge opportunity here that Google's missing out on.
As for whether or not there's a chance of this actually happening, I'm not so sure. Like I mentioned above, Action Blocks is a very new piece of software. Before Google expands it to additional platforms, I imagine it'll want to refine the Android experience as much as possible and squash any bugs that pop up over the coming weeks and months.
There's also the fact that Google is such a massive company with countless teams and divisions of employees, meaning it's very likely that Google's accessibility engineers aren't actively working or collaborating with the team that's responsible for smart display software.
A guy can always dream, but I think Google is missing out if it ignores bringing these two things together sooner rather than later.
Tiny and mighty
The gadget that should be in everyone's home
Smart home products are a dime-a-dozen, but one that continues to stand out as something special is the Google Nest Hub. This compact and fabric-covered display looks great in any home, is easy on the wallet, and is incredibly powerful. Use it to play music, watch YouTube videos, control smart bulbs, call family members, and virtually anything else you can think of
Sign up for Black Friday email alerts!
Get the hottest deals available in your inbox plus news, reviews, opinion, analysis and more from the Android Central team.
Joe Maring was a Senior Editor for Android Central between 2017 and 2021. You can reach him on Twitter at @JoeMaring1.