Google could be bringing Android to the Raspberry Pi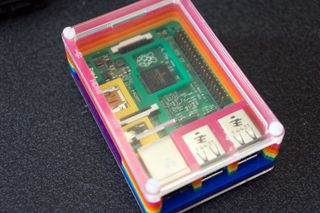 The Raspberry Pi line of products are supported by a wide selection of operating systems, including Windows, but now Google could add another option to the list — Android. As covered by ArsTechnica, a new device tree has been spotted in Google's Android Open Source Project (AOSP) repository for the Raspberry Pi 3. For those of you who have yet to learn about the Pi, it's a small board with multiple integrated components, essentially a very small computer that retails for $35.
Having Android available for the Raspberry Pi would enable enthusiasts with the small boards at home (or in the office) to boot up the mobile OS and install content from the catalog of apps and games. Once support builds for the Pi, it'll be interesting to see just how folk are able to take Android and use it on the small form factor. We'll have to wait and see what Google has planned for the Pi.
I would definitely get one (Raspberry Pi) if Android would be available for it.

You should get one now, they are awesome. So many fun things to do with them.

I have been interested in these for years but never pulled the trigger. Do you have to be very knowledgeable with wiring and soldering?

Nah they aren't that hard. Plenty of YouTube videos that's how I got mine going. A fun easy project I did was run kodi on it and I use to to play all my movies I have downloaded with a 2tb hdd hook up to it. Fun little project. Posted via the Android Central App

You don't need any soldering or wiring experience. HDMI to monitor, USB mouse, USB keyboard, USB wireless dongle. Download a OS. Posted via the Android Central App

What Nick said. Totally, get one now. They're cheap and cool Posted via the Android Central App

Love my Pi. Can do lots of things with it. Would have to buy a few more if this happens. Posted via the Android Central App

This is the start of the Google desktop OS solution Posted via the Android Central App

That already happened when chrome OS gets access to the full Play store.

What can you do with raspberry pi besides eat it? Hail Lord Han

I think I would love an android TV build on my pi. Even sitting Kodi on top of android over openelec has a lot of advantages. Like Nextflix support.

There have been several attempts at getting Android working on the RPi but now we'll have an official supported version, that's awesome! Hopefully there will be a version for the RPi Zero...make your own Android Auto system for $5 lol Posted via the Android Central App
Android Central Newsletter
Get the best of Android Central in in your inbox, every day!
Thank you for signing up to Android Central. You will receive a verification email shortly.
There was a problem. Please refresh the page and try again.