Google, U.S. carriers and PayPal join mobile payments standards comittee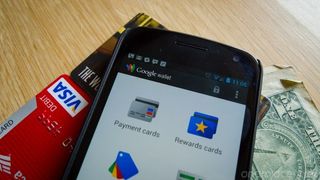 The Electronic Transactions Association (ETA) announced that it has formed what they are calling the Mobile Payments Committee -- a group of companies working together to create common standards and advance the current mobile payment situation in the U.S. Notable partners include AT&T, Sprint, T-Mobile, and Verizon, as well as other industry partners like Google and ISIS.
While the companies are all focusing on competing products, they realize the benefit that comes with getting merchants on board working with regulators to get some standard rules in place. According to ETA CEO Jason Oxman, "The idea behind the committee is to get all the players around the table, ask everyone to take off their company hats and put on their industry hats, and talk about what issues need to be resolved."
We agree. In the end only the companies who can offer what consumers want in a safe and easy to use way will survive, so it's important to get all the rules and standards put in place while the technology is still in the early stages. We don't see any of the participants willing to drop their offerings in favor of another, but hopefully a set of common goals can be used to get mobile payment technology into the public's hands where the best product can win. Waiting until one or more of the partners have pulled ahead will only make it harder to adopt legislation that's fair to all parties.
The Mobile Payment Committee will hold its first meeting in late August, with regular monthly meetings to follow. We've been crowing for some standardization for a while now, so we think this is great news. The full press release is after the break.
Via MobileBurn
ETA Launches Committee To Guide Emerging Mobile Payments Industry
Mobile Payments Committee Will Include All Four Major Mobile Network Operators and
Develop and Implement Industry-Wide Solutions for Mobile Payments
WASHINGTON, DC ─ The Electronic Transactions Association, the trade association of the global
electronic payments industry, today launched its new Mobile Payments Committee, an industry-wide
task force of representatives from top companies in the innovative market of mobile payments, including
all four major mobile network operators – AT&T, Sprint, T-Mobile, and Verizon. The Mobile Payments
Committee will develop and implement industry-wide solutions to the complex policy and business
issues surrounding the emergence of mobile payments in the U.S and globally.
"Mobile payments represent a game-changing business opportunity for our industry, and ETA's mission
is to help our member companies succeed in this business," said ETA Chief Executive Officer Jason
Oxman. "Our industry must work collaboratively to ensure that the regulatory and business environment
promotes innovation and cooperation. As the trade association of the payments industry, ETA is the hub
of activity in mobile payments, and our Mobile Payments Committee will help ensure that consumers
and merchants have access to an efficient, reliable and secure mobile payments system."
The Mobile Payments Committee is chaired by Jackie Moran, Executive Director of Federal Relations
for Verizon, and includes representatives from ETA member companies engaged in all aspects of
mobile commerce, including credit card networks, processors, mobile network operators, developers,
financial institutions and device manufacturers. ETA also announced today that all four of the nation's
major mobile network operators – AT&T, Sprint, T-Mobile, and Verizon – have become ETA member
companies and will participate in the Mobile Payments Committee.
"As a nascent industry, the mobile payments market is just beginning to realize its full potential as a
robust enabler of global electronic commerce," said Moran. "The Mobile Payments Committee is
designed to ensure that the early stages of mobile payments are handled in the best possible way: With
insight and ingenuity from all the players – private as well as public sector -- involved in the exciting
future of mobile payments."
Other ETA member companies participating in the Mobile Payments Committee include Google, Isis,
Verizon, Wells Fargo, Capital One, American Express, Discover, MasterCard, Visa, PayPal, VeriFone,
Intuit, First Data, Panasonic and Neustar. The Mobile Payments Committee will address several issues
facing the future of mobile payments, including:
the business relationships needed to foster innovation and achieve network interoperability among merchants, credit card companies, mobile networks, equipment operators, equipment manufacturers and financial institutions;
exploring the necessity of "best practices" that ensure merchants and consumers have access to the most innovative and effective mobile payments solutions;
the education of legislators and regulators developing public policy around mobile payments; and
the education of merchants and consumers about the potential of mobile payments to provide a more efficient, reliable and secure experience at the point of purchase.
ETA's Mobile Payments Committee will hold its first meeting in late August and hold regular monthly
meetings thereafter. The Committee will frequently update companies engaged in the mobile payments
industry as well as policymakers on relevant proposals and solutions. While these proposals will remain
voluntary, the Mobile Payments Committee will work with member companies to implement them in a
comprehensive manner to ensure that the new field of mobile payments provides consumers and
merchants with the best, most reliable, and most secure system.
Android Central Newsletter
Get instant access to breaking news, the hottest reviews, great deals and helpful tips
Senior Editor — Google Ecosystem
Jerry is an amateur woodworker and struggling shade tree mechanic. There's nothing he can't take apart, but many things he can't reassemble. You'll find him writing and speaking his loud opinion on Android Central and occasionally on Twitter.
So does this mean one day Google Wallet won't be stuck as an exclusive feature anymore?

I've never understood why the carriers have any say in this matter.
Do they limited transactions thru Square, or do they get a piece of your Starbucks purchases or do they get to decide if you can run the PayPal app? Google should just say screw you guys, we are going to authorize every compatible phone, and if you interfere we will go after you for illegal restraint of trade. It's just encrypted data. Banks and credit card companies, yeah I can see that. But carrier got no dog in this fight.

The carriers, unfortunately, are going to try to stick their finger into anything that might go over their network.

The carriers should absolutely have a say, the transactions are going over the carriers data network. If a transaction is compromised while transmitting over the carriers network, who do you think will be blamed?!

Its just data.
Do they take responsibility when you buy music from Amazon over their network and something goes wrong?
If someone hacks into your bank account from a mobile phone do you hear anyone blaming Sprint or Verizon? Don't for a minute believe this is anything but a money grab.

Transactions go through all sorts of other networks for other industries and I don't see those ISP/carrier/network providers getting say in what merchants can use which credit card products/services.

I can see carriers wanting to act like a bank and let you charge stuff to your phone account so that they can get a piece of the transaction fee. Throw in frequent rewards, like X% of your cell bill for all purchases for example, and it might be enticing for some people. If Verizon acted like a payment source and offered 5% of my purchases as cashback against my monthly cell phone bill, I would definitely use them.

When they agree to be regulated like banks, I might use them like banks, but they would be far from my first choice.

Carriers are in this because they hold the keys to which devices get on their networks.
Android Central Newsletter
Get instant access to breaking news, the hottest reviews, great deals and helpful tips
Thank you for signing up to Android Central. You will receive a verification email shortly.
There was a problem. Please refresh the page and try again.