Google updating Android Market for US phones to include books and movie rentals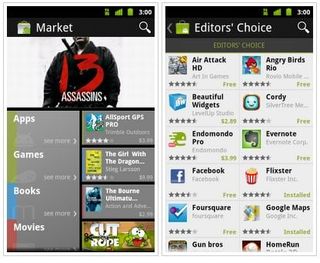 Google has announced a huge Android Market update, bringing a slew of changes, including books and movie rentals to users in the US. The update (for Android 2.2 and higher) will bring the ability to purchase books via your Android Market account, as well as rent movies through the Videos app (hey, we've seen that somewhere before) starting at $1.99. Google says they plan to expand this outside the US in the future.
Also coming are changes like new top picks, a new visual style, and web features like Editor's Choice and Staff Picks. The Market will start rolling out in the next few weeks, and as soon as you receive the update you'll be able to access the videos app to rent movies and buy books through the market with no changes on your end. Hit the break for a video overview.
Source: Google Mobile Blog
Youtube link for mobile viewing
Jerry is an amateur woodworker and struggling shade tree mechanic. There's nothing he can't take apart, but many things he can't reassemble. You'll find him writing and speaking his loud opinion on Android Central and occasionally on Twitter.
This will make the MarketPlace a full fledged app and media store.

Wow I can't wait for this! A MUCH needed improvement UI wise it seems!!!

Thank Goodnessva UI revamp.... also finally a native movie app. Only

Damn, Google is redesigning everything about themselves. I like it. Its about time they paid attention to the user experience. Makes me even more excited about Ice Cream Sandwich. I cannot wait.

I'm all about one-stop-shopping. I wonder if they are ever going to come out with a "supper app" that combines gmail, g+, g-voice, g-market. . . well combines everything that is google.

Or even better, what if they came out with an operating system that could run all of these apps plus other apps written by third-party developers

Man, I would buy that product in a heartbeat! Where can I get this magical creation :-P

Will this work for tabs as well?? As far as downloading movies, etc?

Tablets have had this for a while.

The Xoom has the movie store but to my knowledge other tabs do not. I know my Transformer doesn't.

The Galaxy Tab 10.1 doesn't have movie rentals either. It's just on the Xoom right now.

It's ABOUT darn time!!!!...Now so long as we can charge movies and books to our carriers, It's about to be ON!!!!!

Can i use this when rooted???

Cool as long as i can get it on my phone soon.

Love the new look. Hopefully the Video app will support HDMI out which could really make the $1.99 price very attractive.

Any idea how long before this hits the UK?

I think you guys made a mistake in the headline. This is what google said "The new Android Market will be rolling out in the coming weeks to Android 2.2 and higher phones around the world. You don't need to do anything - the update is automatic on supported phones. If you're in the U.S., you'll also be able to download the Videos app, rent movies, and buy books once you receive the new Android Market." The update is going to everybody, except in the States the update includes the ability to rent videos, rent movies and buy books.

I've been waiting for this for a long time!

Anyone else loving the comments on Youtube complaining that it's copying WP7?

will we rooted users have to flash new gapps to get the updated version or will it just happen? i would imagine we would have to flash new ones huh?

Man, if this is what Ice Cream Sandwich looks like I'm gonna be stoked. And I'll be getting a nexus prime. And a unicorn.

yeah that phone seems sick!

Lol wow wp7 users are a bit upset to see what Windows mobile should have looked like. I can't even think how respond to a bunch a but hurt people who have no lives and spend all day on live. Those are the kind of people you KNOW they still live with their parents in the basement.

Wooow this looks amazing:) hope it does update on my rooted phone on its own! And yes this does look sort of like Wp7 themes lol

My market must be different. I can find no Movies, for $1.99. -- Great idea though. My GTab 10.1 and I, will Love this. Thanks Jerry.

GOOGLE RULES END OF STORY

People with 2.1 will be pissed lol

Does anyone else realize Google pretty much ripped off Microsoft.

The WP7 UI is a very nice looking UI. Why not incorporate some of the basic ideas? It's not like compnaies "borrowing" ideas is anything new... iOS5 pull down status bar look familiar to anyone?

What I don't like is that Android Market doesn't accept Paypal...

And you still can't gift an app to someone. So my kid, who doesn't have a credit card, will still be limited to only free apps.

Will the movies have subtitles?????????

Nice update, fantastic "media" look enhanced. Works great on HTC Inspire 4G using Rogers

This is awesome I hope they find a way to do music also that will shut up all those itoons fans

I saw the beta version of this months ago but never saw it again and this looks even better than what it is now

android Copying the wp7 UI again!! first it was in the adds , now its in the actual Phone and this is true , samsung and HTC phoens that are made with Android OS ALL have to pay royalty to MS , so yeah , not the first thing they copy­. For the record wp7 and WM is not the SAme OS. so get that strait . Google is getting more and more original. NOT ether way the MEtro UI on wp7 still looks better and smother.

WOOOOOWWWWWW! It is F-in Amazing Google Rocks the World. Try an stop that patent trolls - RIM, SONY, APPLE, MICROSOFT and anyone else. They can produce or innovate anymore nor can they come to market quick enough to have an impact on ANYTHING....I MEAN ANYTHING. So you slow corporations keep your top heavy heavy heavy management and be left in the dust. Look at the dirt in your face now. GO GOOGLE! I'm I excited or what?

you saying google cant inovate? your totaly right.

I rented a movie on my EVO 3D Awesome!

do they have 3D movies to rent?

I downloaded it and it is great. The only thing is that I don't have the video selection? Any Ideas why?

Im using a rooted inspire 4g with CM7 rom

Installed on my Captivate... SWEET!! very smooth UI.. very classy app.. way to go Google!! +1 for sure!

I think this market is ok and i can see what the news.
Android Central Newsletter
Get the best of Android Central in in your inbox, every day!
Thank you for signing up to Android Central. You will receive a verification email shortly.
There was a problem. Please refresh the page and try again.