Google sending another wave of Glass invites to potential Explorers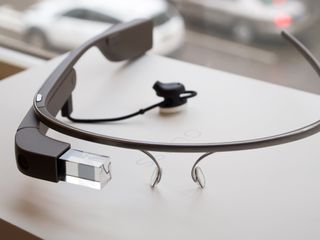 Unit still costs $1500 and you'll need to have it shipped within the U.S.
It seems as though Google is ready to make another round of people into Glass Explorers, as email invites for the $1500 headwear are rolling out to folks who signed up on the Glass website. It's a pretty standard email, and one that lots of folks have received over the months in relation to one promotion to get in on the program or another:
The same qualifications for picking up Glass will still apply here — that means $1500 plus shipping (or heading to a Google office), you must be 18 years of age and reside in the U.S. If you signed up for the Glass Explorer program and haven't been notified, keep holding out.
Thanks, Ramy!
Get the Android Central Newsletter
Instant access to breaking news, the hottest reviews, great deals and helpful tips.
Andrew was an Executive Editor, U.S. at Android Central between 2012 and 2020.
I got one about a week ago. Posted via Android Central App

Same, since then they have sent me 3 more! I really want it but I'm not 18. And Ummmmm it's $1500 +tax G2

I got the email. Told them I can't afford to spend $1,500 on something I don't really need.

http://www.reactiongifs.us/wp-content/uploads/2013/09/dont_believe_you_a...

then why did you sign up on the Glass website for something you dont need??

Ya 1500.00 that is for rich foke Posted via Pebble steel (ya if it would ship)

I see absolutely no point in these, show up in my face wearing one and you will get 3 things: 1. The bird!. 2. Called a trendy dork. 3. laughed at as I walk away from your stupid ass.

Can confirm - all these things happen. I think that's why Google has some out now before the project is finalized - to get all that reaction out of the way, so it's not a shock to see them around.

The problem is that there's not enough explorers among the common public to get the initial negative reception out of the way faster. People will see one Explorer acting stupidly with the camera and behavior and assume everyone else with Glass will act just like him. Google should've added more people from the start.

A product like glass be passed around like a common point and shoot camera. AC App via Nexus 5

You'd just have a broken middle finger when you put it up in my face. If you don't like glass, quit reading about it. Grow up. Posted via Android Central App

Look up Marine Corps MOS 0321 then tell me again you would try to break my finger! It would be your last attempt at anything tough guy. USMC '86-'06

This is you http://usmilitary.about.com/bio/Rod-Powers-6341.htm

Ur a pussycat offline so shush. Posted via Android Central App

A dedicated Android blog isn't the place to pretend like you're one of the cool kids. Just by virtue of posting here you've shown yourself to be just as much of a nerd as any of us. Grow up. Posted via Android Central App

+1 Sent from my Nexus 7 (2013)

Time to move off of Walton's Mountain.

This is the problem with people. If this thing is actually useful, who gives a shit what people think.

I got the invitation a few weeks ago. Its a novel idea, but a very expensive one. I'd love to have it, and considered ordering one but for that price point it doesn't seem worth it to me. Posted via Android Central App

I was enthusiastic early and got caught up in the earlier Explorer snafu ("You're in! You're out! You're in!...) I'm using a Gear I like a lot. It gives me about what I want in terms of info. With Google Now and some of the great features of my Note 3, I can certainly wait for the refined model...plus I still don't see how the optics will work for us far - sighted people.

Yeah I got my invite yesterday. I must have signed up back in 2012 or so. When I saw the $1500 price point it was a deal breaker. I will wait for a retail version which will be better and likely not as costly. Posted from my Motorola Moto G

i got 2 invites the past week. Anybody want one?

If you pay for it for me? ;)

I'll pay you back with a beer when I'm 21y/o Posted via Android Central App

Hi Zig, I'm interested. Thanks.

I arrived back stateside 2 weeks ago after spending 3 years overseas. Having had my invite since December, I ordered mine on the Mar 3rd and they arrived on the 5th, $1711.00 (stereo buds + CA tax). The product has a ways to go, but there is a potential that can change the way we communicate, learn, and interact in some environments. True, 1500+ cost is not for everyone, and Google's approach to distributing them in its early stage kind of points that out no all consumers are developers and beta tester!

I really wish I could afford one + the prescription frames. To bad I can't.

Prob means no free glass at IO :( Posted via Android Central App

I hope you didn't sign up just for free stuff... That would be kinda douche baggie, lol. Posted from my "Gift from God" Note 3, my "God-Given" iPad Mini 2, or my "Risen" Samsung Chromebook.

No never said that, but there is no way I will ever pay 1500 for Glass, I would however do that for the Pixel.

I got my Google glass invite last week and I plan in buying it. AC App via Nexus 5

Just got mine 6 days ago. Yeah it feels weird at first, but you get used to them, need to get general public to understand, I think too many are worried we're sentinels sent to spy. When I let people try them on they're like WOW this is cool!

Got my official invite in December, with the week-long countdown, and strongly considered maxing out a credit card. I really wanted one. And then my girlfriend made me realize how disappointed she'd be in me if I wasted that money. Got the latest email yesterday and it started all over again.

Haha gotta love tech. And girls. Just give up. If my girl knew that I spent the money on one, she'd call me a dork until I sold them, lol.

I got mine a couple of days ago but I don't have the $1500 to drop Google hook a brotha up and use it as a tax write off lol Posted via Android Central App

I got my invite in January. Actually ordered them and ended up returning them. They are really cool once you get use to them, but there is certainly a weird stigma associated with them. Almost all of the reactions I had were positive. There is allot of room for improvement though, and allot of education needed for all those fools that think they are mass recording everything.
I ended up returning them because of a screen issue I was experiencing. I just couldn't pay that much money with the chance the problem was me and not the glass display.
The cool part is once you are part of the program you stay in it even if you return glass. I was told I could always just call back up and order again if I want to.
Posted via Android Central App on my Note 3

Why are you people signing up then saying it's to expensive. You guys wasted potential invites for people who would actually buy it. Why sign up to begin with D: Posted via Android Central App

Damn you americanos.. I really want Glass but alas, I'm European

Don't feel bad. More than half of us can't even afford the cost of admission, lol. Posted from my "Gift from God" Note 3, my "God-Given" iPad Mini 2, or my "Risen" Samsung Chromebook.

I received my invite a few weeks ago (and several "are you still interested?" emails since then), but I can't afford the $1500 price tag, plus the additional cost for accessories. I was hoping to get my boss to pay for it, but he changed his mind after his initial go-ahead. Bummed but oh well.

Ordered mine today. Charcol with the active shade :) Posted via Android Central App

Got my invite too this week... But go on eBay and search Google glass.. You can buy the glass or an invite (not sure how that works since I think you need ID to pick them up) Posted via Android Central App

Yeah but I wonder if you can upgrade later if you buy from Ebay.

Please Google sell it regular, and not for 1500$...

I wish I could afford to get one these to try out! Posted via Android Central App

Don't want. Posted via Android Central App