Google Search will no longer auto-complete certain election queries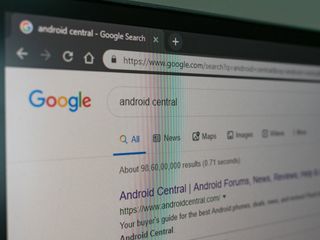 (Image credit: Android Central)
What you need to know
Google is making some changes to autocomplete with Search.
It will no longer fill in results for some election-related queries.
Results will still show up if a search is manually completed, however.
Google is making some changes to Search in the run-up to the 2020 elections. Now, it will remove search autocomplete terms that can appear when typing in certain search terms.
Google's Pandu Nayak, Vice President of Search explained why in a post this week:
Google Search's autocomplete, a feature that's useful more often than not, can also be gamed into indirectly spreading falsehoods by surfacing artificially boosted search terms — especially when it comes to conspiracy theories around the electoral process.
Explaining some more of the rationale behind the change, David Graff, Google's senior director of global policy and standards said (via CNN):
Google isn't the only company trying to squash the spread of misinformation as November draws closer. Other firms like Facebook, Twitter, Microsoft, etc have been attempting to do so as well. Facebook launched electoral fact-checking labels, while Twitter banned all political ads on its platform.
Here's how big tech companies are supporting the 2020 U.S. elections
Android Central Newsletter
Get instant access to breaking news, the hottest reviews, great deals and helpful tips
No. Nobody banned all political ads. Google is not banning conspiracy theories. They are ALL banning anything pro trump and conservative. It's the literal definition of election meddling and it's the exact thing that was accused of against trump.

You know he's not actually a republican, right? He hijacked your party.

Also, dude asked Russia to hack Hillary Clinton's email on national television.

A huge part of Trump's base are uneducated white people. That's a fact. Trump even talked about how much he loved the uneducated and how loyal they are. Also, Trump supporters tend to believe most of the misinformation and idiotic conspiracy theories being passed around on social media.
I wonder how big of an intersection there's is between the two...🤔🤔🤔

You use "uneducated" and "white" as if they're disparaging terms. The democrat's disdain for blue collar workers is exactly what cost them the last election, so go ahead and keep talking like that and enjoy 4 more years of Trump's presidency. I have 2 graduate degrees in mechanical engineering and nuclear physics but I don't consider myself "better" than the "uneducated white" guy who masterfully re-tiled my shower. I recommend you not assign worth to people based on their skin color and level of education.

Wow, you assumed a lot of things I did not say in my post. All I said were 2 facts.
White people without college degrees support Trump. That's not an insult anymore than for me to say that uneducated Blacks tend to support the Democratic candidates. It's a statement of fact. I also said that Trump supporters tend to believe misinformation and conspiracy theories spread on social media. Now I can see how this may be insulting to Trump supporters - especially those who don't believe misinformation and Conspiracy Theories, but that doesn't change the fact that most of those people spreading that garbage are supporters of Trump. I'm simply asking whether or not there is a correlation between uneducated white Trump supporters and those who spread misinformation.
Android Central Newsletter
Get instant access to breaking news, the hottest reviews, great deals and helpful tips
Thank you for signing up to Android Central. You will receive a verification email shortly.
There was a problem. Please refresh the page and try again.