Google publishes Android 5.0.2 factory images for Nexus 10, Nexus 7 (2013) Wi-Fi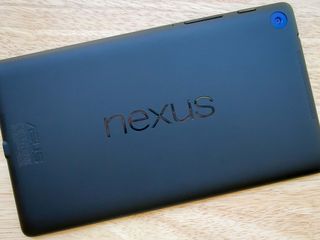 Google has just posted the factory image of Android 5.0.2 Lollipop for the Nexus 10 and Nexus 7 (2013) Wi-Fi. Now that the factory images have been pushed, an OTA update is sure to be around the corner.
The particular build for Android 5.0.2 is LRX22G, the same build deployed a month ago for the Nexus 7 (2012). You can go ahead and hit up the links below to download and flash the factory images if you simply can't wait for the OTA update to arrive. Oh, and if you need a little assistance in flashing the images, be sure to check out our guide on the subject here.
Download Nexus 7 (2013) Wi-Fi factory image (LRX22G)
Download Nexus 10 factory image (LRX22G)
Android Central Newsletter
Get instant access to breaking news, the hottest reviews, great deals and helpful tips
Any word on Nexus 5/6, when we can get the OTA? Posted via Android Central App

I have 3 nexus 7s(2013) and never got an ota for 5.0 !!! Posted via the Android Central App

I have a nexus 5 and also have never gotten a 5.0 update Posted via the Android Central App

Still nothing for the Nexus 4, 5, 6 and 9. At least my Nexus 7 2013 (which without flashing, still at 4.4.4) and Nexus 10 will get this soon.

Maybe Google should stop worrying about publicizing bugs in everyone else's operating systems and focus on getting their own in order. Lollipop really seems to be turning out to be the most botched update in Android's history.

Those are two completely different parts of Google. Posted via the Android Central App

Departmentalization is irrelevant, its still a division of resources, and pointing out flaws in other's software while not being able to fix your own is the definition of hypocrisy and just looks really bad. But thank you, Google, for pointing out the issue in Windows. Microsoft already fixed it, meanwhile, I still have no fewer than 5 Android devices in my household vulnerable to Heartbleed.

Maybe someone could enlighten me as to why it's always these two devices (tablets) first, with the phones and newer devices coming later?

I'm guessing it's because of the cellular bands in certain phone and bloatware etc Posted via the Android Central App

I would agree. As a developer I always try the "easy" implementation first and then the devices with more features.

I wish I could find where I read it, but there was a post supposedly from an "inside source" (take it for what you will) that cellular devices have to be recertified any time an update modifies their operation. That certification can sometimes be very quick, and sometimes lengthy depending on the changes. It's typically why the Wi-Fi devices get their updates released first then cellular devices get it later. It makes sense, but since we can't really validate the source (and I can't find the original post), it has to be taken with a grain of salt.

Maybe its bug fixes related to the WiFi only models, and it isn't coming to cellular models at all? Guess one of us should go read the change log....just to be sure....1.....2.....3........not it.

Maybe the question you should be asking yourself is :
Why don't I own one of those device? :p

I do own both Nexus 7 models, AAMOF. I'd rather 5.0.2 come out for my phone. :-)

Hopefully this update will FIX my nexus 10... Since Lollipop update it basically bricked my tablet... I thought it would fix with 5.01 update but it didn't fix anything.. Still basically bricked tablet...... I don't know if I'll even download when it hits my M8... Don't want that to brick also

Dude, you have a Nexus. Takes 30 seconds to flash back to KitKat if Lollipop isn't working well for you.

Lollipop is the worst.. I don't know anything about flashing or rooting or anything like that..

At a minimum, do a factory reset. That you can do with very little knowledge.

Been there done that... Not going through that again

Well then, I guess all that's left is whinging and staring at you Nexus. Posted via the Android Central App

Nice Posted via the Android Central App

I fought off doing a Factory reset on my HTC M8 GPe and my Nexus 7 2013, after updating to 5.0.2 and 5.0.1, dreading all of the restoration effort it takes, but I was surprised to discover how much Google had improved the process. Virtually all of my apps, settings, screen layouts, widgets and even bookmark shortcuts were restored for me. There is still some work required, but the process is now much easier to get through. I am happy with the results on both devices. Posted via the Android Central App

Dude. You probably need an Apple product. No disrespect meant. Nexus products are for those who want to modify or at least tweak them.

I'm not into Apple products I'll probably get a Galaxy Tab

There's a link to a very helpful step-by-step guide on how to flash a factory image right there in the article. In addition you have plenty of people available in this community to help you out with any specific questions. If you indeed have a bricked nexus tablet then this could be fixed in no time. Yes you'll lose the content - though most things should be relatively easy to backup - but you'll be able to use your tablet again. Hope this helps.

Sorry to hear that. Lollipop is humming right along on my Nexus 10, but I always do a clean Flash for major upgrades.

Yeah idk how to do things like that lol.. Wish I did

it looks intimidating but it's actually pretty easy if you follow the guide to a T.

I don't do a "clean install" I just simply sideload the ota zip and keep all my data. My device is running smooth. Posted via AC app by way of my right thumb.

I wiped and did a clean install as well and my Nexus 10 runs much better than it did on any version of KitKat. I can't say the same for my Nexus 4 though.

Lol at 'bricked Nexus.' Posted via the Android Central App

I've bricked my nexus at least a dozen times! The beauty isn't that they don't brick, it's that they don't stay bricked! Wubba lubba dub dub!

I guess that depends on your definition of 'bricked'. There's broken and there's bricked -- you've broken it if it no longer works, you've bricked it if it's now in a state where it can't accept new firmware. Big difference!

Whatever! There is no difference... Either way, tablet don't work cause of lollipop

There is a huge difference. If you want your tablet back, do the research to either go back to kk or to do a clean install. If you want to complain, just carry on with what you are doing. There are a few articles here that can fix things in about an hour. Posted by my soon to be retired Note 3

Pretty much what NoNexus said. I'm sure even he will agree there is no easier device to repair when soft bricked, and all of the info is available on this sites forums. It's especially easy if you use a *shudders* tool kit. Wubba lubba dub dub!

Don't just say, "I can't". TRY. Posted via Android Central App

I have a Nexus 7 2013 Wifi, and I have yet to receive the OTA for even 5.0, much less any of the subsequent updates to it. What's up with that? Am I the only one?

Yes. You should call someone at Google at this point.

Its not just him hundreds of other people haven't gotten updates either and I'm one of those people. Posted via the Android Central App

What I think probably happened was that they pushed out the 5.0 update, and after so many people had issues with it they pulled it back. So some people never saw an update, and some people got the notification but it was removed before they had a chance to update their tablet.
I noticed a couple notifications for updates and ignored them. They ended up disappearing like they were never there. Right now it says my tablet is up to date even though it's on KitKat. Posted via Android Central App

I have a Nexus 7 3G (2012) and, like you, still on 4.4.4 and no words about Lollipop on it. I'm fine with KK but the only excited thing for me is that ART runtime on Lollipop. I want to try it by myself to see if it is a really step forward.

I also have the 2013 Nexus 7, also still at 4.4.4. I think many, many, if not most are at this level without flashing the ROM. The OTA I think went to a few, then got pulled for issues. Hopefully they'll let it go again soon ..

so still no image flr nexus 7/2013 lte, dont you just llve these firms who make so much of one feature all the time and then ignore the fact that they have totaly failed to provide said feature in one of its own main devices...
how much longer have we got to wait for nexus 7 lte image then ?
at this rate, i will have upgraded to new device before the image is released. typical google, all hype and bullshit and failure to deliver on even the vaguest promise.

YAY proprietary binaries!!!

It's kinda driving me crazy too. Where's my Lollipop for my Nexus 7 LTE. I guess I'm updating to a Nexus 9 WiFi. Posted from a Google Nexus 5 on T-Mobile via Android Central App

That's what they want you to do

Fix lollipop nexus 5 please. Posted via Android Central App

Custom ROM, it's the only way. Because lollipop is terrible. I know it sucks when people say that, but it really does fix a lot of issues. Wubba lubba dub dub!

Still waiting for my Droid Turbo to get some Lollipop Posted via the Android Central App

This must be the reason my N7 13 is still on 4.4.4. My N7 12 just updated to 5.0.2 earlier this week, jumping straight from 4.4.4. They had halted the first 5.0 rollout on the N7 2012 so it could jump straight to 5.0.2, and I believe the N7 2013 is on the same track. I have seen few, if any, reports of any N7 13s getting 5.0 recently, so I assume it was stopped also so as to jump straight to 5.0.2, at least for those of us still left on KitKat.

I just got the OTA now, as in within the last hour, for my Nexus 7 (2012) Posted via 4.7" Moto X

I have a Nexus 7 2013 WIFI near Chicago (USA), and have been on Lollipop (5.0.1) for a few weeks now (sometime around the holidays). I don't have any major problems, and the tablet does what I want it to. Every once in a while, there will be a hiccup, but nothing too serious. It's stable enough for me, but I'm hoping 5.0.2 makes it even more stable.

3 of our 2012 Nexus 7's got the update yesterday. Posted via the Android Central App

My 2012 N7 got 5.0.2 OTA last week. Rocking CM12 nightly of 5.0.2 on my old One X as well and the phone has never been better! Posted via the Android Central App

I don't know if I want to update my 2013 Nexus 7. It's still running flawlessly and has a great battery life on KitKat. I still haven't decided if there are any real benefits to updating at this point.
I will say that lollipop has really improved my 2012 Nexus 7, but that thing was pretty much shit by the time I flashed 5.0. I'm glad I didn't have any of the lollipop problems that I've been reading about, but I did do a clean wipe before I flashed it which probably prevented a lot of issues. Posted via Android Central App

I hope this is the reason my nexus 7 2013 is still on 4.4.4

My girlfriend's Nexus 7 (2012) 5.0.2 OTA pushed to her device yesterday.

Anyone know how I can get a new battery for my Nexus 10?

When my 2012 N7 updated to 4.4.4 it became practically useless. It lagged, froze & spontaneously rebooted. I tried doing a factory reset several times but nothing helped. Got the 5.0 update a few weeks ago. It improved a little. Got the 5.0.2 update a few days ago. Everything seems to be back to normal. Posted via the Android Central App

Nexus 7 (2013) LTE owners? You're still.. mmm.. buggered. Enjoy!

LTE here, I tried lollipop from another source on this tablet, and on the 9, and the function of the volume keys had me back to kitkat in less than two days. Push volume button > oh wtf notifications > app drawer > settings > sound > sliders. Are they just testing to see if they can get rid of two more buttons? Posted via the Android Central App

Got the OTA for 5.02 for 2012 N7 2 weeks ago(Phila, PA). The odd thing is I unlocked and forced 5.0 on the device, and didn't expect any more OTA's....Worked fine before and after. Posted via Serenity

Thanks again beta testers. My Note 3 and 4 will be a bit better because of your sacrifice Posted by my soon to be retired Note 3

yeah, they're gonna put touchwiz on it and it'll be just like you're used to. Laggy and buggy.

Lag hasnt been an issue AT ALL on my Note 4. Touchwiz in general has been greatly improved, and you can use your own launcher if you prefer. Troll harder next time.

Hopefully this is the one that fixes the screen redraw. That's really the only thing annoying me, and it happens on both my N7 2013 and N5. As annoyances go in general it's pretty low on the list but does stick out as something to be fixed

Hope this fixes the wifi issues I have been having. Posted via the Android Central App

Sux cause I have a lte nexus 7 and i am still on kit kat

My buddy's nexus 7 hasn't gotten lollipop at all yet... did they halt it for a staged rollout of this?

Flashed my N10 last night seems very smooth and fast. Flashed my 2012 N7 a few weeks ago with 5.0.2, it was great at first then it bogged right down again. 2/3 weeks later. Just wiped and reflashed again. Not sure the memory leak issue is fixed. 5.1 soon? Posted via the Android Central App

Just flashed a new-in-box Nexus 7 2013 Wi-Fi to 5.0.2. No issues to report. It was an older stock unit with Jellybean. I was a bit rusty on the procedure, but managed just fine using the guides posted here. I did a full wipe of the device which I prefer when performing a major OS upgrade. There is an excellent guide here: http://forums.androidcentral.com/google-nexus-7-2012-rooting-roms-hacks/... Use a good quality USB cable, I cannot stress this enough. I kept getting communication and USB driver errors with an older cable I had on hand.

The easiest way to flash or do anything is nexus root tool. Wugfresh. Unlock your device and follow instructions. Super easy http://www.wugfresh.com/nrt/ Posted via the Android Central App

No thanks, perfectly fine with KitKat. I'll wait till the next version of android. When Android 'm' is released, that's when lollipop will be stable and then the users will upgrade. =) Posted via Android Central App

My experience with Lollipop has so far been very good. I upgraded my Nexus 10 shortly after the Lollipop release and it's actually more stable than it ever was on Jelly Bean and KitKat. I'm still on 5.0.1.... I plan to wait for the OTA to 5.0.2 instead of wiping/flashing again.

Same here but on n7 2013. I have faced no problem with lollipop, am on 5.0.1 and waiting for 5.0.2 ota coz I don't wanna lose my files..... Or spend time backing them up. Posted via the Android Central App

My N7 2012 WiFi version is still messed up even after 5.0.2

What about RazorG? I didn't buy a Nexus 7 LTE to be left in the cold like this.
Even the other manufacturers will have L on their tablets sooner than Google.
That sucks because speedy updates was supposed to be a selling point.

Dear Google- my nexus 7 lte had its last update released in october, lollipop has been out for a couple of months already. If this was some non-nexus device, i would be fine with waiting. but this is a nexus. Please release lollipop for this device prior to V day. It is reasonable to expect this update within 3 months of its release for a nexus device. Otherwise, perhaps initial releases of os versions should only be named as betas so that people who expect timely service are not as envious of everyone with the update at release.

I flashed my Nexus 7s (2012 and 13) as soon as 5.0 came out but got ota updates after that for both of them (5.0.2 for the 2012). I waited for my Nexus 4 ota and eventually got it and the 5.0.1 update. Also my LG gpad 8.3 Google Play Edition got the 5.0 ota.
It's been slow but so far all my nexus devices are getting updates. Posted via the Android Central App

Got my 5.0 last month for my Nexus 7 2013 And both my Nexus 7 2012 just received 5.0 Yesterday ;-) Its coming!! Posted via the Android Central App

The 5.0.2 update just appeared on my 2013 WiFi nexus 7. I'm in the UK. Posted via Android Central App

Got my ota first ever ota for this device :D Next-us
Android Central Newsletter
Get instant access to breaking news, the hottest reviews, great deals and helpful tips
Thank you for signing up to Android Central. You will receive a verification email shortly.
There was a problem. Please refresh the page and try again.