Google Pixel XL vs. LG V20: Opposite approaches to greatness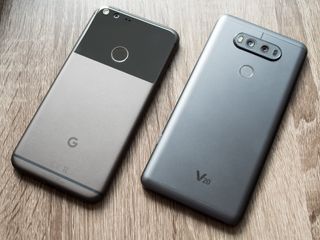 When LG introduced the V series of phones in 2015 with the V10, it was aimed at a certain small group of people that wanted every possible spec and feature without much of a consideration of size, usability or style. Now the V20 is here, and it has much broader appeal with a sleeker body — but it hasn't given up the pile of features that made the V10 so appealing to power users. On the other end of the spectrum is Google's first phone, the Pixel XL, that's all about simplicity, not specs — though it has plenty going under the hood, it misses out on a few features in exchange for a more cohesive experience.
It's two ways to attack the high-end smartphone market, arguably with different potential markets for each. But when you put them head-to-head, which one comes out on top? We're here to answer that question.
Hardware, specs and features
The Pixel XL and LG V20 are both made out of metal and glass, and both include some high-end specs inside — but when you see them on a table together or you wrap your hands around each one you can immediately note that they are very different phones.
Google's Pixel XL feels a bit smaller than its dimensions, with a nicely-sculpted body that has a subtle yet noticeable "wedge" shape that's thinner at the bottom where you hold it most often. It's solid and sleek, though a bit boring to some people's eyes. The V20 takes a less-inspired design approach: it's huge, and feels huge. The slab has no interesting design aspects or features that help you grip it, and while LG deserves praise for making a phone with a removable battery door feel solid, the plastic top and bottom of the phone are depressingly cheap-feeling plastic.
Up on the business end of the phones you're greeted by two great displays, though they get it done in different ways. The Pixel XL's AMOLED panel is a bit warmer and more saturated (as is often the case for AMOLEDs), while the "Quantum Display" LCD on the V20 is cooler and more natural. Both are really fantastic in terms of brightness, clarity and viewing angles — unless I set them side-by-side I wouldn't be able to pick out any issues with either one. The V20's larger 5.7-inch display also incorporates the extra bit of real estate for the Second Screen — it can perform a few functions, but chances are you'll fall back to just using the main display to get things done.
Image 1 of 4
Both phones round out in terms of hardware features just fine as far as having a USB-C port, headphone jack and better-than-average down firing speaker — but the LG V20 has the distinct advantage of a much nicer DAC for headphone listening and better mics for recording loud environments. The two big hardware features many will focus on are the removable battery and microSD card slot of the V20, to which I'll say that if you know you need them, you can get the V20 — most people, however, will be served just fine by the 3450 mAh sealed battery and 32 or 128GB storage of the Pixel XL.
Now, how about the full spec breakdown? Things are pretty much a dead heat, aside from the few feature-focused specs noted above.
Swipe to scroll horizontally
Category
Google Pixel XL
LG V20
Operating System
Android 7.1 with Google UI
Android 7.0
Processor
Qualcomm Snapdragon 821
Qualcomm Snapdragon 820
RAM
4GB
4GB
Display
5.5-inch 2560x1440
AMOLED
Gorilla Glass 4
5.7-inch 2560x1440
LCD Quantum Display
Second Screen
Gorilla Glass 4
Rear Camera
12MP f/2.0
1.55-micron pixels
PDAF, LDAF
4K video, 240fps slow-mo
Main: 16MP f/1.8, OIS
Secondary: 8MP f/2.4 wide-angle
PDAF, LDAF
4K video, 120fps slow-mo
Front camera
8MP, f/2.4
5MP f/1.9 wide-angle
Battery
3450 mAh
Non-removable
3200 mAh
Removable
Charging
USB-C Rapid Charging
Quick Charge 3.0
Connectivity
USB-C
Bluetooth 4.2, 802.11ac Wi-Fi, NFC
USB-C
Bluetooth 4.2, 802.11ac Wi-Fi, NFC
Fingerprint sensor
Yes
Yes
Storage
32/128GB
Non-expandable
64GB
microSD card up to 2TB
Dimensions
154.7 x 75.74 x 8.6 mm
159.7 x 78.1 x 7.7 mm
Weight
168 g
173 g
Software, performance and battery life
These phones are both running Android Nougat, meaning you're getting the benefits of the latest base platform no matter which you choose. We've all seen what Google's done a little differently in Android 7.1 on the Pixels, and its coat of paint adds real cohesion and simplicity to the experience. The Pixel XL's software is simple, slick and super fast, though more advanced users will probably prefer to swap out its launcher and install a handful of apps to add extra features. LG's coat of paint (to stick with that metaphor) is a bit thicker and more wide-reaching on the V20 — things have changed stylistically all around, but the biggest differences are within LG's redesigned system apps and group of minor changes throughout the interface. It's easily LG's best take on Android yet, but it's still unfortunately not as good as Google's.
Something else to keep in mind here is how the V20's software experience can also differ depending on where you buy it. Buying the V20 unlocked you'll get the software experience LG intended, but buying from one of the U.S. carriers (as most people do) will change things considerably. Because LG still hasn't figured out how to put its foot down and stop the pile of carrier changes from infesting its phones, each carrier version of the V20 offers a different experience — from dozens of uninstallable bloat apps to changes in LG's own system apps and even removal of core features in some cases. It's annoying, tiring and borders on unacceptable at this point that we should have to deal with these software issues when buying a top-of-the-line phone.
As I mentioned above, the speed at which the Pixel XL does everything really is something to behold. Every app and experience is lightning quick but also smooth, without dropping a frame in animation or skipping a beat in opening windows. LG's software and hardware on the V20 just don't seem to fly at the same pace, though once again LG deserves praise for shipping its best software implementation to date here. It just isn't quite as slick as the Pixel XL, and it's not something you really notice until you've spent time with a Pixel yourself and then moved to another phone.
So many additional words could be spent here talking about the differences in the cameras as well, but in order to do that comparison justice I have a separate camera-specific head-to-head battle between the Pixel XL and LG V20 here. In short, both phones take awesome photos, and the V20 has a few extra photography tricks up its sleeves.
More: Camera comparison: Pixel XL vs. LG V20
In terms of battery life, the numbers add up in the Pixel XL's favor, if only slightly. The 3450 mAh battery in the Pixel XL gets you through an average day with plenty to spare, though it isn't such a battery champion that you could push it two days. The V20's slightly smaller 3200 mAh battery is powering a bigger display and understandably lasts a bit shorter — you can still go a full day without issue, but you'll head to bed with far less in the tank, probably around the 10% mark. Both use USB-C to charge up, but I have to give the V20 a slight nod for having a more widely used fast charging standard in Quick Charge 3.0 — plus, for those who want it, you have a removable battery.
Bottom line
As individual products, the Pixel XL and LG V20 each get the job done. Google's vision for a slick, complete phone that makes calculated compromises in order to enhance the overall daily experience of using it really worked out in ways it never did with Nexuses. LG's V20 took many ideas from both the V10 and G5 to make a combined device that does more than other phones — and does it well — with some added polish not seen in its predecessor.
But just because both phones are good at what they set out to be doesn't mean they're direct competitors or have much overlap in their target markets. On one hand the Pixel XL is simpler and more of a "mainstream" device that focuses on its great cohesive experience, rather than mounds of features in specs — it doesn't have a removable battery, SD card slot or tons of camera features, but it's built better, is faster and has smoother software. On the other, the LG V20 appeals to more of a power user mentality of wanting all of the raw components and features to manage and tweak as they see fit — but that comes at the expense of not having such a sleek overall product or a phone you can easily use in one hand.
If you see the appeal of the V20's specs, brawn and unabashedly large size, chances are you're someone who knows what they want and won't be convinced by the slick Pixel XL. Someone who doesn't want to focus on the specifics and prefers a phone that just works and delights them every day will lean toward Google's latest.
Get the Android Central Newsletter
Instant access to breaking news, the hottest reviews, great deals and helpful tips.
Andrew was an Executive Editor, U.S. at Android Central between 2012 and 2020.