Google Pixel XL vs. LG V20: Opposite approaches to greatness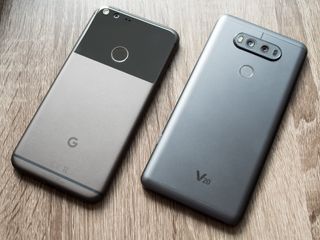 When LG introduced the V series of phones in 2015 with the V10, it was aimed at a certain small group of people that wanted every possible spec and feature without much of a consideration of size, usability or style. Now the V20 is here, and it has much broader appeal with a sleeker body — but it hasn't given up the pile of features that made the V10 so appealing to power users. On the other end of the spectrum is Google's first phone, the Pixel XL, that's all about simplicity, not specs — though it has plenty going under the hood, it misses out on a few features in exchange for a more cohesive experience.
It's two ways to attack the high-end smartphone market, arguably with different potential markets for each. But when you put them head-to-head, which one comes out on top? We're here to answer that question.
Hardware, specs and features
The Pixel XL and LG V20 are both made out of metal and glass, and both include some high-end specs inside — but when you see them on a table together or you wrap your hands around each one you can immediately note that they are very different phones.
Google's Pixel XL feels a bit smaller than its dimensions, with a nicely-sculpted body that has a subtle yet noticeable "wedge" shape that's thinner at the bottom where you hold it most often. It's solid and sleek, though a bit boring to some people's eyes. The V20 takes a less-inspired design approach: it's huge, and feels huge. The slab has no interesting design aspects or features that help you grip it, and while LG deserves praise for making a phone with a removable battery door feel solid, the plastic top and bottom of the phone are depressingly cheap-feeling plastic.
Up on the business end of the phones you're greeted by two great displays, though they get it done in different ways. The Pixel XL's AMOLED panel is a bit warmer and more saturated (as is often the case for AMOLEDs), while the "Quantum Display" LCD on the V20 is cooler and more natural. Both are really fantastic in terms of brightness, clarity and viewing angles — unless I set them side-by-side I wouldn't be able to pick out any issues with either one. The V20's larger 5.7-inch display also incorporates the extra bit of real estate for the Second Screen — it can perform a few functions, but chances are you'll fall back to just using the main display to get things done.
Image 1 of 4
Both phones round out in terms of hardware features just fine as far as having a USB-C port, headphone jack and better-than-average down firing speaker — but the LG V20 has the distinct advantage of a much nicer DAC for headphone listening and better mics for recording loud environments. The two big hardware features many will focus on are the removable battery and microSD card slot of the V20, to which I'll say that if you know you need them, you can get the V20 — most people, however, will be served just fine by the 3450 mAh sealed battery and 32 or 128GB storage of the Pixel XL.
Now, how about the full spec breakdown? Things are pretty much a dead heat, aside from the few feature-focused specs noted above.
Swipe to scroll horizontally
Category
Google Pixel XL
LG V20
Operating System
Android 7.1 with Google UI
Android 7.0
Processor
Qualcomm Snapdragon 821
Qualcomm Snapdragon 820
RAM
4GB
4GB
Display
5.5-inch 2560x1440
AMOLED
Gorilla Glass 4
5.7-inch 2560x1440
LCD Quantum Display
Second Screen
Gorilla Glass 4
Rear Camera
12MP f/2.0
1.55-micron pixels
PDAF, LDAF
4K video, 240fps slow-mo
Main: 16MP f/1.8, OIS
Secondary: 8MP f/2.4 wide-angle
PDAF, LDAF
4K video, 120fps slow-mo
Front camera
8MP, f/2.4
5MP f/1.9 wide-angle
Battery
3450 mAh
Non-removable
3200 mAh
Removable
Charging
USB-C Rapid Charging
Quick Charge 3.0
Connectivity
USB-C
Bluetooth 4.2, 802.11ac Wi-Fi, NFC
USB-C
Bluetooth 4.2, 802.11ac Wi-Fi, NFC
Fingerprint sensor
Yes
Yes
Storage
32/128GB
Non-expandable
64GB
microSD card up to 2TB
Dimensions
154.7 x 75.74 x 8.6 mm
159.7 x 78.1 x 7.7 mm
Weight
168 g
173 g
Software, performance and battery life
These phones are both running Android Nougat, meaning you're getting the benefits of the latest base platform no matter which you choose. We've all seen what Google's done a little differently in Android 7.1 on the Pixels, and its coat of paint adds real cohesion and simplicity to the experience. The Pixel XL's software is simple, slick and super fast, though more advanced users will probably prefer to swap out its launcher and install a handful of apps to add extra features. LG's coat of paint (to stick with that metaphor) is a bit thicker and more wide-reaching on the V20 — things have changed stylistically all around, but the biggest differences are within LG's redesigned system apps and group of minor changes throughout the interface. It's easily LG's best take on Android yet, but it's still unfortunately not as good as Google's.
Something else to keep in mind here is how the V20's software experience can also differ depending on where you buy it. Buying the V20 unlocked (opens in new tab) you'll get the software experience LG intended, but buying from one of the U.S. carriers (as most people do) will change things considerably. Because LG still hasn't figured out how to put its foot down and stop the pile of carrier changes from infesting its phones, each carrier version of the V20 offers a different experience — from dozens of uninstallable bloat apps to changes in LG's own system apps and even removal of core features in some cases. It's annoying, tiring and borders on unacceptable at this point that we should have to deal with these software issues when buying a top-of-the-line phone.
As I mentioned above, the speed at which the Pixel XL does everything really is something to behold. Every app and experience is lightning quick but also smooth, without dropping a frame in animation or skipping a beat in opening windows. LG's software and hardware on the V20 just don't seem to fly at the same pace, though once again LG deserves praise for shipping its best software implementation to date here. It just isn't quite as slick as the Pixel XL, and it's not something you really notice until you've spent time with a Pixel yourself and then moved to another phone.
So many additional words could be spent here talking about the differences in the cameras as well, but in order to do that comparison justice I have a separate camera-specific head-to-head battle between the Pixel XL and LG V20 here. In short, both phones take awesome photos, and the V20 has a few extra photography tricks up its sleeves.
More: Camera comparison: Pixel XL vs. LG V20
In terms of battery life, the numbers add up in the Pixel XL's favor, if only slightly. The 3450 mAh battery in the Pixel XL gets you through an average day with plenty to spare, though it isn't such a battery champion that you could push it two days. The V20's slightly smaller 3200 mAh battery is powering a bigger display and understandably lasts a bit shorter — you can still go a full day without issue, but you'll head to bed with far less in the tank, probably around the 10% mark. Both use USB-C to charge up, but I have to give the V20 a slight nod for having a more widely used fast charging standard in Quick Charge 3.0 — plus, for those who want it, you have a removable battery.
Bottom line
As individual products, the Pixel XL and LG V20 each get the job done. Google's vision for a slick, complete phone that makes calculated compromises in order to enhance the overall daily experience of using it really worked out in ways it never did with Nexuses. LG's V20 took many ideas from both the V10 and G5 to make a combined device that does more than other phones — and does it well — with some added polish not seen in its predecessor.
But just because both phones are good at what they set out to be doesn't mean they're direct competitors or have much overlap in their target markets. On one hand the Pixel XL is simpler and more of a "mainstream" device that focuses on its great cohesive experience, rather than mounds of features in specs — it doesn't have a removable battery, SD card slot or tons of camera features, but it's built better, is faster and has smoother software. On the other, the LG V20 appeals to more of a power user mentality of wanting all of the raw components and features to manage and tweak as they see fit — but that comes at the expense of not having such a sleek overall product or a phone you can easily use in one hand.
If you see the appeal of the V20's specs, brawn and unabashedly large size, chances are you're someone who knows what they want and won't be convinced by the slick Pixel XL. Someone who doesn't want to focus on the specifics and prefers a phone that just works and delights them every day will lean toward Google's latest.
Android Central Newsletter
Get instant access to breaking news, the hottest reviews, great deals and helpful tips
Andrew was an Executive Editor, U.S. at Android Central between 2012 and 2020.
How about specs on the audio side? Speaker placement. DAC performance, etc.

He does mention the DAC performance actually. It's an important feature of the V20 - even if you don't listen with wired headphones the audio recording quality is very cool ... sounding? Both should have front firing speaker(s) imo.

You could install A.R.I.S.E. Deuteronomy on the Pixel XL and be in that same audio goodness, but I would prefer to have a rooted and bootloader unlock on V20 and then be able to have that SD card

Why everyone keeps using a single speaker instead of front facing stereo speakers is beyond me. Especially the Pixel and that large bezel.

Not much to argue with here. I appreciate what Google is trying to do. It's a phone I would feel comfortable recommending to someone (who's got tons of cash to throw around even after I explain that a $400 Android phone would likely do everything they need). The Pixels seem great - for less money a no brainer - I hope they keep it up I suspect V2 will be more complete. I know what I want and the V20 has nearly all of it. Would I prefer that it be slightly smaller? Yes. Does the software seem a bit janky and off-putting? Yes, I would plan on rooting and tweaking or replacing it rather quickly. I hope LG is successful with the V20 so they keep it up - serve us "non-normies" and we'll keep coming back. * okay but on Twitter you said there was a clear winner - tell me what I want darnit! j/k

That comment is very true. I have a $400 ZTE Axon 7 and it does everything these two can do and even more with it"s duel front facing stereo speakers.

As a professionally-trained musician who is married to an audiophile, I can definitely appreciate the front-facing stereo speakers on a phone. But personally I would rarely ever use them.

Both of these phones are way overpriced. The Pixel is UGLY and I hate those huge bezels. (Apple anyone?) I'm still concerned about the LG bootloop issues on previous phones not being cured for the V20. The recent problems with the LG camera lens breakage doesn't bode well. I LOVE the replaceable battery and microSD card slot of the V20. While I was planning on buying a new phone this year, I haven't seen anything that really does it for me.

Just got my very silver Pixel the other day and IMO it looks good. I don't get the complaint about big chin, waterproof and front speakers. The Pixel is built nice, great camera and OS performance is great and that's all I need.

bnice, I would not have expected you to say anything negative about a phone you just picked up. Have you not seen what's coming? Bezels are shrinking to almost nothing.

You don't get the complaint about big chin, water proofing and front facing speakers? Hmm well no wonder you bought it lol you probably don't care about sd card, wireless charging, and MST technology either.

Ya, I'm sure he cares about software updates though. Not having the same crap I'm sure you've had on your phone for the last year

The thing is these days you could probably put all the people that care about software updates together in a single room...

I own a couple nexus devices and chasing the software update high gets old after awhile. Yes it's nice to be able to get updates the day they are released but it's not something that will sway my decision in buying a phone anymore. So long as the device is supported for the 12-18 months that I'm going to use it (sometimes less) then that's all that matters.

You don't "get" the fact it has tbe biggest front bezel on a modern smartphone and is severely limited in storage? Cool story, Broh.

Yep, one more year with mah trusty Nexus 5.

As much as I'd like to squeeze one more year out of my N5, the battery life is horrible. And I need a better camera as I now have a daughter. But performance wise, I can't believe it still performs like it's new. So on to the Pixel now.

I agree completely. I got flamed because I wrote that my Blackberry Priv does everything I want to do and I love it.

Whatever man. You're not even using either of these phones and probably have some janky POS. I had both, kept the V20. The comments section is enterntaing as always.

I don't usually do car analogies, but if I had to do one, the Pixel would be like a stripped-down track weapon like a Porsche Cayman GT4 Clubsport, designed for speed without much additional weight on board. It may not be the most feature-packed but it's extremely fast and covers the basics very well. The V20 would be like a grand tourer that's similar to a Mercedes AMG GT-S, a car that has more stuff on board, so it's understandably heavier, and as such, slightly slower than the track weapon, but it's still respectably fast and has more toys on board. Of course, the actual differences are much more in-depth than what I described.

I like your analogy!
I purchased the Pixel Xl on launch day and yes I like to customize my phones so I'm sure there will be plenty to do. I liked it so much I bought my wife a Pixel and hers hasn't shown up yet. I'm impressed with the battery life. Do I wish it had wireless charging, water resistance, and SD card ? Well yes but what it does have just works and it works well. This phone hasn't stuttered or slowed down in any way. I came from.a Note 7 as my last phone and I really liked it except the blowing up part. Either of these will serve you well and yes they are marketed for different types of users. Can't go wrong with either.

The only flaw I see in your analogy is that it infers that the pixel is aesthetically appealing.... ;)

I kinda wonder why LG choose the 820 and only offered 4GB of ram. Same as the G5

The snarky answer would be that they have the chips and modules left over from all the G5s that didn't sell, but I would assume the development on this phone started a long time ago at the time the 821 maybe wasn't a viable option? On the other side it seems more and more obvious that Google rushed the development of the Pixel (starting only 9 months ago IIRC) so with that later start the 821 probably was on the table - also Google needed to impress with the specs - the 821 for me is the biggest selling feature of the Pixel.

But they under clocked the 821 in the Pixel. Makes it practically the same as a 820.

At least performance wise, tho there's more to a SoC than raw perf.

I believe that there are more tweaks to the 821 compared to the 820 than just an overclocked CPU.

The V20 is not a huge phone...... By the specs listed it is 5mm taller and 2.5mm wider then the Pixel (listed).
Why did the author go through so much space to say huge? (Also not compaired to my old Note 2/3's).

Those millimeters actually make a big difference.

Especially when holding it!

I can touch all 4 corners with one hand...I can't even palm a basketball.

While holding it with the other?

No they dont. Only if ur a small person

They definitely do. The V20 is a BIG PHONE. it's tall and it's wide and your hands recognize that immediately.

While I love my V20 for its sound quality and microSD card slot, it is a big phone. Coming from a Note 5, the V20 definitely feels bigger. It's more similar to the Nexus 6P in overall size and feel.

I went to a T-Mobile retail location to look at the LG V20. I was expecting something the size of a serving platter based on the review here. What I saw was anything but. It actually was smaller than my Galaxy Note 2 in an OtterBox Defender case. I don't think the V20 is too big by a long shot.

Curious why the V20 only has 120fps slow motion. With the camera hardware and content creation in mind, why is this one of those things that stand out to me. Can it be changed through a software update some time in the future?

Probably, 7.1 might be in the works for the V20, it should boost the camera power

G5 does 240FPS so I'd guess yes? Still doesn't look all that great. https://youtu.be/SvgNA0f3o9A?t=109

The only real winner: V20 because Jason Gordon Levitt playing drums.

Two points of contention, I wish writers would stop thinking Qualcomm QC support is a good thing... In the short term it might be easier to find decent QC chargers but in the long term it's just a kludge of a proprietary spec that's just stunting adoption of the open USB PD standard that will likely win out (and the saner players like Apple, MS, and Google already support). QC should've never been shoehorned unto the Type C port, it breaks all sorts of spec compliance rules that just end up muddling the accessory market for all Android devices. Second, the article briefly alludes to another camera article... But if I was really into photography (and didn't have other cameras with half a dozen lenses), LG's ultra wide angle lens would be a huge selling point... That should be getting as much praise as mSD, the removable battery, etc... Perhaps more so, it's a pretty unique feature in the smartphone world. As an aside, ultra wides aren't about "fitting it all in", you can do that with a stitched panorama and other methods... An ultra wide lens allows you to play with perspective and exaggerate the proportions of foreground/background elements... It can literally open a whole new side of photography... (spoken as someone who owns too many camera lenses, including two UWAs and a fisheye)

Damn, one of the best comments I've read on the matter in a long time.

Yup USB-C is in a mess at the moment, with manufacturers going against the rules. As far as I know, Qualcomm will not certify a USB-C device as Quick Charge. I wonder also if it is actually dangerous in the long run?

Great explanation here https://plus.google.com/+BensonLeung/posts/cEvVQLXhyRX

Pretty good comparison Andrew.. Isn't about time you folks really explain just how much is done differently with the various carriers instead of just glossing over everyone seems to do, especially the AT&T version you had? I've yet got a concrete answer from either AT&T or LG on the removal of the factory recovery on the AT&T variety.. Any insight on this?

Interesting write up...but....I just got the V20 and it is not huge at all. Feels great in the hand and really like the slim design. I am returning however because I can't get past the bad camera experience so far. I have tested in all conditions and it just doesn't do well at all. Really disappointed because I do like the rest of the phone. I wanted a normal screen as I am tired of this 7 Edge screen and it just doesn't feel comfortable in the hand...BUT man the camera is the best! Pixel XL is on order and won't receive Google says until December but I think I can wait....

The differences with the cameras is based on the eye of the beholder. Samsung pics are more saturated in color. That obviously appeals to your eye. It's unfortunate that your experience with the V20 wasn't good. The camera is really good.

The highly-saturated colors on some of these phones are sales gimmicks. It's just like going to Best Buy and looking at their wall of televisions. Many of them have special settings for being on retail display that make them pop. It makes them look amazing but it is not necessarily accurate color and hue.

Got mine pixel xl yesterday... Just walked in to a Verizon store

That's fine for Verizon customers who don't mind a locked bootloader.

check out the picture thread on the V20 forum. Turn HDR on in your camera settings.. (Most phones have this setting on by default)

Why are all these assumptions made? I know a few people with the V10 and ALL find the second screen useful (myself included). They also find the SD slot useful (including those who own the multitude of other phones with SD card slots). A swappable battery is also useful. I'm not sure why having features is viewed as a negative these days. Samsungs have lots of features and people love them. I've always thought bang for you buck was a good thing. No mention of price in this article either which I find odd. For the same money the V20 simple offers more. The pixel is fine for some people, mainly folks who read tech blogs but I just don't see the big deal honestly. After seeing one in person, it makes you think of how the HTC 10 looks to be a better product but with more functionality. Oh, and PS- the V10 and V20 can be used with one hand, please just stop with that nonsense. Not preferring something is one thing, making false claims is another. Flat out, it is terrible journalism.

Thank you! Your response is exactly what I would have written. Excellent, really poor assumptions made about the v20!

Well said! I never take their "journalism" seriously.

Exactly! I came from a note 7 and Nexus 6p my V20 hasnt hiccuped once.

I seriously couldn't tell the top and bottom pieces were plastic.

one of those things that you don't notice ... but once you feel it, you notice it forever.

It's a "plastic" that can take a hit though. It's polycarbonate which is a strong but light material.

I'm just glad LG put anything other than a pointless glass slab on the back of the phone. Because worrying about the front of your device shattering isn't enough.

I'm sorry but I just don't get this plastic thing... it's not like LG covered it in Fisher-Price plastic. This is high quality polycarbonate and compared to the glass of the S7 Edge I'm not as worried about dropping it. And as others have mentioned there is never any mention of the price differences between these two phones vs their quality and performance. You get far more for your money with the LG V20, and it's performance is actually much better than the Galaxy Note 7 I used before it, and I seem to remember you offering a fairly rave review of that device. I'm not going to knock someone preferring the Pixel over the V20 or any other device, and any review is subjective. It would be nice though to keep in mind in the words you choose, the V20 is described purely in straight terms, large, cheap-feeling, etc, whereas the Pixel is "slick, well-designed, etc." Honestly what's interesting to me is that we are talking about a "well-designed" phone that is completely sealed without any expandable storage, waterproofing etc. It was by all reporting a rushed design, utilizing pre-existing HTC prototypes. Heck, it's practically an iPhone clone, except for the head-scratching inclusion of the glass on the upper portion of the back... apparently even at Android Central the iPhone is the pinnacle of design.

One gripe I have is Google's decision to make 32GB of storage the entry level. Without a micro SD card, that's just not enough. And I'm not sure that I am ready to spend $900 on my phone.

64GB to 128GB would have made more sense. My one gripe with this phone is that it doesn't have expandable memory.

but the whole thing about 32 and no SD is UNLIMITED PHOTO STORAGE.........so unless you have a Plethora of apps, you'll be fine.....

No SD card, no removable battery and man.. is that phone ugly. lol

I can't figure out why you keep saying the V20 is big. It's too small, in my opinion, but the best phone for me despite that flaw. Still miss my 6-inch Lunia 1520, but the V20's camera and speed blow it away, performance-wise.

You can actually buy a V20 right now. That's a win all by itself.

The v20 is a perfect phone. Stop the complaints. But whatever makes you happy.

They're both amazing phones... You sound like a bunch of children... I've owned both lg&nexus. Was totally happy with my G3 till it died and love my 6p. I'll probably go pixel this time as I'm now on project Fi and love what googled doing. But the pho hate is stupid

Decent reviews. Always amazes me how reviewers continually comment on what a device (phone?) "looks" like. First off, these are tools, not much different than a high-tech hammer - you use them not look at them admiringly. Second, they are almost always (or should be) enclosed in a protective case so the original "design" is gone. At least they're not enclosed in glass like the idiots who designed the Note 7 and S7. smh

Yep... I agree with everything you said with regards to a phones "looks ". I always put a protective case on my phones and I'm sure most do too if they want to to protect their investment. Size is another thing I laugh at. I have an LG G3 and the new V20 is just slightly bigger. I think it's like 1/4 of an inch bigger which won't even be noticeable for me.
Why are these two phones even being compared anyway? They aren't available at the same carriers. Sure there is an unlocked version of both but how many are going to take that extra step to go that route for purchasing one? They might be the top of the line phones right now but if you don't want to switch carriers or go the unlocked route you are probably limited to one or the other.

I feel confident that my V20 is the best phone currently on the market for ME. I haven't wondered once if I made the right choice over the pixel. I guess it doesn't hurt having a nexus at home that thinks it's a pixel either. Regardless, the V20 is my daily driver. I can't remember the last time I was this pleased with a new device.

I had to choose between these and went with the v20... Very wry happy with the purchase. I'm sure the pixel is great but I love the wide angle Camera and removable battery.

V10 looks much better than V20

Hey Andrew, you should do a general comparison and a camera comparison between the Pixel and the HTC 10. I'd love to see that.

Assuming they were still being sold, how do these phone stack up to the Note 7? That was going to be my next phone. And I am now somewhat leaning towards the iPhone 7Plus.

Another balanced review from Pixel Central :)

The v20 is great in its consistency. It isn't just the camera that has loads of options, it's the whole software experience, and even the hardware with ir blaster and removable battery. It has everything android fans loved, at least until they became closet Apple fans.

I was delighted to see that the V20 has a removable battery and microSD card slot. I will gladly give up the water resistance feature to have those.

The v20 is clearly the more cohesive experience. I don't know why you would claim that the one with less room to make it worth the way you want it to is more cohesive. Unless you're just talking about how it works a few hours out of the box.

Has been some mention of Bluetooth issues on the pixel , not forgetting the halo effect on photos in some circumstances, so I would question the statement that the pixel does everything better .

I was all set to upgrade my V10 to the V20 especially as almost all my favorite stuff from the V10 are still in the V20. However I stopped short when I realized that almost all my favorite stuff from the V10 are in the V20 without much changes (except for the faster processor, better DACs, and a second wide-angle rear camera). The price is a bit on the high end for these flimsy upgrades. On other other hand I've tried the Google Pixel and found it to be very fast and the free backups of full-resolution photos and videos as well as the timely firmware updates look very attractive. I've decided to give my V10 another year and see what LG and Google has in store for next year. Oh, and this article does not mention the FM tuner, IR blaster, and dual-SIM features on the V10/V20, all of which I find very handy.

Probably not a bad idea to wait...and you can get a spare V10 for a song right now.

I'll take the V20 any day..

No sd card and the pixel looks too much like an iphone on the front. No buy.

Yeah, if the Pixel XL had a microSD card slot, I'd seriously consider it because of the quick software updates and stock Android UI. But without either a microSD card or a 256 GB option, I like the V20 better, since it can hold my entire lossless music collection.

Android Central is bound and determined to make the Pixel XL a huge success, aren't they?

I'm glad to see that I'm not the only one who thinks that Android Central is biased toward the Pixel phones.

I agree. I have noticed that bias as well. When released, I felt that the Note 7 was the best smart phone I had every owned, particularly with Nova Launcher. Looking for an alternative after the battery fiasco, I finally settled on an LG V20. After about 2 weeks, I am surprised at how much I like this phone. The customization that I always depended on from Nova Launcher - is baked into the V20 UI and software. No need for Nova on this phone. It even has a Note app that allows you to jot down notes with your finger on the screen - almost as accurate as the S-Pen (it also takes screen shots that you can jot notes on as well). I find it even harder to admit that I don't miss the Note 7 at all and may not ever buy another Samsung product again. Nothing wrong with the Pixel - but, the V20 with Nougat is a much smoother (and faster) experience than the Note 7 - with almost no lag. The LG V20 is the perfect replacement for the Note 7.

Another biased review V20 has the best audio on the market out of headphones (quad DAC) for listening to music or watching videos etc with headphones/ removable battery and very rugged body. No comparison with i-google!

The V10 and HTC 10 have better audio. Crosstalk and harmonic distortion on the V20 are almost as bad as they were on the Galaxy S7 when you plug a pair of high-impedance headphones in to trigger the DAC and amp.

uh oh! sounds like someone been doing their "homework". Plugging HiZ HP's into a phone sounds like a silly idea, however, my HD 650's sound very respectable. Not as good as with an amp, but that DAC on the V20 does sound pretty great, no question about that.
Anyway...the 'numbers' I have seen contradict you and the sounds I have heard ... well, ha...hahahahaha.

While I can't speak to how effectively very high-impedance (> 200 ohm) headphones work with the V20, I've had my V20 for a few days now, and I've been extremely impressed with the quality of the audio. I'm using Sennheiser HD 598s at home (50 ohms) and HD 525s at work (150 ohms). The V20 is by far the best sounding smartphone (or portable audio device) I've ever owned. I'm coming from a Note 5 (which had decent audio), and it's a huge improvement. Prior devices include the Note 3 and various iPods. One big advantage of the V20 is that the microSD card supports large libraries of high-quality source material. I'm able to use my full 160 GB library of lossless music without having to transcode to a lossy format. I haven't tried the HTC 10, so it's possible that it's just as good or even better. For me, personally, the HTC 10's screen is too small (5.2") and the V20 is just the right size (5.7"), but for those who want a smaller phone with good audio, the HTC phone could be a good choice. I will say that the V20 is the first portable audio device I've used that sounds better than my desktop PC setup (currently using a Soundblaster SBX Pro Studio), and makes me think about upgrading my PC's external DAC.

Hi everyone. I am in need of a new phone and I'm trying to decide between the Pixel XL and the LG V20 and the Motorola Z Force. Im coming from a Note 3, but it has seen it's days. The easy to scratch shattershield, and slow and terrible camera (or so I read) on the Z Force is holding me back. On the V20, I've read that the display does not show colors well or accurate and on the Pixel XL, im not liking the idea of no SD card slot although I use mostly Google apps (but I could install them on any of the devices). Which should I choose?

Google's goal is to get everyone to use their cloud storage in lieu of an SD card. Basically EVERYTHING you put on Google servers becomes their property and they can do with as they please. Your privacy is out the window.

Hi everyone. I am in the need for a new phone. I'm currently using a Note 3 and it has seen itsbBetter days. I'm trying to decide between the Motorola Z-Force, Pixel XL and the LG v20. I have read that would be 20 does not show accurate or colors very good. The Z Force has me concerned with is Shatter-Shield which I have read is very easy to scratch. And the pixel concerns me because it does not have an SD card slot. I do use mostly Google apps but I understand that I can install these on any of these phones. I'm really liking the big screen on the v20. Does anyone have it a suggestion on which one I should choose?

I remember the good old days when journalistic integrity was actually a thing. V20 doesn't stand a chance with they way these people present it. You praise the Note 7 for bringing the sd card slot back.......but now you act like people really don't like that sort of thing

Right lol.
reviews were upset that note 7 didnt have removable battery but now its ok. and pixel definitely looks like an iphone.

I might be one of the few that sent my pixel xl back its a great phone but not for me I ended up picking up a v20 and I couldnt be any happier and the size is not a problem its basically the same size as my nexus 6p and I think its screen is really nice deep black and not to saturated like my nexus 6p

I'd like to read Phil's take on these two devices. This article feels like it's written by a pixel fan who's trying to maintain his professionalism but the fanboi can't help itself and comes out at least once in every paragraph.

You should read his other article: battle of the best....Pixle XL vs S7 Edge

I thought the exact same thing, the review showed favoritism towards the Pixel, so this isn't really a fair comparison !

LG V20 security problem. https://www.youtube.com/watch?v=qICcnSrclO0

LG V20 freezing. https://www.youtube.com/watch?v=b0dHqdql_Eg

Pretty sure that was a defective device...

I hope the V20 becomes available in the UK, even just as an imported EU edition. It has more of the features I still want.

I would rather have the LG than the Pixel tbh...

im confused this article says " Google's first phone, the Pixel XL" but technically wasnt the G1 google's first phone?

I played with both the other day.....and I'm definitely getting a V20. I've been running 7.1.1 with Pixel UI on my Nexus 6p for a bit now and the Pixel just kinda reminded me of my Sexy Nexy. Going to wait a few months until the price drops a little though. $800 + is alot of money for a phone!

anybody know where to get the wallpaper being used on the google pixel shown
Android Central Newsletter
Get instant access to breaking news, the hottest reviews, great deals and helpful tips
Thank you for signing up to Android Central. You will receive a verification email shortly.
There was a problem. Please refresh the page and try again.