Google Pixel, three months later: Still going strong, still the best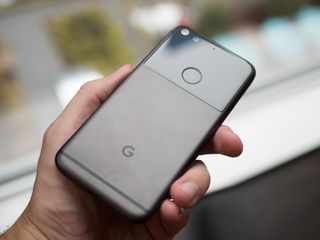 Somehow it has already been three months since we published our Google Pixel and Pixel XL review. Not only has time simply passed since we wrote that review, but I've also been actively using the Pixel as a primary phone since the review period. That gives a ton of extra perspective on a phone that's at the top of people's minds nowadays, regardless of whether they're enthusiasts or just casual buyers.
Even three months after it became commercially available the Pixel (and XL in particular) is often still out of stock or not available in all configurations, showing that demand is at least strong enough to force supply constraints through some combination of factors. Google's first in-house designed and sold phones are popular, it seems.
And as we know, companies don't just sell phones in the first quarter after introduction — they count on sales throughout a full year after release. So now with the Pixel hitting its stride for the period that should bring the most rapid sales over its life, does it still stand up in the same way it did when it we first reviewed it? Here are some of my thoughts after three months using the Google Pixel.
Holds up ... except for the glass
Pixel hardware with some age
The Pixel's hardware didn't exactly get unanimous approval at launch, with many reviews panning it as boring or uninspired. I was squarely in the opposite camp that found the Pixel's simple and smooth metal body refreshing. It wasn't trying to do too much, and appreciated how it was easy to hold and use. Three months later, I haven't changed my views much.
Speaking specifically about the smaller Pixel, it's still a wonderful compact phone. Yes its bezels are a bit on the big side as a percentage of the overall size of the phone, but with the small screen it's extremely comfortable. The top-to-bottom tapered "wedge" shape is subtle on the smaller Pixel, but has a positive influence on how easy it is to grip. No superfluous edges or "features" to get in the way here — very much in line with the rest of Google's hardware design of 2016.
The only part of the Pixel's hardware that hasn't aged well for me is the glass back. I definitely wasn't in the crowd that was initially worried about the longterm strength of the glass — and am still no more worried about it than my Galaxy S7 — but my glass has not aged well. The perfectly flat glass with curved edges and absolutely no protection is coated in fine swirly scratches, thankfully none of which have yet to extend over the camera sensor. I absolutely love the look of the glass and how it blends in perfectly to the metal around it, and understand its importance to the function of the phone, but it hasn't held up in the three months I've been using it.
I'm not particularly worried about a complete cracking of the glass, but it just doesn't look great like it did the day I took it out of the box. I expected some scratches, but perhaps thought it'd be more of a graceful trasition. It only took about a week to get my first noticeable scratch on that back glass, and now there are too many to count. I actually have a case on my Pixel now (opens in new tab) out of necessity most times I leave the house, even though I prefer the feel of the cold metal in my hand.
No matter which size Pixel you prefer, I can say the display is right there with the best in the business. It isn't quite Galaxy S7 good ... but then again, nothing is. But whether I'm looking at the 5-inch 1080p or 5.5-inch QHD panel, I don't have any complaints. Pixel density, colors and viewing angles all still meet my expectations for an industry-leading phone. Well-calibrated auto-brightness and Night Light color shifting are nice little touches as well.
So smooth
Pixel Software and performance
A common refrain when evaluating a phone a couple months after you first reviewed it is finding that the software has slowed down or crufted up. My Pixel thankfully hasn't experienced this all-too-common deterioration. I absolutely gushed over the performance of the Pixel and Pixel XL for the first couple of weeks using the phones, and thankfully it has been retained even after being loaded up with apps, media and my own data.
The Pixel isn't entirely perfect, though — I have managed to crash a couple of apps, and twice over the past three months trying to process several HDR+ photos at once has even forced a soft reboot of the phone. Those were two reminders that indeed no software is infallable (on an Android or otherwise), but reflecting on it this has to be the most stable Android phone I've ever used. General day-to-day performance is rock solid and more importantly extremely consistent. There's no occasional lag, random slowdowns or times when the Pixel doesn't respond the way I expect it to. The top-notch touch screen responsiveness also continues to impress.
Much like the hardware having a notable flaw in the glass back, the one ding on performance with the Pixel is its battery life. The 2770 mAh battery is acceptable; that's about all I can say there. For a typical day I get through all of my necessary tasks and end the day with battery left to spare ... but not every day is typical. Any extra work I need my Pixel to do — whether that's running a hotspot, pulling navigation duty running Android Auto for a 30 minute drive, or doing some extra streaming — puts me on pace to have to charge during the day. It's a common feeling among the AC editors, and it's what has pushed many (who have access to both phones) to choose the Pixel XL instead.
This is one section where I can really call out the Pixel XL as offering a different experience entirely from the smaller Pixel. With the larger version, battery life is in no way an issue. Sure it isn't an absolute marathon machine like the OnePlus 3T or HuaweI Mate 9, but the Pixel XL has enough in the tank to make it through even my toughest days — including traveling — without giving up. For a more typical day, my Pixel XL has 40% or more battery left over when I go to plug in at night.
Can't put it down
Three months of photos
I'm still completely enamored with the Pixel's camera, both in the quality of the photos but also the consistency from shot to shot. The time to launch and capture photos is still super quick, and though the HDR+ processing in the background could stand to get a touch faster it isn't in any way an issue. Especially when the photos look this good in the end.
Image 1 of 16
Do I wish it had a more complete software interface with manual controls like the Galaxy S7 or LG V20? Absolutely. Do I think it needs those controls to be considered the best smartphone camera available today? Not at all. I'm still consistently impressed by the photos I take with the Pixel, even after taking several hundred over the past few months.
Best available
Google Pixel, three months on
Whenever I can look back on a review three months later and come to the same conclusions, it's a fantastic feeling. Google's first Pixel phones are absolutely just as impressive after three months of use as they were in the first couple weeks, which isn't a given even for high-end phones today. There is absolutely a reason why the Pixel is still our pick for the best overall Android phone.
That's not to say that the Pixel and Pixel XL are perfect, of course. There's always room to improve in a Pixel 2 (or whatever Google may call it), but you can know that the current models have staying power. They're still just as worth the purchase today as they were when they first launched.