Google Pixel 3 XL vs. Samsung Galaxy S9+: Which should you buy?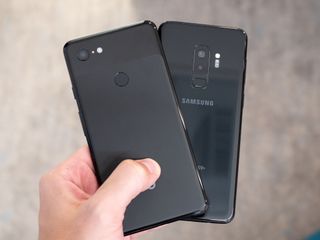 Google Pixel 3 XL
Google refreshed its hardware and jumped to a 6.3-inch 18.5:9 display — but it's not all about size, the display is dramatically better as well. The rest of the phone builds on all of Google's strengths: simple hardware, capable specs, smooth software and an amazing camera experience front and back. It also added wireless charging and kept stereo speakers.
Google Pixel 3 XL
Large, high-quality screen
Great camera
Stereo speakers
Wireless charging
Sizable battery
No headphone jack
Very large display notch
Limited carrier availability
Samsung Galaxy S9+
The Galaxy S9+ is the flagship phone all Androids are inevitably compared to. It consistently outsells the competition for a reason: it has every feature and spec people want, with few caveats. Build quality, performance, specs and features are all here, plus a great camera and well-known brand to wrap it all together.
Samsung Galaxy S9+
Amazing display
Great dual cameras
SD card slot
Headphone jack
Stereo speakers
Wireless charging
Software can be cumbersome
Slower wired charging
Historically inconsistent software updates
Samsung undeniably has the benefit of mass appeal and mindshare among general consumers thanks to massive sales over the past five years, but Google's Pixels have a small, devoted following that finds the simpler approach appealing. Here are the differences between the two.
What's the difference between the Google Pixel 3 XL and the Samsung Galaxy S9+?
Whether you choose the Pixel 3 XL or Galaxy S9+, you're getting all of the core features, specs, and hardware design you expect from this level of phone. Google does things its own way in many respects, but it hasn't created hardware that's particularly unique. Both phones are large metal-framed, glass-backed slabs, with slightly different takes on the finer details — the Pixel 3 XL is flat and has glossy sides, compared to the GS9+ with its curved screen and matte metal finish. The Pixel has an etched glass back that cuts down on fingerprints as well, and has colors that are dull rather than shiny. You get IP68 water and dust resistance on both, thankfully.
The phones are the exact same height, and nearly identical in weight and thickness, with the only difference between them being the GS9+'s narrower body on account of its curved display. Usable screen real estate is near-identical, on account of the Pixel 3 XL's notch taking up a little room. You get the same sort of asymmetrical stereo speakers on both phones, too.
Image 1 of 6
Elsewhere inside the phones, they have the same processor, same base storage, and all of the typical connectivity options. The batteries are also nearly the same size, and they both have both fast wired and wireless charging — though the Pixel has a slight advantage in charge speed with a cable (we'll get a better feel for real-world battery life on the Pixel 3 XL soon). Samsung has the advantage of 6GB of RAM in the GS9+, whereas the Pixel 3 XL's 4GB feels a little small for 2018 — though Google has historically done well with performance with less RAM.
The only real hardware wins for Samsung are with storage and audio. Though both phones have the same base 64GB storage, the Galaxy S9+ is available with up to 256GB internally and has a microSD card slot for the big storage users out there. It also has a standard 3.5mm headphone jack, which is a really big draw for many buyers. The Pixel 3 XL comes with a USB-C to headphone adapter and USB-C headphones, but it's far more cumbersome than using the headphones you already have without any adapter.
Swipe to scroll horizontally
Category
Pixel 3 XL
Galaxy S9+
Operating system
Android 9 Pie
Android 8.0 Oreo
Samsung Experience 9.0
Display
6.3-inch OLED
2960x1440 (18.5:9)
Gorilla Glass 5
6.2-inch AMOLED
2960x1440 (18.5:9)
Gorilla Glass 5
Processor
Qualcomm Snapdragon 845
Pixel Visual Core
Qualcomm Snapdragon 845
RAM
4GB
6GB
Storage
64/128GB
64/128/256GB
Expandable
No
microSD
Rear camera 1
12.2MP, 1.4-micron, PDAF
f/1.8, OIS
12MP Dual Pixel
f/1.5 or f/2.4, OIS
Rear camera 2
n/a
12MP
f/2.4, OIS
Front camera 1
8MP, auto focus
f/1.8, 75-degree lens
8MP, auto focus
f/1.7
Front camera 2
8MP, fixed focus
f/2.2, 97-degree lens
n/a
Connectivity
Wi-Fi 802.11ac 2x2 MIMO, Bluetooth 5.0 LE, NFC, GPS
Wi-Fi 802.11ac 2x2 MIMO, Bluetooth 5.0 LE
NFC, GPS
Audio
Stereo speakers
USB-C
Stereo speakers
3.5mm headphone jack
Battery
3430mAh
Non-removable
3500mAh
Non-removable
Charging
18W USB-C PD
Qi wireless
Quick Charge 2.0
Qi wireless
Water resistance
IP68
IP68
Security
Fingerprint sensor
Fingerprint sensor
Iris scanner
Dimensions
158.0 x 76.7 x 7.9 mm
184 g
158.1 x 73.8 x 8.5 mm
189 g
Colors
Just Black, Very White, Not Pink
Midnight Black, Lilac Purple, Coral Blue, Slate Grey
Google already arguably had a better camera than the GS9+ when it came to shot-to-shot quality in the Pixel 2, and now a year later it's rolling out faster processing, better image quality, and new features that help it compete with Samsung's dual-lens solution. The Pixel 3 XL has new digital zooming tech, which removes the need for a secondary telephoto lens, a new "Night Sight" mode that promises better low-light shots than simply having an f/1.5 lens, and faster processing with the Pixel Visual Core to remove some of the sluggish performance of last year. Samsung's pair of cameras is really good, but Google likely just took a good leap ahead of Samsung if these features work out even somewhat as intended.
Up front, Google now matches Samsung with autofocus on its front-facing camera, which is a real improvement for selfies that you won't want to give up once you've experienced it. But again it's stepping ahead of Samsung with a second camera for wide-angle shots and even better portrait mode photos.
Perhaps the biggest deciding factor in which phone is best for you is how you feel about Google's approach to software. The Pixel 3 XL doesn't change Google's formula: a simple, sleek, consistent and powerful software experience with deep integration of Google's apps and services, and little extra cruft or bloatware. Android 9 Pie is a great version of the OS, with tons of user-focused features and an emphasis on battery life and taming notifications. Google's software is far simpler and less involved than Samsung's and requires less work to get set up and operating how you want. The other side of that coin is dramatically fewer customization options, and few whizz-bang features built in — you'll have to download apps for more advanced functions.
In losing all of the extra features and customization options, you get the benefit of having the latest and greatest Android software before anyone else. You'll get security updates every single month, and you'll get the latest feature updates as soon as they're available. The security aspect is absolutely important, and some people will also value having the top features right away.
Because the Galaxy S9+ is now several months old, it starts to carve out a price advantage over the new Pixel 3 XL. Though the retail price for the GS9+ was high, it's now regularly available unlocked for about $700. At that price, it's a considerable jump up to the Pixel 3 XL's price of $900.
If the price is at all a factor for you, the GS9+ may just edge ahead of the Pixel 3 XL, either because of its notably cheaper unlocked price or because of its wide carrier availability that increases the chance you can find it further discounted or available as part of other promotions from the carriers. However, if you value software simplicity and camera performance, start looking at the Pixel 3 XL — it'll be worth your consideration.
Pure Google
Google's best-ever phone
Phones are large nowadays, and Google's Pixel 3 XL is no exception. A 6.3-inch OLED screen is dramatically improved from the Pixel 2 XL, and the rest of the experience builds on Google's strengths: awesome software, great performance, innovative camera features. and guaranteed updates.
Full of features
Benchmark Android phone that does it all
It's hard to argue with Samsung's formula. The hardware is beautiful, well-built, and filled with top-end specs and features. The GS9+ has an industry-leading display, fantastic camera and every feature a phone buyer wants. The software just requires some massaging to work the way you need it to.
Get the Android Central Newsletter
Instant access to breaking news, the hottest reviews, great deals and helpful tips.
Andrew was an Executive Editor, U.S. at Android Central between 2012 and 2020.