Google Pixel 3 XL vs. Samsung Galaxy S9+: Which should you buy?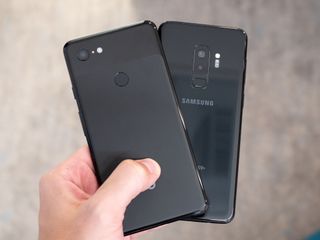 Google Pixel 3 XL
(opens in new tab)
Google refreshed its hardware and jumped to a 6.3-inch 18.5:9 display — but it's not all about size, the display is dramatically better as well. The rest of the phone builds on all of Google's strengths: simple hardware, capable specs, smooth software and an amazing camera experience front and back. It also added wireless charging and kept stereo speakers.
Google Pixel 3 XL
Large, high-quality screen
Great camera
Stereo speakers
Wireless charging
Sizable battery
No headphone jack
Very large display notch
Limited carrier availability
Samsung Galaxy S9+
(opens in new tab)
The Galaxy S9+ is the flagship phone all Androids are inevitably compared to. It consistently outsells the competition for a reason: it has every feature and spec people want, with few caveats. Build quality, performance, specs and features are all here, plus a great camera and well-known brand to wrap it all together.
Samsung Galaxy S9+
Amazing display
Great dual cameras
SD card slot
Headphone jack
Stereo speakers
Wireless charging
Software can be cumbersome
Slower wired charging
Historically inconsistent software updates
Samsung undeniably has the benefit of mass appeal and mindshare among general consumers thanks to massive sales over the past five years, but Google's Pixels have a small, devoted following that finds the simpler approach appealing. Here are the differences between the two.
What's the difference between the Google Pixel 3 XL and the Samsung Galaxy S9+?
Whether you choose the Pixel 3 XL or Galaxy S9+, you're getting all of the core features, specs, and hardware design you expect from this level of phone. Google does things its own way in many respects, but it hasn't created hardware that's particularly unique. Both phones are large metal-framed, glass-backed slabs, with slightly different takes on the finer details — the Pixel 3 XL is flat and has glossy sides, compared to the GS9+ with its curved screen and matte metal finish. The Pixel has an etched glass back that cuts down on fingerprints as well, and has colors that are dull rather than shiny. You get IP68 water and dust resistance on both, thankfully.
The phones are the exact same height, and nearly identical in weight and thickness, with the only difference between them being the GS9+'s narrower body on account of its curved display. Usable screen real estate is near-identical, on account of the Pixel 3 XL's notch taking up a little room. You get the same sort of asymmetrical stereo speakers on both phones, too.
Image 1 of 6
Elsewhere inside the phones, they have the same processor, same base storage, and all of the typical connectivity options. The batteries are also nearly the same size, and they both have both fast wired and wireless charging — though the Pixel has a slight advantage in charge speed with a cable (we'll get a better feel for real-world battery life on the Pixel 3 XL soon). Samsung has the advantage of 6GB of RAM in the GS9+, whereas the Pixel 3 XL's 4GB feels a little small for 2018 — though Google has historically done well with performance with less RAM.
The only real hardware wins for Samsung are with storage and audio. Though both phones have the same base 64GB storage, the Galaxy S9+ is available with up to 256GB internally and has a microSD card slot for the big storage users out there. It also has a standard 3.5mm headphone jack, which is a really big draw for many buyers. The Pixel 3 XL comes with a USB-C to headphone adapter and USB-C headphones, but it's far more cumbersome than using the headphones you already have without any adapter.
Swipe to scroll horizontally
Category
Pixel 3 XL
Galaxy S9+
Operating system
Android 9 Pie
Android 8.0 Oreo
Samsung Experience 9.0
Display
6.3-inch OLED
2960x1440 (18.5:9)
Gorilla Glass 5
6.2-inch AMOLED
2960x1440 (18.5:9)
Gorilla Glass 5
Processor
Qualcomm Snapdragon 845
Pixel Visual Core
Qualcomm Snapdragon 845
RAM
4GB
6GB
Storage
64/128GB
64/128/256GB
Expandable
No
microSD
Rear camera 1
12.2MP, 1.4-micron, PDAF
f/1.8, OIS
12MP Dual Pixel
f/1.5 or f/2.4, OIS
Rear camera 2
n/a
12MP
f/2.4, OIS