Google News for Android: Everything you need to know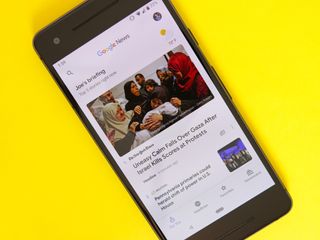 Way back in 2002, Google launched the very first version of Google News — a news aggregator that was designed to make it easy to find the stories you care about. Google News got a huge redesign at Google's 2018 I/O developer conference, with the majority of the company's efforts put into an all-new Android app.
There's a lot going on with the latest Google News app, and to help make sense of all the goodies you'll find in it, here's everything you need to know.
For You is a collection of articles Google thinks you're interested in
Every time you open Google News, you'll be taken to the For You page. This is your central hub for Google News, highlighting the top 5 stories the app thinks you'll be the most interested in, a collection of other local/national stories, and a simple 6-day weather forecast.
The articles that appear in For You are personalized to your interests, with Google using machine learning and AI to tailor them specifically to you as best as possible. The more you use the app and interact with certain articles, the better Google News will get at showing you content you care about.
Headlines houses the world's biggest stories
Next to For You is a page called Headlines. Here, you'll see everything that's happening in the world. The latest stories are shown at first, but you can filter these by U.S., World, Business, Technology, Entertainment, Sports, Science, and Health.
Many of these stories feature videos as well as Newscasts — a collection of articles and tweets about an event/story to give you a quick insight into what's going on if you're short on time.
Specify the topics and sources you like the most in the Favorites tab
If you're looking to catch up on a specific topic or source you're particularly interested in, you'll want to make sure you check out the Favorites tab.
After adding a few topics/sources you like the most, you'll slowly start to help Google News give you better recommendations in the For You section. Additionally, you can just tap on a topic or source to browse through content that's related only to it.
Newsstand is where you can subscribe to newspapers and magazines
The last section in Google News is titled Newsstand, and as the name suggests, this is where you can find newspapers and magazines to subscribe to.
You can browse through items in Newsstand by Featured and Popular, and scrolling down far enough in the Popular section will allow you to filter through publications by category, including Entertainment, Food & Drink, Health & Fitness, Home & Garden, News & Politics, and Science & Technology.
After finding a newspaper or magazine you like, you can choose to purchase just one issue, sign up for a monthly subscription, or go all the way with a yearly one. Additionally, if you're already a paying customer for a certain title, you can enter your account details to start digitally reading it in the Google News app.
Dive deeper into the settings
Google News offers a pretty great experience out of the box, but there are a few controls you can take advantage of to fine-tune it to your exact liking.
If you look hard enough, you'll find settings for changing the appearance of stories to see more on your screen at once, tools for conserving your mobile data, and much more.
Check out our 5 favorite tips/tricks for getting the most out of Google News
Google News replaces the Play Newsstand and News & Weather apps
Now that we've got Google News, Google's axing two of its older apps — Play Newsstand and News & Weather. The Play Newsstand listing on the Play Store is gradually being replaced with Google News (similar to how Google Pay replaced Android Pay) while News & Weather is simply nowhere to be found anymore.
Play Newsstand and News & Weather had quite a few overlapping features, so getting rid of them in favor of one, simplified app is a welcome change.
Download: Google News (free) (opens in new tab)
What do you like?
Have you upgraded to Google News yet? What do you think? Let us know in the comments!
Joe Maring was a Senior Editor for Android Central between 2017 and 2021. You can reach him on Twitter at @JoeMaring1.
Got the update earlier this week. So far really enjoying the new format!

No dark mode. Dark theme?

I like the way it looks. I don't like the way my picked topics are buried a couple layers down and I can't delete the default groups I have zero interest in reading.

I know AC must feel obligated to promote Google products, but Google News is pretty lame compared to Smart News. It offers low and high bandwidth options for in app viewing. Google News shows full content in the app only for a short period, then you have to open full articles in a web browser, which is a pain. If there are specific sources you really like, then gReader with Feedly is very good as a companion to Smart News.

I loved Google currents then it changed to newstand which I came to our eventually but now they have changed again and I like this one even less. I wished my bits I wanted to see are nearer the top

I like the new app, but it needs a dark mode like news and weather had. Also, I'd like to move my local interest stories up nearer the top of the feed. One other thing, I'd like more weather information than just the current conditions present or access to more weather information by tapping on the current conditions that are shown.

This! Dark mode for sure. Seems like a big step backwards to not include it from the get go. I prefer Google news and weather and will keep using it until it's not functional

Not a fan of the new app. Not only are your subscribed magazines VERY hard to find, there is no longer issue-by-issue control over caching of magazines or the ability to only see those that are cached (likely because of the loss of this control). Also - when I have a magazine in-progress, I can no longer jump to where I left off (the bubble for "continue reading at page xx" that appeared when I opened that issue), I now need to make a mental note of where I left off.

I like the new app, I've been using it quite a bit. I agree that it could use a dark theme, but I'm ok with the light theme as well. It's been working nicely for me.

"Additionally, if you're already a paying customer for a certain title, you can enter your account details to start digitally reading it in the Google News app." This must vary per magazine, because I can seem to add my digital subscription to The Economist for the life of me....

They couldn't even bother to have a ten year old make the app icon in paint for them? This is a new app and it has a very poorly made icon.

It has the same problem as the Google Now news feed in that it ignores the "show fewer stories like this" preference. Every time I go into it I get presented with 20 or more stories about football and I can't make it stop showing them

I used to enjoy everything from the Google app until about a week ago, when it started to lock my Note 8 up. If I try doing anything Google app related (typing in the quick Google search widget, scrolling the Google news feed, applying Google now launcher), my phone freezes up and I either have to restart my phone or turn the screen off quickly enough for it to "unfreeze." "System UI not responding" or "Samsung Experience not responding" is what I get. I've tried uninstalling updates, clearing cache, everything except a factory reset, which I'm trying to avoid 👎

Isn't this what Google Now does?
\_0_/
Oh Google, you wheel reinventer, you.

Yes I have upgraded to the new Google news & I love it. Been wondering for a while when was Google gonna make the change because of all the different news apps it had on it's plate.....

"Google News for Android: Everything you need to know" Who decided what I "need to know"? What about what I want to know?

Bring Back the Customization Tool.
I would like to open Google News and See the News that Intrests ME in the Order of Importance to ME.
I Don't care and have NO INTEREST in some of the types of News that are being Forced on Me instead of How I had the News Presented to Me in the Order of Importance to Me.
Let the People be able to Select the News that they Want to Se and are interested in and be able to Select the Order of the News.
As of the way Google has it Now, You have to go Searching for Your Previous News sources each Individually one at a time instead of being able to have them on one page in the order You would like where You just would scroll down the Page.
Google had Changed this on Android, Windows, and iOS which SUCKS!!!!!!!!!!
The way Google has the News Now SUCKS!!!!!!!!!!
GOOGLE, BRING BACK THE CUSTOMIZATION TOOL!!!!!!!!!!

Trying to learn about my lg aristo 2 android phone plus about any news on them that can help me manage my phone and apps better,if you can please let me know and help me out with this asap
Android Central Newsletter
Thank you for signing up to Android Central. You will receive a verification email shortly.
There was a problem. Please refresh the page and try again.