Google Lens is coming first to the Pixels, followed by Google Photos and Assistant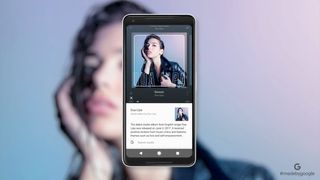 (Image credit: Google)
Google Lens, the company's new machine learning-powered visual assistant was announced at this year's Google I/O conference. Now after the Pixel event, Google is ready to unleash Lens onto the world.
Google Lens will be available soon, starting inside the Google Assistant and Photos applications on a Pixel phone. Users will be able to identify items in their surroundings, get information from restaurant signs and other advertisements and more from the photos they've taken or from their camera lens. There's no word on when or if a standalone Google Lens application will launch, or when or if these features will be available to other Android phones.
Are you interested in using Google Lens? Let us know down below!
So they updated google goggles?

My thought exactly. Seems much better.. Only time will tell.

This feature is awesome. I actually had it on my Windows phone years ago with Bing Vision ago but alas Microsoft dropped the proverbial ball again and screwed the consumer by pulling support for it and mobile. Enjoy it Pixel users! Definitely planning on switching and the Google Pixel 2 just made a strong play for my loyalty.

My thoughts exactly. However, apart from playing about with it when it was new, I never used it then and doubt it I would use it much now.

yeah was sad to see it go with Bing vision, but as Crosswhite17 said I never actually used it much.

Bing Vision, oh the good old days!

I am. This is very useful.

Heck yeah, it will be great to play around with this.

Does it scan QR codes as well?
Android Central Newsletter
Get the best of Android Central in in your inbox, every day!
Thank you for signing up to Android Central. You will receive a verification email shortly.
There was a problem. Please refresh the page and try again.