Google removed the 'Tablets' section from the official Android site (Update: It's back up)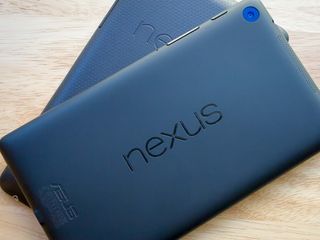 (Image credit: Android Central)
Update, June 2: According to the SVP of Android, Hiroshi Lockheimer, the section was removed accidentally during a routine update. It's back now.
Original story is below:
Android tablets have always been interesting beasts. Companies like Motorola and Samsung tried making them popular with the Xoom and Galaxy Tabs early on, and Google soon swooped in with home runs such as the Nexus 7 and Nexus 10. However, due to lacking developer support and no proper optimizations for the OS on the big screen, Android tablets never caught on the way the iPad did.
It's been apparent for some time that Google's all but given up on Android tablets, but now the final nail in the coffin has been set with Google quietly removing the "Tablets" section from the official Android website.
If you visit android.com, you'll see the navigation bar pictured above. There are links to Phones, Wear, TV, Auto, and Enterprise. A Tablets button was there prior to today, but now it's nowhere to be seen.
This isn't surprising in the slightest considering that Google's last tablet was the overpriced Pixel C from 2015, and the quiet removal from the Android site without any big announcement goes to show that Google knows no one really cares about Android tablets and haven't for some time.
So long and farewell, Android tabs. You were never really amazing, but we'll still miss you (kind of, but not really).
Here's to Chrome OS tabs 🍻
I, for one, am totally OK with Chromebooks replacing Android tablets
Joe Maring was a Senior Editor for Android Central between 2017 and 2021. You can reach him on Twitter at @JoeMaring1.
I beg to differ. 2013 Nexus tablet was/is awesome. I still use mine as a tv remote

I stlll use mine all the time. mostly for video watching. It has better sound than a lot with the stereo separation.

Still use and love my LG Google Play Edition 8". I would love to get my hands on a Pixel tab!

Just because Google are being dicks about it, doesn't mean they are dead. The likes of Samsung, Lenovo, Asus, Huawei and LG still churning out good tablets, plus loads of smaller manufacturers. Shame on Google for lacking in providing support.

I use a couple Android tablets every day. I also travel for work and wouldn't want to be without one on a flight. Why the hell do I need a keyboard to watch movies?

Well to be fair, there is already a Chrome tablet, the horribly named Acer Chromebook Tab, that is a true tablet with no keyboard. I will miss Android tablets, but if Chrome tablets do become real tablets with desktop grade Chrome and proper Android app integration (which is where it looks like it's going until Google does what they do best and abandon it) then they'll be pretty awesome.

Is there? It was announced a month or two ago, and you still can't buy it anywhere. Not that anyone should buy it. It uses a CPU architecture that's literally 3-year old, it's seems to be made out of junky plastic, and yet it costs the same as an new iPad for some reason. I can't imagine who they think is going to buy it.

I had the 2012 Nexus 7, 2013 Nexus 7, and now have the Galaxy Tab 3 & I love them all to me they are my home device my phone is my outside device. That's how I've always seen tablets.

This article is stupid. Go to any Best Buy and they're selling loads of Android tablets. And not just old stock.

The article isn't saying that Android tablets are being dropped forever...just that Google removed them from their site...Google hasn't pushed a tablet since the Pixel C in 2015.

"So long and farewell, Android tabs" ... Actually, it kinda is saying that. Not that one really has to believe an article like this, but that's definitely what it's saying.

First sentence of the article, "In case you didn't already know that Android tablets were dead."

Rocked the OG Xoom way back when. I may just dig it out for old times sake.

I still use my Galaxy Note 10.1 every day. I love it! One of the best electronics purchases I've ever made.

Just because it's no longer a focus for development doesn't mean they're dead.

So true. I had the original Xoom and I absolutely loved it. Used it until the end. I got the Galaxy Tab S3 in January and I love it. It just got Oreo a few days ago so that makes it even better. Now the UI isn't not bad and since it's not a phone, Im not as strict with how it looks like. I use it mainly for media. I watch Angels games on it daily and use it to watch TV. Also listen to music in the background.

*Grabs popcorn as all 10 people that like Android tablets race to the comments section*

Hahaha it's not everyday we get to talk about tablets

Don't get me wrong lol, I enjoy my mediapad m3 but there hasn't been a lot going on since it came out and that was in 2015

I bought an M5 a few weeks ago and I'm loving it so far. Great build quality and screen.

The problem with what you're saying is that it's blatantly false. In fact, tablets sell more per year than desktop PC's sell and about as many as traditional (non-convertible) laptops sell.

Wait a minute, you mean my statement that 10 people are the only ones that bought tablets is false?! Gasp!

Also remove apple tablets and cheap Chinese tablets from the mix and tell me if your assertion still holds any water.

After years of Android tablets of all varieties, I bought an iPad Pro 10.2" this year and I don't regret a thing.

Too bad then, the Samsung Tab S 8.4 will be my last android tablet. Gonna get myself an iPad this Christmas.

I looked at that, and stuff like Plex syncing and battery life plus a few bucks cheaper, Got the iPad Pro 10.2" and I love it. Got the Apple Pencil too and it's awesome.

I wanted a device so I can download contents of my DVR to. For instance, the Comcast app. Now I can watch my recordings on a plane or in the car. I can also now watch the baseball game in the kitchen while cooking. I can't do the DVR thing on a surface pro.

Bite me Google!!! I'm rocking with my Samsung s2 tablet! And will until it dies!!!

My nexus7 2013 still performs very well.

Really? Marshmallow brought the wife's Nexus 7 to a slow crawl.

My 3 year uses my 2013 Nexus 7 as his daily driver and he loves it lol After I updated to marshmallow it slowed down pretty hard but I did a factory reset and that seemed to fix it.

Tablets are going to die in like 3 years, even the iPad is useless.

Can"t wait for a Chrome Galaxy Tab.

I have a Teclast dual boot tablet with Android and W10 and it's great.
I would like an upgrade but for some reason dual boot tabs are stuck using Android 4.4 or 5.1.
Would love one with Oreo and Windows 10.

Going to eBay my Nexus 7. Have just put Slimrom on my Nexus 9, much snappier - still find it great for media consumption on the move, just wish it had more storage! Disappointed that more haven't been released, really not a fan of iOS, even if it does have better tablet support.

I've gone from really rating Google's hardware and the "pure" Android experience to slight disdain. I have had Nexus phones and the Pixel 1 & 2 but have recently come to the realisation that the version of Android Google uses on its phones is just that - a version. It's not pure in any way. I now use a Samsung Galaxy S9 and a Samsung Galaxy Tab S2 and Samsung's interpretation of Android is just as worthy and just as valid as Google's. The fact that Google is dropping tablets has no impact of what other companies are doing. They can take the Android source and do whatever they want with it.

Guess this means Android P probably won't be coming to Android tablets.

I've used my 2013 Nexus 7 almost every day for 5 years since I bought it. Still going strong, nice display, and takes all apps I throw at it. I'll miss it when it inevitably dies.

Whatever Google! Still using my Galaxy Tab A6 and I love it. It's my bed and travel companion. I use it for reading, games and watching movies even though my Note 8 display is better. I still love having a tablet and will get another 7 or 8 inch model with s pen whenever Sammy releases a new one.

I liked the idea of Android tablets but never liked them. They were just big Android phones without the phone part. Windows tablets are far more useful. They're just better at browsing which is what I primarily used a tablet for. They also didn't force me to go to mobile websites. That was my biggest problem with Android tablets. Even when I ticked the desktop option some poorly written sites would still fight with me.

I'll argue that "a big phone without the phone part" is what make tablets great. I set my tablets up to be a pure fun and game device with no social media and work related crap and its been a great experience for me. Though I agree with you with the browsing experience, its kinda clunky most of the time but eh. Also windows tablets is actually pretty limited if you just use it as a tablet and no keyboard as there is barely any apps and games that fully take advantage of touchscreen. I'll still say though that I love windows tablet just because I was able to play torchlight 1 and 2 and titan quest fully by just using the touchscreen and it was hella fun. I still remember being asked by my friends on how to install those games on their ipad lol.

You do have options for getting desktop only sites on your browser all the time, like Firefox with a desktop forcing extension and others, while enjoying a much better experience than a Windows tablet provides. Google have been bad by not including a proper option for this in their Chrome browser for Android.

I use desktop mode for mobile webistes all the time in chrome for Android. It is in the menu called "desktop site".

Android tablets are far from being dead, they are only dead to Google. Tablets are never going to sell at the same rate as smartphones just the same as watches are never going to be like smartphones. That does not mean they are not important. My wife still rocks the Nexus 10, and Samsung is still delivering tablets every year. And they are selling.

I was just going to post this exact comment. GOOGLE are not making tablets. That does not mean the entire android tablet business is GONE. Just GOOGLE are not going to make them anymore. Android was being used on tablets and phones LONG BEFORE Goole produced their own.

Still using my Nexus 7 2013, device has always run real well. The tablet has wireless charging and a soft textured plastic back. Ahead of it's time compared to the Pixels of today

Chromebooks will replace tablets. Eventually, Android I think too. ChromeOS or Chromium will anyway. Now that Android apps run on Chromebooks, having a touch screen Chromebook is better than a tablet. Software will come without carrier issues. Kinda like webOS.

Chromebook tablets will replace Android tablets but not Android it's self. I can't see that happening, at least anytime soon. Android still has plenty of life left.

Use my 10.1" Asus ZenPad daily. Price was right. Although will be looking into the Acer Chrome Tab when it arrives.

Quite liking my Galaxy Tab S3 which was just upgraded to Oreo this week to my utter amazement. Maybe would have considered a Surface but too expensive for my needs and I don't need a laptop. Choice - that's what it's all about.

The Surface are nice, but overpriced computers. Similar to how Apple computers are overpriced. I prefer a tablet (iPad Pro or Tab S3) along with a decent spec'd laptop that cost less than the Surface.

Typing this from the best 8" Android tablet, Sony Xperia Z3 Tablet Compsct. I wish I could get my hands on a version with updated internals.

And I'm reading it on mine. Oh if all Android tablets had been like Sony's, or if Sony had marketed theirs properly...

Yep, still rocking the same tablet as well, just can't find a good enough replacement so holding on to it until it dies!

Anyone else noticed that Android Central is going the way of BGR with more and more clickbait from junior writers? Not the same quality site that it used to be.

True. "All you need to know about some complete balls." "Here's the best XYZ for your 123." Every second article.

I tend to agree with you. It seems like I disagree with more and more articles, here.
It may be time to stop coming here.

Very true! I never recognize any of the writers' names anymore and everything is so click baity. I used to love Android Central but I hardly read here anymore. Google has started serving me up stories from The Verge and other Android sites and I find I like reading them much more. I still have AC's widget taking up a page of my home screen, but every time I look at it none of the stories are ever interesting like they used to be. Overall the quality of Android Central has really gone downhill, and that's sad to me.

Well, considering Google only sold 4 million Pixel phones for the entire 2017, it seemed most consumers don't care about Pixels either!

That's no entirely true Sure Pixel owners are in a minority but so what? Google isn't trying to compete with Samsung yet and it's not stopping me from get a Pixel 2 XL on Friday. Yay.

Say it isn't so THANK GOD!!!!!!

I have recently picked up the Samsung tab S3 and it's pretty amazing.
I wish development for the tablets was a bit better. I noticed this by going to the Play Store and looking for apps. Lots of (this app isn't customized for tablet etc blah blah). Now some apps it doesn't seem to matter, other times I can notice difference in the way things behave and preform. Why is it that the tablet isn't fully developed for? Any chance future Android OS versions will eliminate the way apps run differently whether or not it's tablets or phone.. As long as the specs are mostly comparable? Thanks for any info

Oddly enough on Sunday 6/3 my Tab S3 received the Oreo update. That was a nice surprise.

I use my LG tablet everyday and I love it. So long as the OS is somewhat up to date and it keeps getting security patches (as maddeningly infrequent as they are), I'll still use it.

Oh, Google dropped them... So they don't exist.... Tablets are positively huge in the elementary school educational space... Now I don't recommend overexposure of tablets to kids under 5... But my goodness, my little two year old friend (now three) flies through interactive educational games on a tablet, and passivelt through kids educational videos through YouTube... Choosing his content, skipping ads, maximizing screens... It's quite awesome to witness... But for adults.. Yeah... Big screened phones killed tablets, and/or killed upgrade frequency. Most can't afford regular phone upgrades and tablets... Or even solely phones. Tablets are not dead, but they aren't a growth consumer device, and these days a want, not a need.... It's a very niche product. Google abandoning android tablet hardware is natural at this very mature stage in the product cycle. Some manufacturers will exit the tablet market... Survival of the fittest in a declining, or at best stable market.

I consider Kindle Fires to be android and those sell by truck loads. I have one of the $50 tablets for my kid and she loves it. No, she doesn't know to expect better performance and for what she does, it's good enough that the "giant" 7" screen is better than using our much more powerfully phones. She has a game/music gizmo that also takes pictures and can have movies and she is tickled. I have have limits set so I am tickled. At some point I will likely buy a 10" fire for traveling.

Still using my Nvidia Shield K1 here. All good.

A bug?...🐛 Hmmm...🤔 Really?....😏 And no apology or clarifying comments to go along in order to ease the fan-based tension in the air that was created?😱 Shame on you Google. 👎

What? 😂 Sometimes a mistake is just that. Why do you people always think your owed something all the time? 😂

Google... Don't make the same stupid mistakes Apple's been doing lately and shrink or alienate part of your ecosphere just because the margins aren't as high as phones. I have 3 android tablets and love them. Don't make me choose between an iPad and chrome, we'd both be unhappy

Where do you guys live? No one I know uses an ipad outside of work. They all use android tabs of one sort or another. I use 2 nexus 7's and a levono 10 tab. The problem with ipads is they are so expensive for most folk who just read the web netflix etc, and internet surf. Why spend that kind of money when a good android does the same job for way less.

all I've been saying. God bless u

The problem with tablets is that phones are a thing.

Update: It's back up. AC quality reporting as usual

Glad that is cleared up. I'm not ready for a world without android tabs.

OMG new Nexus tablet incoming confirmed! /S

Refresh? Tablet section is back and linked on android.com - but sadly, the best tablet on that page has been discontinued for quite some time (Nvidia Shield K1).

Chrome OS does now support touch based, no keyboard devices... Ie. Tables. Chrome OS tablets were announced in March. Android based tablets are still very much a consumer product.... But app development for Android tablets has all but dried up. The bigger issue is that Android apps aren't great through Chrome OS on Chromebooks... They don't make use of the extra screen space. I haven't seen a Chrome OS tablet. The Acer Chromebook Tab 10 will be the first Chrome OS table, and is $329.99 🇺🇲 Specs on their web site... Marketed to elementary schools. https://www.acer.com/ac/en/US/content/model/NX.H0BAA.001

I still primarily use my tablet over my phone. The phone gets used when away from the tablet. I still think if I could find a 7-9" tablet with 4GB+ RAM and 128GB storage, I could do away with two devices. I never hold my phone up to my ear (always issuing a headset), so that isn't an issue. One of the primary issues I see with LTE tablets is that they usually have low memory and storage. They are purposely kept below phone specs to make them less desirable.
Android Central Newsletter
Get the best of Android Central in in your inbox, every day!
Thank you for signing up to Android Central. You will receive a verification email shortly.
There was a problem. Please refresh the page and try again.