Google I/O 2011 preview from from Vic Gundotra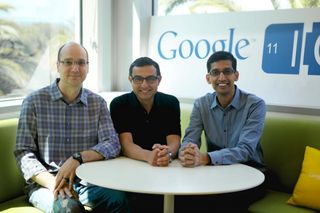 Andy Rubin, Vic Gundotra, Sundar Pichai
We're now just less then 24 hours from the kickoff of Google I/O 2011 and with more than 5,000 participants from 60 countries, including 110 sessions, 261 speakers and 152 Sandbox partners participating in this years I/O (plus a blogger or two) it really is set to be the biggest in history. Exciting times for the folks at Google as they prepare to show the World what, exactly they've been working on.
As such, no event of these proportions would be complete without an official countdown which, can be viewed via the official Google I/O page where some goodies have been promised for when the clock hits 00:00:00:00 tomorrow at 10:00AM PDT. That page will also be home to videos from all the sessions, keynotes and even some of the after hours party events.
We'll be tuned into all the action as well here on Android Central bringing you all the latest news and information from the event, so join us for it all -- it's going to be fun times ahead. Stay tuned folks!
Source: Official Google Blog
Just got in the hotel, time to go and register early to beat the lines tomorrow!
Looking forward to some good visionary stuff as well as some great sessions. Sadly, I don't think Google TV will see much love this go around.

Yeah, 10:00AM PDT, not 10:00PM. I can't wait that long!

LOL! Fixed.. sorry, little excited. :D

with all the money Mr Rubin has you'd think he'd get a pair jeans that aren't so 80s.

Least it's not a black turtle neck lol.

He's Andy "F'n" Rubin! He can wear what he wants!

I hope we see Google Music. And I hope we can get it soon, no waiting for a new version of Android. Amazon's doing it, right?

I am currently at bootcamp.. I so can't wait til IO tomorrow.. and maybe the HTC party..

"Use Page Speed to Optimize Your Web Site For Mobile" You guys REALLY need to visit that session...
Android Central Newsletter
Get the best of Android Central in in your inbox, every day!
Thank you for signing up to Android Central. You will receive a verification email shortly.
There was a problem. Please refresh the page and try again.