Google introduces Nexus Imprint fingerprint sensor on the Nexus 5X and 6P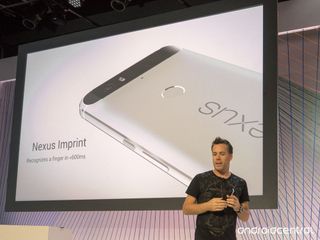 As part of its announcement of the Nexus 5X and Nexus 6P, Google unveiled its new fingerprint sensor, Nexus Imprint. Imprint allows for secure logins and payments, and is the first implementation of the Android 6.0 Marshmallow fingerprint sensor API.
The Nexus Imprint sensor recognizes a print in 600ms. It learns more about your fingerprint as you use it, so its reliability will increase over time. Just tap your finger to the sensor to unlock the phone, and move it over to a payment terminal to use for NFC payments once it's unlocked.
For more from Google's latest Nexus announcements, be sure to stay tuned to our live blog of the event.
Sounds good. Wonder if regarding the location of the print area, is there a way to know when the phone is unlocked. Looks a bit clumsy to have the area on the back. Meaning you have to pick up your phone to unlock it. Unlike my current that I can just reach over and touch. I like the constant learn feature though. Sounds promising for version 1. Posted via the Android Central App

https://youtu.be/V3abgtxF0BI Posted via the Android Central App

So lame. I mean it's fine to put it on there but I don't get the big deal. I don't think I'd ever use this.

I thought the same thing when I did that T-Mobile test drive program with an iPhone 5S last year, but I ended up using Touch ID a lot. If Google's implementation works as well as Apple's, I think I'd use it frequently.

I use it all the time in my s6 Posted via the Android Central App

Personally I think having the touch sensor on the front is much more convenient than hidden on the back Posted via the Android Central App

The way Android Pay works is your device has to have a security lock on it. The fingerprint sensor unlocks your device and allows Android Pay to make transactions without having to enter a secondary pin/password. You don't have to keep holding it like with (Samsung Pay or Apple Pay). Sprint Galaxy Tab 4, because I don't need a Super High-End tablet.

Now I just hope that this is completely optional. Don't foresee myself using a finger print reader on my phone for quite some time Posted via the Android Central App

I have this on a S5 on the front. Too difficult to get a good scan.
My nrw 6P is easy to scan and works great. I have mid sized man hands.
You can unlock with fingerprint or pin/password. This is best best phone I've had since a Nokia 6100 in the middle ages. I had a Nexus 6 for 3 months this is leaps better. Posted via the Android Central App
Android Central Newsletter
Thank you for signing up to Android Central. You will receive a verification email shortly.
There was a problem. Please refresh the page and try again.