Google brings a new look and feel to the weather experience in its Search app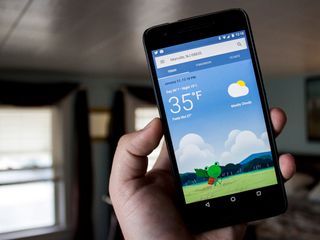 Google is trying to make it a little bit easier to stay current on the weather conditions, as the company begins rolling out a new weather experience for Android phones and tablets. Finding out the current weather conditions has always been a voice command away, but Google is looking to make this information even easier to access. With this new experience, you'll have severe weather alerts, hourly sky conditions, detailed 10-day forecast and more.
Once you tap on the weather result for a specific area, you can then save it as a favorite location to keep up on weather conditions. Google has also changed the overall design, making it more colorful with changing backgrounds that mimic the sky conditions. This appears to be a server-side change, so you won't need to update any apps to gain access. It may take a little time for it to show for everyone.
Source: Google
Get the Android Central Newsletter
Instant access to breaking news, the hottest reviews, great deals and helpful tips.
Jared started off writing about mobile phones back when BlackBerry ruled the market, and Windows Mobile was kinda cool. Now, with a family, mortgage and other responsibilities he has no choice but to look for the best deals, and he's here to share them with you.
Who is the weather info from? I'm using the stock Weather Underground app because I have a weather station at home that reports to Weather underground and I'd give this a try if it was getting info from Weather Underground.

I believe it Google gets the info from weather.com, that's what it says on bottom of the weather card.

It says right on the bottom of the card that it's from weather.com (The Weather Channel).

The Weather Channel is now owned by the odious Rupert Murdoch. Boycott.

Sounds like the kind of thing you'd read on an Apple forum

It's weather.com, but since 2012, WU and Weather.com are actually all part of the same company, called "The Weather Company" (Formally The Weather Channel Companies). And soon it's not going to matter, since IBM is apparently buying all of the non-tv services of TWC. So I doubt that the information is much different between WU and Weather.com. =)

It's hard for me to parts ways w/1weather Posted via the Android Central App

If you try Yahoo weather app, you'll the same information.

I like it. Will be deleting my weather apps Posted via the Android Central App

If this had local radar available, I would too. But, that's a must-have for me in weather apps. Oh well.

Good point Posted via the Android Central App

Just bookmark your local affiliate's website and load their radar. You've got to have at least one with a solid site. Takes maybe a few seconds more, but most weather apps are a battery drain, so it's worth it.

Radar is the only thing keeping my weather app on my devices now. The cards are impressive though. Posted via Material AC app running smores.

i wish this had a widget that was just weather, not the news and weather combo

You can select "just weather"

Definitely a needed improvement. Haven't seen the new card, but my old one doesn't reflect the upcoming DC blizzard. Posted via the Android Central App

Any way to make a shortcut for this weather on the launcher? I usually just go to yahoo weather via a launcher link, wouldn't mind trying this one rather than have to type my location to search every time (I don't use google now).

I've used tasker to add a search shortcut for "weather" to my home screen, but I still have to tap again to get the full screen view. I haven't worked out how to get straight to that yet. Searching for my location doesn't do it. Posted via the Android Central App

Good, we'll see how this pans out. The one thing I hated about their change to Metro was getting rid of the nice weather widget they had. I've been using other weathers apps so I have a widget right on my home screen and can see the weather at a glance without having to do anything special. Hopefully, they're getting this back to the way it used to be.

How do I even get this? Posted from my Nexus 6.

I'm on a nexus 6 too and I just went to search and searched my city, state and it showed up and then asked if I wanted to save that location.

Okay it's working now. Very awesome! It's way better than before. Posted from my Nexus 6.

Love it amazing !!! Posted via the Android Central App

New Jersey? . LMAO. Posted via the Android Central App

Does NJ entertain u? Is NJ a clown to u? Posted via the Android Central App

Yeah man I'm from Joisey too... Posted via the Android Central App

Apparently a lot of idiots from New York hate New Jersey.

Under the Today tab, they really need to default to the days information instead of that stupid little frog. Needing to swipe up for no reason to get pertinent info is a bad design. Don't like it at all. Posted via the Android Central App

Finally....the current way is so bland.

Does anyone else live in a number city still after this update? Google refuses to actually name where I live but instead tells me in live in "9".

I dont have it yet :/, im tester but nothing anyways

Question what town does it display in the article Posted via the Android Central App

Nothing here in southern California Posted via the Android Central App

It isn't completely clear in the article, or I'm bit dense, but is this in Google search, or Google Now, or both? Unlocked Marshmallow Nexus 6 on Verizon. I'm a happy guy.

In both. You can get these new colorful cards by either tapping on the weather card within google now or by looking for the weather in google search.

Wait..Manville NJ? Dude! Lol i grew up 2 towns away...yah das right im from Joisey... Posted via the Android Central App

I rarely Google search the weather (I mainly use the weather widget included on the Sense launcher), but I like these colorful changes and the amount of info. It's dark out right now and the image doesn't reflect that, though.

I'm waiting for them to give us a notification shade and display the temp in the notification bar. That's all I'm waiting for and use Weather Bug for. Posted via my Nexus 5X & T-Mobile Unlimited

Dam it...... nothing yet Dam It Feels Good To Be A Google Gangster

That sounds great Posted via the Android Central App

About time. I would get mildly annoyed when I look at the evening/night time weather and it was a sun being displayed...

Do I ask Google the weather, and they'll show that?

My current version of Google now is 5.7.14.19.arm64
It is also from weather.com, but does not look anything like the example in the article.
Perhaps if the article would last the version number, some questions would be answered.

I've been trying this for days, but nothing for where I am (Tainan City, Taiwan). I just searched for New York and got the new cards though, so either roll out is incremental or it's only for certain areas.

:edit: Can't edit my previous comment.. Having just posted that, I went to Google Now and asked "Is it raining in Tainan City right now?" and it responded with the new cards.